Gaming subscription services are all the rage now, but Apple Arcade isn't quite like Google Stadia or Xbox Live. So if you've got questions about it, we've got plenty of answers.
Updated 11/19/21: LEGO Star Wars: Castaways is now available.
What is Apple Arcade?
Apple Arcade is a gaming subscription service for iPhone, iPad, Mac, and AppleTV that features more than 150 games. The games are a mix of genres and styles, and include original games you'll only find on the service and others that can be found on the regular App Store or even other platforms. Apple Arcade isn't a streaming service like Google Stadia. Games must be downloaded onto your device in order to be played.
What do I need to run it?
Apple Arcade is available as part of iOS 13, iPad OS 13, tvOS 13, and macOS Catalina or later. Some of the more visually-intensive games may only run well on newer hardware, though, and some Mac games require macOS 11 (Big Sur).
How much does Apple Arcade cost?
Apple Arcade costs $4.99 per month, and you'll also get a one-month free trial. You can also sign up for the annual plan, which is $49.99.
If you're currently on the $4.99 month-to-month plan and want to switch to the annual plan, you can do so on your iPhone or iPad. Open the App Store app, then tap your account icon in the upper right. Tap Subscriptions, then tap the entry for Apple Arcade. Here, you can switch to the annual plan. Apple Arcade is also included in the Apple One subscription bundles, which range from $10 a month to $30 a month.
How do I sign up for Apple Arcade?
There isn't an Apple Arcade app—it's built into the App Store. On your iPhone, iPad, or Mac open the App Store and look for the Apple Arcade tab at the bottom of the screen (or in the left column on macOS). A sign-up screen with a Try It Free button will appear. After the trial you'll be charged either the monthly or annual fee, depending on your selection. When subscribing, you'll need to enter your Apple ID password or use Touch ID or Face ID to sign in, and you'll have to confirm your subscription purchase a few times.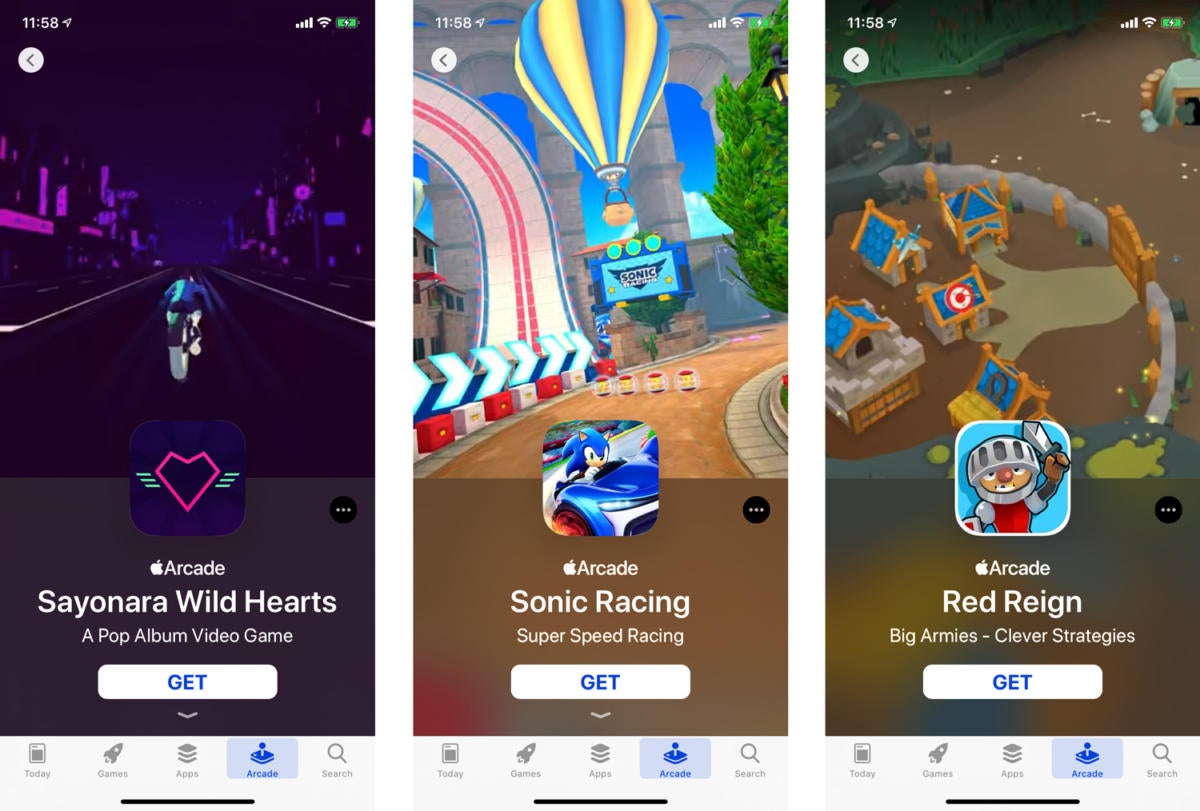 Once you're done with the sign up, the Arcade section of the App Store shows what games are available to you. To access a game, tap on it in the App Store, then tap the Get button. When the game is done installing on your device, the Get button turns into a Play button, and you can tap it to launch the game. The game app icon will also appear on your device's Home page.
On the Apple TV, there actually is an Arcade app. Open that to see the sign-up offer. You'll also find an Arcade tab within the App Store.
Does my subscription include family sharing?
Yes. One $4.99 per month subscription can be shared between up to six people (including you).
How do I cancel Apple Arcade?
First off, keep in mind that if you cancel Apple Arcade (either before your free trial is up or after subscribing), you won't be able to keep playing the games unless you re-subscribe. If you're okay with that, you can use the same process you use to cancel any other subscription service. Here's the easiest way to do it on the iPhone and iPad:
Open the App Store app and tap on your profile photo in the upper right.

In the screen that pops up, press Subscriptions near the top of the page.

You'll then see a list of active subscriptions, and Apple Arcade should be listed there. Tap it.

You'll either see Cancel Free Trial or Cancel Subscription toward the middle of the page that appears. Tap whatever option is available

, then Confirm Cancellation.
And here's how to cancel Apple Arcade on the Mac:
Open the App Store app and then press the icon with your profile photo in the lower left.

The Account window will appear, and you should then click View Information at the top of the window. Enter your password when/if prompted.

When your Account Information appears, scroll down to the Manage section and click the Manage link to the right of Subscriptions.

When the list of your active subscriptions appears, click Edit to the right of Apple Arcade.

Toward the middle of the page that appears, you'll see a button that says either Cancel Free Trial or Cancel Subscription. Click it, then click Confirm Cancellation and Confirm.
How do I access Apple Arcade games?
Apple Arcade is its own tab in the App Store. You can find games to download there, and grab anything you like without fear of being charged, seeing ads, or having to later buy in-app purchases.
Once downloaded, Apple Arcade games are found just like any other app on your device.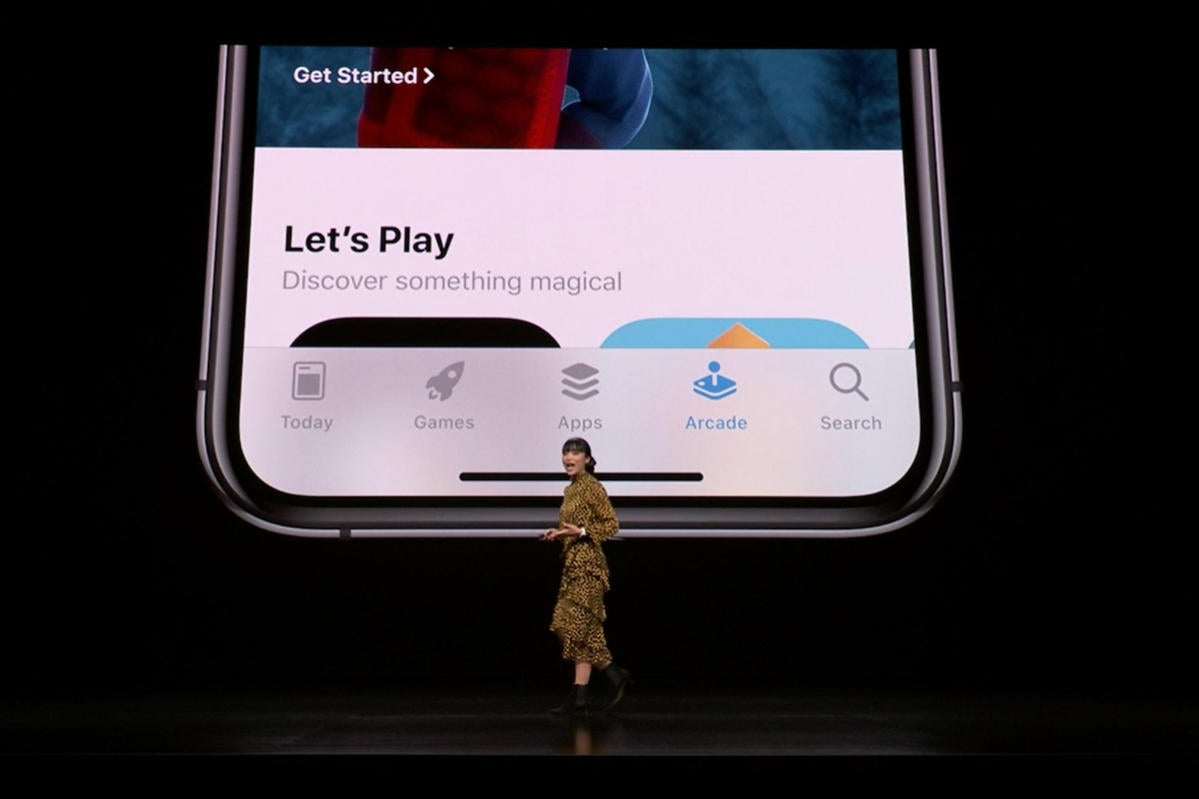 You'll find this tab on the Mac, too.
Does Apple curate the games on Apple Arcade?
Yes. Apple says it is "handpicking the games in Apple Arcade" and that it curates them "based on originality, quality, creativity, fun, and their appeal to players of all ages."
Do Apple Arcade games have in-app purchases?
No. In Apple's words, "since every game includes access to the full experience, including all game features, content, and future updates, no additional purchases will be required." Even games that have in-app purchases on the App Store won't have any in Apple Arcade.
Do Apple Arcade games have ads?
Also no. On a related note, Apple says Apple Arcade has no ad tracking.
Is Apple Arcade a game streaming service like Google's Stadia or Xbox Game Streaming?
No. All Apple Arcade are downloaded.
Are Apple Arcade games available on other systems?
Apple Arcade games were originally exclusive to Apple Arcade—not in the regular App Store nor on any other mobile platform. Some would appear on PC or consoles, but never in a subscription service.
Apple has since relaxed that policy somewhat, and you can find games in Apple Arcade that also exist in the regular App Store or on Android. They are usually denoted by a "+" at the end, to differentiate the Apple Arcade version (free to download with your subscription, and free from ads or in-app purchases) from the App Store version. For example Mini Metro (App Store) vs. Mini Metro+ (Apple Arcade).
Will I still be able to buy games on the App Store without an Apple Arcade subscription?
Yes. There's no sign that the existing games model will be going away, as it works fine for freemium games like Idle Heroes or Toon Blast. Apple is focusing on "handpicked" games for Apple Arcade, so there's little doubt that the library will be much smaller than the thousands of games available in the App Store.
Are there demos for Apple Arcade games?
No, and they're not really necessary. Like App Store apps, games download quickly and can easily be removed if you don't want to keep it anymore.
Apple partly envisions Apple Arcade as a way of letting players try out games with more freedom than the App Store currently allows (which is basically none). In Apple's words, "rather than pay upfront for each game, a subscription to Apple Arcade will give players the opportunity to try any game in the service without risk."
The service has a free trial, though, as we've seen with both Apple Music and Apple News+.
Am I able to keep playing Apple Arcade games if I cancel my subscription?
No. As with most subscription services, you only have access while you're a subscriber.
Can I use controllers with Apple Arcade games?
Yes. In additional to traditional MFi (Made for iOS) controllers, you can pair some specific Bluetooth controllers for both the PlayStation 4 and Xbox One with either your iPhone, iPad, or Apple TV. Since many Apple Arcade games are playable on Mac and Apple TV (where controller support is more common), many games will support them. Some games, especially those that are also available in the broader App Store and only for iPhone or iPad, have no controller support.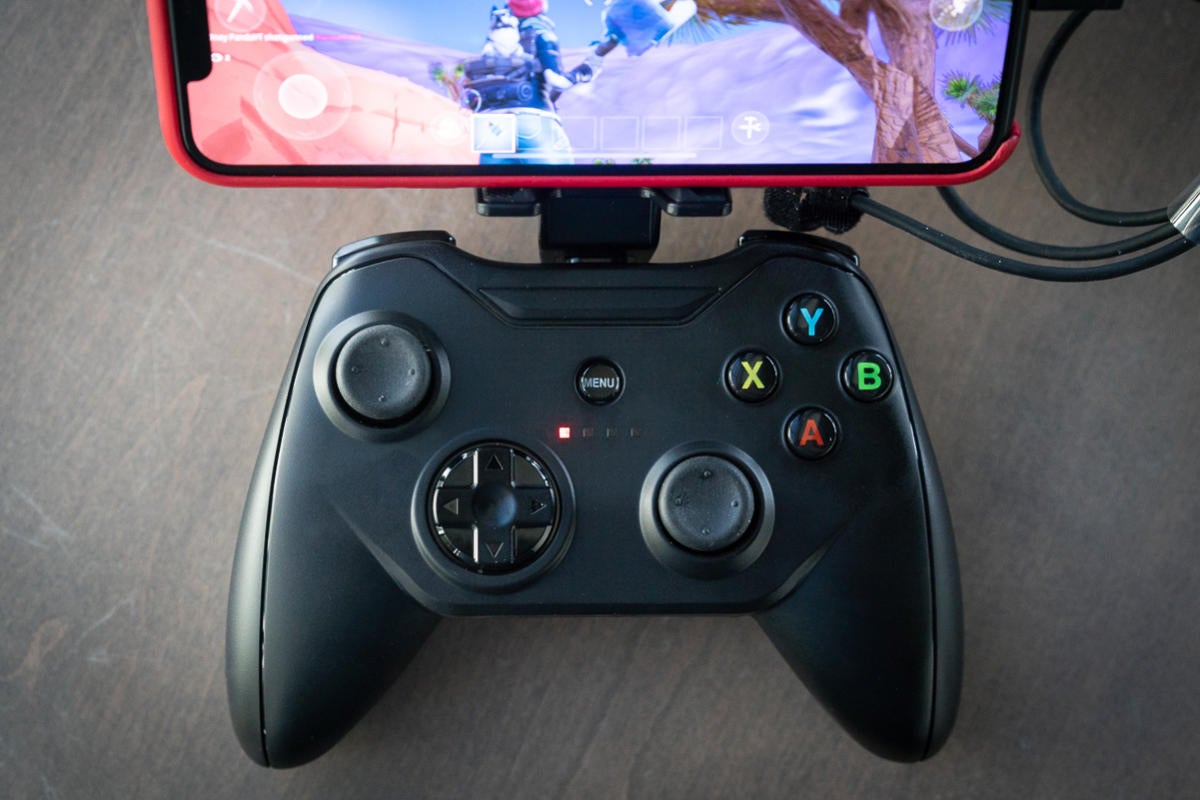 Recently Apple relaxed the requirements for MFi controller certification, which may have grown out of the Apple Arcade negotiations.
How often are new games released?
Games are typically released on Fridays, but not every Friday. The release schedule is sporadic—some Fridays there are no new games released, some see one game released, some more than one. Sometimes there will be no new game release, but existing games will get a big update with new content and features.
On average, new games are released at a rate of about one every 2-3 weeks, though this may improve as Apple has loosened the rules around Apple Arcade exclusivity.
What games have been released so far?
There are over 150 games available for Apple Arcade, and the list grows all the time.
TitlePublisherRelease DateA Fold ApartLightning Rod Games04/17/20A Monster's ExpeditionDraknek Limited09/10/20Agent InterceptProdigy Design09/19/19Alba: A Wildlife Adventureustwo12/11/20All of YouAlike Studio11/06/20Alto's Odyssey: The Lost CityTeam Alto / Snowman07/16/21Angry Birds ReloadedRovio07/16/21Asphalt 8: Airborne+Gameloft08/27/21Assemble With Careustwo09/19/19ATONE: Heart of the Elder TreeWildboy Studios09/19/19Baldo: The Guardian OwlsNaps Team08/27/21Ballistic BaseballGameloft10/18/19BattleSky Brigade: HarpoonerBattleBrew Productions09/19/19Beyond a Steel SkyRevolution Software06/26/20Beyond BlueE-Line Media04/17/20Big Time SportsFrosty Pop Games09/19/19Bleak SwordDevolver Digital09/19/19Butter RoyaleMighty Bear Games01/24/20Card of DarknessPendleton Ward09/19/19CardpocalypseVersus Evil09/19/19Castlevania: Grimoire of SoulsKonami09/17/21Cat Quest IIThe Gentlebros.09/19/19Charrua SoccerBatovi Games02/07/20ChuChu Rocket! UniverseSega09/19/19Clap Hanz GolfClaphanz04/02/21Cozy GroveSpry Fox03/18/21Crayola Create and Play+Red Games Co.10/29/21CreaksAmanita Design07/10/20Cricket Through the AgesDevolver Digital09/19/19Crossy Road+Hipster Whale10/08/21Crossy Road CastleHipster Whale02/28/20Cut the Rope RemasteredPaladin Studios04/02/21Dead End JobHeadup GmbH, Ant Workshop09/19/19Dear ReaderLocal No. 1209/19/19DecoherenceEfecto Estudios10/11/19Detonation RacingElectric Square07/30/21DiscoloredShifty Eye Games & Jason Godbey11/08/19Dodo PeakMoving Pieces Interactive09/19/19Don't Bug Me!Frosty Pop Games09/19/19Doodle God UniverseJoyBits07/16/21Doomsday VaultFlightless01/03/20Down in BermudaYak & Co09/19/19Dread NauticalZen Studios09/19/19EarthNightCleaversoft09/19/19Exit the GungeonDevolver Digital09/19/19ExplottensWRP Pvt.09/19/19Fallen KnightFairPlay Studios10/25/19FantasianMistwalker04/01/21Farm It!Tummy Games03/26/21Fledgling HeroesSubtle Boom09/19/19Frenzic: OvertimeThe Iconfactory06/18/21Frogger in Toy TownKonami09/19/19Galaga Wars+Bandai Namco11/12/21Game Dev Story+Kairosoft Co., Ltd06/18/21Game of Thrones: Tale of CrowsDevolver Digital08/07/20GrindstoneCapybara Games09/19/19GuildlingsSirvo Studios, Inc.11/08/19Hexaflip: The Action PuzzlerRogue Games, Inc.09/19/19HitchHikerVersus Evil03/26/21HogwashBossa Studios10/25/19Hot LavaKlei Entertainment09/19/19HyperBrawl TournamentMilkey Tea Limited09/19/19INKS.+State of Play Games06/25/21INMOSTChucklefish Limited10/11/19Jenny LeClueMografi09/19/19Jetpack Joyride+Halfbrick Studios07/23/21Jumper JonOgre Pixel11/01/19King's League IIKurechi Sdn. Bhd.09/19/19Kingdom Rush Frontiers TD+Ironhide Irl11/12/21Kings of the CastleFrosty Pop01/17/20Layton's Mystery Journey+Level-5 Inc.09/03/21Legend of the Skyfish 2Crescent Moon Games04/03/20Legends of Kingdom RushIronhide Game Studio06/11/21LEGO BrawlsThe Lego Group09/19/19LEGO Builder's JourneyThe Lego Group12/19/19LEGO Star Wars BattlesTT Games09/24/21LEGO Star Wars: CastawaysGameloft11/19/21Leo's Fortune+1337 & Senri LLC06/25/21Lifelikekunabi brother10/25/19LifeslideDreamteck09/19/19Little OrpheusSumo Digital06/12/20LumenLykkegaard International02/05/21Manifold GardenWilliam Chyr Studio10/18/19Marble It Up: Mayhem!Marble it up11/08/19Marble KnightsWayForward09/18/20MasterChef: Let's Cook!Tilting Point09/03/21Mind SymphonyRogue Games, Inc.10/11/19Mini MotorwaysDinosaur Polo Club09/19/19MonomalsPicomy11/01/19Monster Hunter Stories+Capcom08/06/21Murder Mystery MachineBlazing Griffin09/19/19MutazioneDie Gute Fabrik09/19/19NBA 2K21 Arcade Edition2K Sports04/02/21NBA 2K22 Arcade Edition2K Sports10/19/21NecrobaristaRoute 5907/17/20Neo CabChance Agency09/19/19NeversongSerenity Forge05/01/20Next Stop NowhereNight School Studio08/14/20Nightmare FarmHit-Point Co., Ltd.10/05/19No Way HomeSMG Studio01/10/20NUTSNoodlecake Studios01/22/21Oceanhorn 2: Knights of the Lost RealmCornfox & Bros.09/19/19Oceanhorn: Chronos DungeonCornfox & Bros.01/08/21Operator 41Shifty Eye Games09/19/19OutlandersPomelo Games09/19/19Over the AlpsStave Studios09/19/19OverlandFinji09/19/19PAC-MAN Party RoyaleBANDAI NAMCO Entertainment10/18/19Painty MobDevolver Digital09/19/19PatternedBorderLeap09/19/19PilgrimsAmanita Design10/05/19Populus RunFIFTYTWO01/29/21PossessionsNoodlecake Studios09/19/19Projection: First LightBlowfish Studios09/19/19Punch PlanetSector-K Games09/19/19Rayman MiniUbisoft09/19/19Red ReignNinja Kiwi Limited09/19/19Redout: Space Assault34BigThings10/05/19Reigns: BeyondDevolver Digital11/06/20Rosie's RealityRosieReality11/15/19RoundguardWonderbelly Games03/13/20Samurai Jack: Battle Through TimeCartoon Network08/21/20Sayonara Wild HeartsAnnapurna Interactive09/19/19ScrappersQ-Games04/10/20Secret Oops!Mixedbag01/31/20Shantae and the Seven SirensWayForward09/19/19Shinsekai: Into the DepthsCapcom09/19/19ShockRodsStainless Games10/11/19Simon's Cat – Story TimeTactile Games Limited04/02/21Skate CitySnowman09/19/19Slash QuestNoodlecake Studios10/01/20Sneaky SasquatchRAC709/19/19Sociable SoccerRogue Games, Inc.11/08/19Solitaire StoriesRed Games Co.07/02/21SongPop PartyGameloft04/02/21Sonic RacingSega09/19/19South of the CircleState of Play10/30/20Sp!ngSMG Studio03/05/21SpacelandTortuga Games09/19/19Speed DemonsRadiangames09/19/19SpekRAC7 Games09/19/19SpelldrifterFree Range Games09/19/19SpidersaursWayForward09/19/19Spire BlastOrbital Knight sp.01/22/21Spongebob SquarePants: Patty PursuitNickelodeon05/28/20SpyderSumo_Digital03/20/20Star FetchedCrescent Moon Games11/01/19Star Trek: LegendsTilting Point LLC04/02/21StelaSkyBox Labs10/11/19Stellar CommandersBlindflug Studios09/19/19Steven Universe: Unleash the LightCartoon Network11/27/19Stranded SailsShifty Eye Games09/19/19Super Leap DayNitrome08/06/21Super Impossible RoadRogue Games, Inc.09/19/19Super Mega Mini PartyRed Games Co, LLC11/01/19Super Stickman Golf 3+Noodlecake08/06/21Survival ZEmber Entertainment02/19/21Taiko no Tatsujin Pop Tap BeatBANDAI NAMCO Entertainment04/02/21Takeshi and HiroshiOink Games Inc.11/08/19Tales of MemoTendays Studio10/25/19Tangle TowerSFB Games09/19/19Temple Run: Puzzle AdventureScopely, Inc.09/17/21Tetris BeatN3twork Inc.08/20/21The Bradwell ConspiracyBossa Studios10/05/19The Collage AtlasRobot House Games Ltd10/16/20The Enchanted WorldNoodlecake Studios09/19/19The Get Out KidsFrosty Pop Games09/19/19The Last CampfireHello Games08/27/20The Loud House: Outta ControlNickelodeon02/14/20The Lullaby of Life1 Simple Game07/24/20The MosaicRaw Fury11/01/19The Oregon TrailGameloft04/02/21The OthersideThe Label05/08/20The PathlessAnnapurna Interactive11/12/20The Pinball WizardFrosty Pop Games09/19/19The SurvivalistsTeam1710/08/20Things That Go BumpTinybop Inc.10/18/19Thumper: Pocket Edition+Drool LLC10/01/21tint.Lykkegaard International09/19/19Tiny Wings+Andreas Illiger10/15/21Transformers Tactical ArenaRed Games Co11/05/21Towaga: Among ShadowsNoodlecake Studios09/19/19Towers of EverlandCobra Mobile Limited05/22/20UFO on Tape: First ContactRevolutionary Concepts11/08/19Ultimate Rivals: The CourtBit Fry Games07/09/21Ultimate Rivals: The RinkBit Fry Games12/12/19Various DaylifeSquare Enix09/19/19Warp DriveSupergonk11/27/20Way of the TurtleIllusion Labs09/19/19What the GolfFig09/19/19Where Cards FallSnowman09/19/19Winding WorldsKO_OP05/15/20Wonderbox: The Adventure MakerAquiris04/01/21Word Lacesminimega09/19/19World of DemonsPlatinumGames04/02/21World's End ClubIzanagiGames09/04/20WurdwebAran & Adriaan08/13/21YagaVersus Evil10/25/19Zen Pinball PartyZEN Studios09/03/21Zombie Rollerz: Pinball HeroesFirefly Games12/04/20Zookeeper WorldKiteretsu Inc.09/10/21
I have written professionally about technology for my entire adult professional life – over 20 years. I like to figure out how complicated technology works and explain it in a way anyone can understand.
Source by www.macworld.com