If you are into hot composting then a compost thermometer is a must. You need to carefully monitor the temperature of your compost, the hotter the compost the quicker the materials break down but if it gets too hot it will dry out. It really is a fine balancing act to get the temperature just right for your composting needs. A compost thermometer allows you to keep the temperature optimal to achieve perfect compost.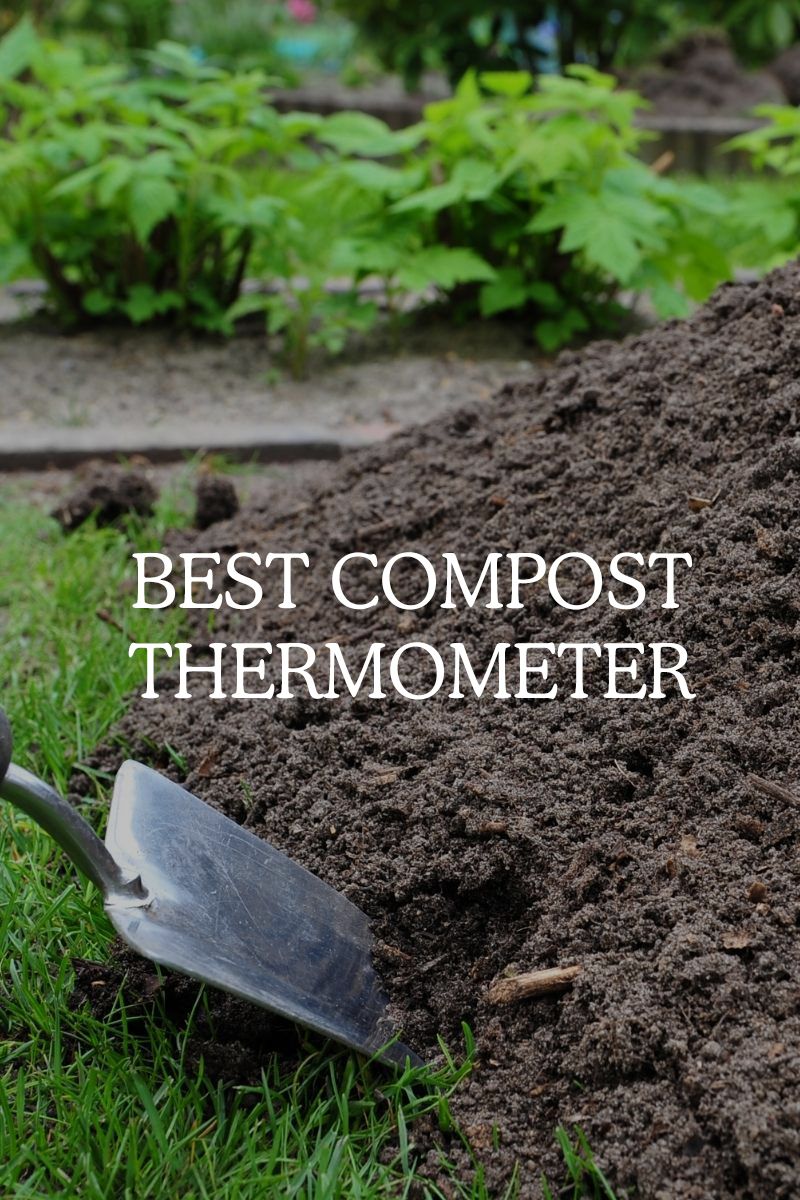 COMPARISON CHART


CHECK PRICE
CHECK PRICE
CHECK PRICE
Features
Easy to read 2 inch wide dial with color-coded temperature ranges
High-quality and lightweight PC-coated lens, hermetically sealed to avoid fogging and moisture
Tough, reinforced welded bolt between dial and stem for long-lasting operation and conditions
Long 20 inch, 3/16 inch diameter durable stem for accurate readings
Cate's Garden Premium Compost Thermometer lets you know the temperature and health of your compost pile quickly and easily. Simply place the stem into the middle of your pile to get an accurate reading. With this thermometer, you will know the inner workings of your pile, and correct any problems and imbalances to speed up the soil-making process.
WHAT WE LIKE
This thermometer provides simple directions and temperature ranges to let you know when to add or subtract material, when to turn it and when to add water. The color-coded dial with temperature ranges corresponding to the directions on the packaging is easy to understand. It's surprisingly fast with its readings, which only take a few seconds. It comes with an extended warranty and you can even store it in the reusable blister pack for safety.
WHAT WE DONT LIKE
Unfortunately condensation occurs inside the unit from the sun which causes heat inside which damages and discolors the front screen. The stem is a little on the light weight side, so when pushing it into the compost heap you need to take a little extra care. If the probe is bent it will affect the reading accuracy. There is also no way to adjust the calibration on this thermometer.
PROS
Simple directions and temperature ranges
Easy to understand
Fast readings
Extended warranty included 
Easy and safe storage in reusable blister pack
CONS
Condensation can occur and damage front screen
Stem is too lightweight 
No way to adjust the calibration on the thermometer
CHECK PRICE
CHECK PRICE
CHECK PRICE
Features
Free PDF Digital Compost Guide Included to assist beginner composters 
20 inch length, 1/4″ diameter stem, stainless steel construction, hermetically sealed to prevent fogging
3 temperature zones that indicate compost activity
100% Compostable Packaging
A Reotemp FG20P Backyard Compost Thermometer takes the guesswork out of composting. With a basic understanding of the temperature at the center of your compost pile you will know when to take necessary action with your compost to get the best result possible.
WHAT WE LIKE
The thermometer is sturdy, easy to insert into the compost pile and simple to read. The instructions are helpful and user friendly. You can leave the thermometer inserted in the compost bin for weeks at a time in all kinds of weather with no problems. Thicker stem then other thermometers for less bending. Handy compost guide included for the best possible composting results.
WHAT WE DONT LIKE
One slight downside to this compost thermometer is the heating gauge does not seem to go down below 70 F. The packaging is not ideal and is not very secure for transport which can result in potential damage to the thermometer. The face could stand to be a little bigger so the numbers would be easier to see.
PROS
Sturdy and durable stem 
Simple to read 
Can leave in compost pile
Handy compost guide included
CONS
Thermometer does not go below 70F
Packaging is not secure 
The face could be bigger
CHECK PRICE
Features
Solid 20 inch (508 mm) 0.2 inch (5mm) diameter stem
Reinforced welded bolt between dial and stem for long-lasting operation and conditions
Color-coded temperature ranges with an easy to read 2 inch wide dial for accurate temperatures
High-quality and lightweight PC-coated lens
Greenco Gardening Premium Compost Thermometer lets you know the temperature and health of your compost pile. Simply place the stem into the middle of your pile to get an accurate reading.
WHAT WE LIKE
The color coding on the dial is helpful. The lifetime warranty is a great plus with this thermometer. The thermometer is nice and long and is pretty sturdy. It works great for checking & tracking compost pile temperatures from start to finish. It is durable & easy to use.
WHAT WE DONT LIKE
The hermetically sealed and water resistance was not as advertised and it fogs up and makes it almost impossible to read. The probe is very thin and bends quite easily and can even snap. It takes quite a while (upwards of 30 seconds) for it to adjust to the temperature and actually show a changed reading on the display.
PROS
Helpful color coded dial
Lifetime warranty is a plus
Great for full composting journey
Durable and easy to use
CONS
Fogs up making reading hard
Thin flimsy probe
Takes a while to read temperature
CHECK PRICE
Features
Color-coded gauge alerts you to dangerous temperatures with just a glance
Eight inch probe reaches deep into the worm bedding to get the most accurate reading possible
Can accurately read temperatures between 32 and 125 degrees Fahrenheit
Quickly check the temperature in your worm bin
This thermometer has a 8″ probe to stick into your worm bin to measure the temperature of the food / bedding mixture. It can accurately read temperatures and is color-coded so you can immediately see with a glance if the temperatures are putting your worms at risk.
WHAT WE LIKE
The accuracy is excellent. The visuals of what the worms will be doing at each temperature is very handy. Besides the pictures and color ranges you also find actual temperature readings as well to give you full accurate readings. Useful tool to help my worms stay at optimal temperature.
WHAT WE DONT LIKE
The clear plastic is very thin and the pointer is thin too and has the potential of it easily breaking. Hard to read the dial as it is on the smaller side. This thermometer unfortunately does not come with directions.
PROS
Accurate thermometer
Visuals of worms is handy
Gives full readings with temperatures
Useful tool for your worms well being
CONS
Thin stem thats breakable
Hard to read dial
Does not come with directions
CHECK PRICE
Features
Compost thermometer made with stainless steel stem
It has a -10…+90°C range
The thermometer comes with a product manual 
Large dial which is easy to use
This stainless steel compost thermometer is well made and durable. The long probe can handle measuring the temperature of most compost heap sizes with ease.  The large dial is easy to read at a distance with a clear display.
WHAT WE LIKE
This thermometer is much easier to use than the conventional compost thermometers and produces identical readings. The large dial on top can be read without removing it from the compost heap. Excellent for keeping an eye on compost. Has a very long probe making it useful for larger compost heaps.
WHAT WE DONT LIKE
It's not at all waterproof though so don't leave it where it will get wet. Condensation is a problem with this thermometer that remains for days after water exposure making readings foggy. You cannot leave it long in a hot compost bin as it is just not sealed for this sort of thing.
PROS
Easy to use
Large dial for clear readings
Excellent for monitoring compost
Long probe
CONS
It is not waterproof
Condensation is a problem
Not well sealed
FINAL VERDICT 
Composting requires quality tools for success and a good compost thermometer will greatly assist in your composting journey. Our top recommendation is the  Compost Thermometer – Cate's Garden Premium Stainless Steel Bimetal Thermometer for Backyard Composting. 
This compost thermometer has all the bells and whistles. The detailed instructions used in conjunction with the easy to read dial with color-coded temperature ranges allows you to know exactly what steps to take with your compost pile to keep it optimal. The extended warranty is a big plus that gives you peace of mind. The useful reusable blister packaging doubles up as storage for your thermometer too. The thermometer is durable and well made. Your compost heap will be thriving in no time with this compost thermometer.
If you loved this post about the best compost thermometer, consider checking out these article.
Source by freshexchange.com