It is never fun to get mud on your new shoes. Nor is it fun to always have to clean off your running shoes from the dirt in the garden. That is why gardening shoes were made to be used fully in the garden while also preventing injury to feet from gardening tools or branches.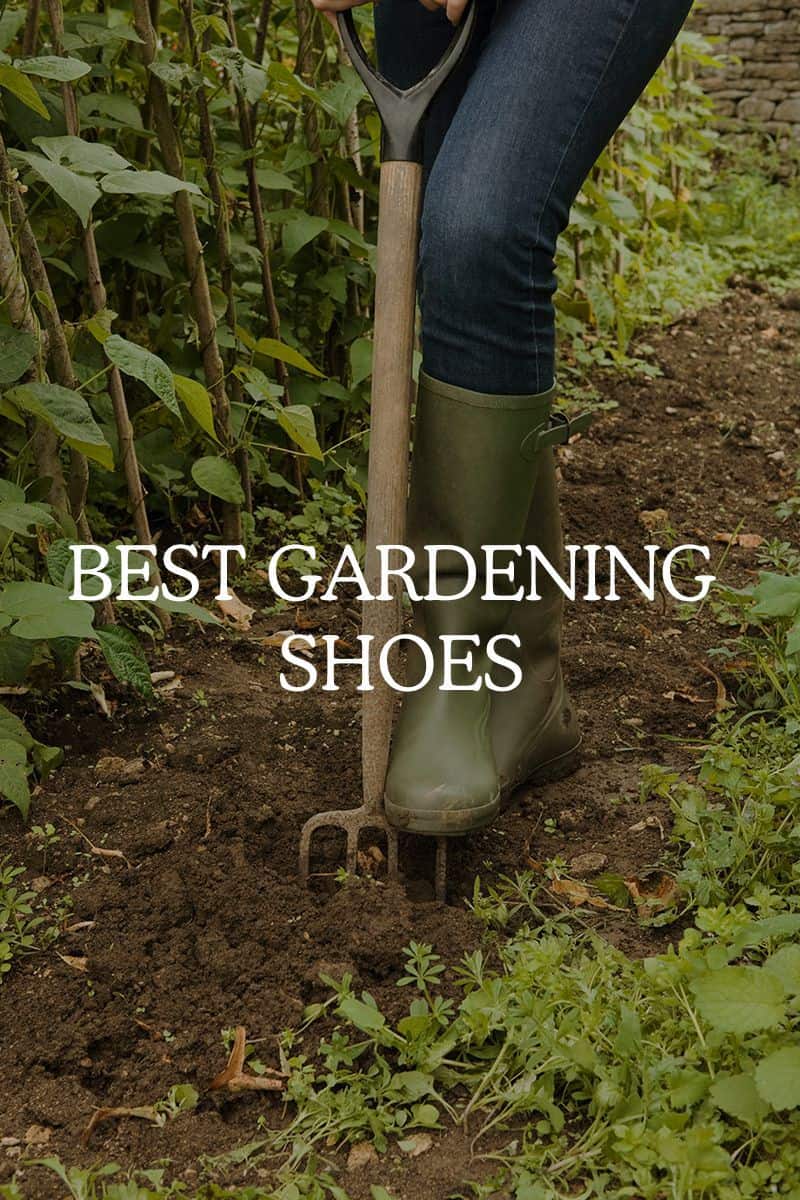 Plus, these shoes are incredibly sturdy which means they hold up against abuse, wear and tear, mud, and dirt. This article aims to show the best gardening shoes reviews, comparisons, and the verdicts on which shoe is the best for men and which is the best for women.
COMPARISON CHART


CHECK PRICE
CHECK PRICE
CHECK PRICE
Features
100% Waterproof
4mm Neoprene Insulation
Easy On/Off with Pull-On Tab
Quick Cleaning Rubber Outsole
Breathable Mesh Lining
bioDEWIX Footbed Insert
Sub Freezing to 18°C/65°F
This muckster boot is a play on The Original Muck Boot Company's best product but with updated outsole patterns and height. It is ideal to be used in places where there is wet, rain, slush, and mud. Therefore, making a garden the perfect place to use it. These boots are easy to slip on and quick to kick off along with having great breathability for comfortability.
WHAT WE LIKE
The construction of the boot is great: it has a contoured fit to help prevent blisters and chafing, a high-grade extended rubber overlay that creates a waterproof seal and protection, the outsole is made from high-traction rubber to make it slip-resistant, and breathable lining wicks away moisture and sweat.
The bioDEWIX Footbed Insert Top Cover is great for moisture and odor management, too. Sometimes rubber work shoes can be difficult to take on and off. However, these Mucksters were designed not only to have an easy kick-off feature but also have a pull tab on the back at the top to facilitate putting on and taking off the boot.
WHAT WE DONT LIKE
Beware when buying as the sizing runs small – order an entire size up if possible. While most of the boots arrive fine and stay functional, occasionally comes a pair where they arrive with a hole in the sole or the sole and boot itself fall apart due to use making it not waterproof.
PROS
Moisture and odor management
Slip-resistant
Breathable
100% waterproof
Easy on/off
CONS
Sizing runs small
Holes in boot occasionally
CHECK PRICE
CHECK PRICE
CHECK PRICE
Features
Made in the USA
Made from 100% recyclable material
Includes "All-Day-Comfort" insoles
Heavy-duty lug tread
Easy to clean
100% waterproof
These women's gardening shoes come in sizes 6-11 and in over ten different colors and patterns to fit not only any garden but also any outfit. They are made in the US and are designed to be comparable to the waterproof work boot without being clunky, bulky, or unappealing to the eye.
WHAT WE LIKE
When buying shoes online, ensuring that you are ordering the correct size can be tricky. Luckily, this company's page offers an in-depth analysis of their size chart as well as guidelines for sizing. When it comes to recycling, these shoes are made from 100% recyclable material and the durable soles are made from 50% recycled material. They are easy to clean with a wet cloth and the insole is removable for cleaning, too.
WHAT WE DONT LIKE
With the heavy-duty greatness that is these shoes, that greatness comes with great weight. These shoes are heavy and when walking that weight can be felt. Along those same lines and due to the material on the outside, these shoes are not very breathable nor do they provide arch support on the inside.
PROS
Great online sizing chart
Vegan friendly, non-latex, 100% recyclable material
Easy to clean
Durable
Comfortable
CONS
Heavy 
Not very breathable
No arch support
CHECK PRICE
CHECK PRICE
CHECK PRICE
Features
Made from 100% synthetic materials
Sole made from Ethylene Vinyl Acetate
The shaft measures approximately 8″ from arch
The heel measures approximately 0.97″
Boot opening measures approximately 12.5″ around
Although this Crocs Shorty Boot was designed for a rainy day to be the lightest rain boots around, they also work wonderfully for gardening due to their material, shorty boot height, and their functionality. They come in two pretty colors – blue and black – and sizes ranging from four to eleven.
WHAT WE LIKE
Shoe sizing can be complicated – especially for really small or really big feet. Luckily, these boots come in size four to size eleven to fit every need. Some durable boots and gardening shoes are made from heavy-duty rubber and therefore weigh quite a lot; however, these are made from synthetic material which makes them durable and lightweight. The insoles can be taken out and replaced with the user's preferred insoles for added comfort.
WHAT WE DONT LIKE
Crocs are known for coming in diverse colors and designs. However, this Shorty Boot comes in only two colors – black and navy blue. Since the boots were made for wet and colder weather, they end up shrinking in heat so it is essential not to leave them drying in the sun or expose them to the sun for long periods of time. Furthermore, they are not made for "wide feet".
PROS
Expansive sizes
Lightweight
Insoles are replaceable
CONS
Comes in only two colors
Shrink in heat
Not made for wider feet
CHECK PRICE
CHECK PRICE
CHECK PRICE
Features
Waterproof
4mm Neoprene
Breathable air mesh inner-lining
Very comfortable
High-traction rubber outsole
Slip-ons
If you are looking for good shoes to leave by the back door, these are ideal. They have high traction rubber outsoles which help with traction on wet surfaces and can easily shed debris or mud tracked in from the outside. Plus, they are easy-on-easy-off slip-on shoes.
WHAT WE LIKE
Having shoes that are easy to get on and off saves time and these shoes have a slip-on and easy kick-off design. They are incredibly comfortable due to the interior air mesh lining which is breathable so sweat and moisture are not an issue. It also is rated from below zero to 18ºC/65ºF comfortably. The outsole has high-grade rubber for durability and is 100% waterproof.
WHAT WE DONT LIKE
Although these shoes are great in many ways, they also only go up to below the ankle which means they do not provide ankle support or additional calf protection. When ordering, order a half-size or a whole-size up as the product line also tends to run small.
PROS
Slip-on and easy kick-off design
100% waterproof
Breathable interior
Durable
CONS
No ankle support
No calf protection
The product runs small in size
FINAL VERDICT 
For the best gardening shoe for men, the ​​Muckster ll Ankle-Height Men's Rubber Garden Boots takes the cake due to their comfort and durability.
Getting cold feet is never fun – especially when they are wet. Luckily, these rubber garden boots have a guaranteed comfort level from subzero temperatures to 18ºC/65ºF. Furthermore, being 100% waterproof guarantees that having wet feet will never be a problem. The 4mm of Neoprene insulation creates flexibility, overall comfort, and heat retention properties. 
In addition, it adjusts to the contours of the foot which prevents chafing and blisters. When it comes to durability, the quick cleaning rubber outsole offers durability and traction on slick surfaces making it slip-resistant. The outside also has a high-grade extended rubber overlay which is what creates 100% waterproof protection. On the inside, the 4mm of Neoprene insulation aids that 100% waterproofing along with shock absorption. The air mesh lining creates breathability that wicks away moisture and sweat. 
Although it was originally designed to be a rain boot, the best gardening shoe for women, the Crocs Women's Jaunt Shorty Boot is the best choice on the list due to its durability and design. 
As a rain boot, it is made from synthetics which makes it also perfect to work in the garden due to the durability of the material. It is easy to wipe clean and is 100% waterproof. In fact, they are easy to rinse off when they get muddy, even after the mud dries for a few days. 
The design, unlike other gardening shoes, comes up above the ankle and protects the ankle and the pant leg which can easily get destroyed or muddied up in the garden. Plus, if the insoles are not comfortable, they are easy to take out and replace with insoles that feel better to walk in.
If you loved this post about the best gardening shoes, consider checking out these articles.
Source by freshexchange.com