Garden hoses are a necessity for any homeowner but can be a sight for sore eyes and do not always store easily. However, it's an absolute necessity for any gardener to keep the garden hose detangled and tidy. Luckily, there is a fix to garden hose storage – garden hose reels.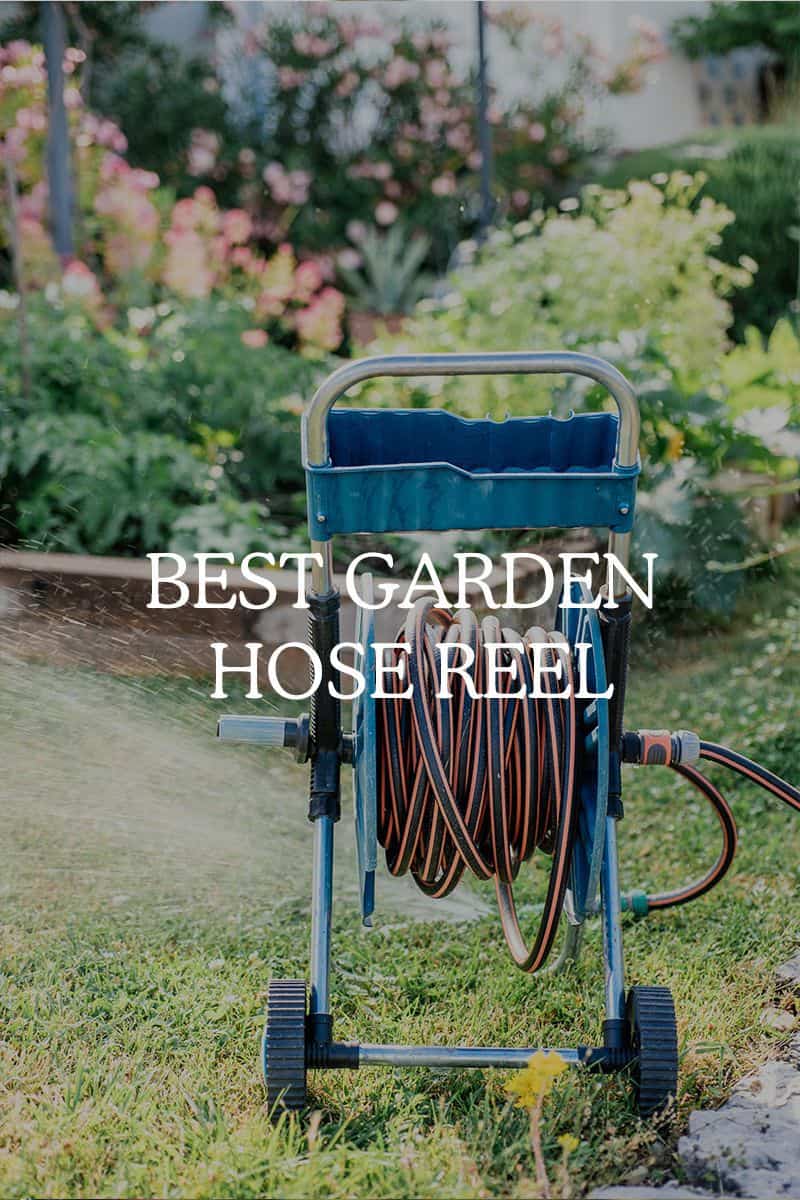 This article covers the reviews and comparisons of the best garden hose reels while confirming which in the list is the best garden hose reel on the market. By having the best garden hose reel on the market that also fits your purposes, gardeners can garden with peace of mind knowing that their hoses, which are an expensive investment, are taken care of and well kept. 
COMPARISON CHART
CHECK PRICE
CHECK PRICE
CHECK PRICE
Features
Easy to install
2-year warranty
Auto-rewind system
Pre-installed 100-foot hose
The Giraffe Retractable Garden Hose Reel is meant to bring convenience to all of its users with incomparable strengths and design. With a wall-mounted design, the garden hose reel is a time-saver as well as a space-saver.
WHAT WE LIKE
The 100-foot hose which comes with the real can be locked at any length, be rewound on a stable auto-rewind system that guides the hose, and rolls it up neatly without tangling or kinking. The hose itself is also all-weather flexible and abrasion-resistant which helps make it durable, long-lasting, and leak-resistant (it passed the 600 PSI bursting pressure test and the 200 PSI pressure test).
WHAT WE DONT LIKE
The hose has trouble retracting on some purchases – occasionally starting right away and others break over time and use. The packaging also comes with incorrect installation instructions (in comparison to the advertised instructions) which may be misleading when purchasing.
PROS
Durable and weather-resistant
Tough hose with leak-resistance 
Auto-rewind system
Hose reel comes with a hose
Hangs on the wall
CONS
Incorrect installation instructions in the package
Trouble retracting on some products
CHECK PRICE
CHECK PRICE
CHECK PRICE
Features
Heavy Gauge Aluminum Construction
125′ of 5/8″ Hose Capacity
5′ Leader Hose included
All Brass/Galvanized Fixtures
Storage tray/shelf
Arrives fully assembled
If a garden hose reel that can wind up and store a hose in style, while also being mounted on the wall, this may be the ideal product. It is stylish with brass fittings and a powder-coated aluminum frame with spiraled flourishes for aesthetics. Plus, it has a 125-foot hose capacity and a convenient storage tray/shelf on top making it multipurpose.
WHAT WE LIKE
It is durable and made from durable materials – it is made from non-rust cast aluminum and has aluminum plumbing features as well as brass fittings. The powder coat finish is rust-resistant. The brass fittings include the hose connection. It arrives completely assembled and is easy to install on the wall. This garden hose reel also has a 7-inch x 14-inch shelf on top which is great for holding tools and garden supplies.
WHAT WE DONT LIKE
As great as it is that this garden hose reel comes fully assembled and ready to be mounted, beware as the mounting material is not included. Furthermore, there is a leak issue with the hose attachment.
PROS
Decorative and aesthetic
All brass fittings
Convenient top storage tray/shelf
Durable materials
Fully assembled
CONS
Wall mount material not included
Leak issues
Poor customer service
CHECK PRICE
Features
Great size
Mountable
Retractable hose guide
Convenient storage
Decorative
125-foot hose capacity
This durable garden hose reel is another great choice for a long-lasting and mountable reel system. It does not kink and the taupe and java colors go well with any yard. It will do a great job of creating a beautiful, functional environment in any garden.
WHAT WE LIKE
This reeling system has a reinforced system that ensures there is a watertight connection between the hose and the removable reel. It comes fully assembled which means there is no need for tools – just mounting it. The reel is removable which makes it easy for winter hose storage. Plus, it is aesthetic and decorative with a java and dark taupe finish.
WHAT WE DONT LIKE
There is a large problem with leakage in the hose connection in many of the products. Plus, the material the garden hose reel is made from is rather flimsy and not as durable as one might think.
PROS
Watertight connection between hose and reel
Fully assembled 
Aesthetic
Easy to remove and store
CONS
Leaks like a sieve
Flimsy material
CHECK PRICE
CHECK PRICE
CHECK PRICE
Features
Freestanding or wall mountable
Enclosed casing
Lightweight
Designed and made in Great Britain, this garden hose reel is stress-free with a viewing window and a two-year warranty. It is incredibly portable and versatile. Made from high-quality plastics, no weather can take it down or make it rust.
WHAT WE LIKE
This pretty garden hose reel has an enclosed casing around it in order to protect against the wear and tear of outside conditions. It also has a viewing window that shows the hose rewinding for a stress-free, non-kink hose winding. It can be free-standing or mounted on the wall depending on each gardener's needs. Plus, it has a folding carry handle for portability.
WHAT WE DONT LIKE
The winding mechanism constantly sticks and becomes harder and harder to work as time goes on. When the package arrives, things are not put together nor are there clear instructions on how to put the reel together. Unless one is a handyman or is great at DIY projects, this would be a difficult purchase.
PROS
Folding carry handle
Enclosed casing for additional protection
Made from high-quality plastic
Viewing window
Free-standing or mounted on the wall
CONS
The winding mechanism constantly sticks
It is essentially DIY from the package


CHECK PRICE
Features
Durable tubular steel frame with a powder-coat finish
Easy-rolling 10-inch pneumatic tires and solid steel axles for rough terrain
Holds 300 feet of ⅝-inch hose (not included)
Built-in basket for storage
Includes 6-feet of leader hose
Includes steel fasteners with a zinc finish
This Ironton Garden Hose Reel Cart holds more hose than the competition at 300 feet. It has a strong tubular steel frame as well as a foam-padded handle for comfort. It rolls easily and has a built-in basket for accessories.
WHAT WE LIKE
While it does not come fully assembled, it is easy to put together – especially based on the instruction manual or pictures on the side of the box. Thanks to the 10-inch wheels, it is incredibly easy to move around (even with weight in it) and is able to stand fine and still when placed on a hill or slant as long as a rock is under one tire. This Ironton Garden Hose Reel Cart also does not leak which puts it above the competition in that regard.
WHAT WE DONT LIKE
Unlike the competition, this Ironton Garden Hose Reel Cart does not come with a hose – only the cart. It also cannot be mounted on the wall in part for design but also for heavyweight purposes. Another downfall is that it is not welded together well. It falls apart after a few summers and is not rust-resistant.
PROS
Leak-free
Easy to assemble
Easy to move/use
CONS
No hose included
Cannot be mounted on a wall
Does not come fully assembled
Not rust-resistant
Not well welded for durability
FINAL VERDICT 
If you are looking for the best garden hose reel in a cart form, the Ironton Garden Hose Reel Cart is definitely the right decision as it is leak-free, easy to move around, and also incredibly easy to assemble. It works on hills, has extra storage for tools, and also can carry up to 300-feet of hose which is more than double what most wall-mounted garden hose reels can carry. 
However, if you are looking for a mountable reel, there is really only one choice for the best garden hose reel. The Liberty GARDEN 704 Decorative Cast Aluminum Wall Mount Garden Hose Reel is the best garden hose reel considering it is not only incredibly aesthetic but also has all brass fittings, comes fully assembled, and is made of durable materials which make it great outdoors. Additionally, it comes with a convenient top storage tray/shelf which can store garden supplies and tools. However, due to the
If you loved this post about the best garden hose reel, consider checking out these article.
Source by freshexchange.com