When you begin your backyard chicken flock you want to make sure you have the best chicken waterer for their run and coop so we gathered the best ones we have discovered to help you make a great decision for your flock.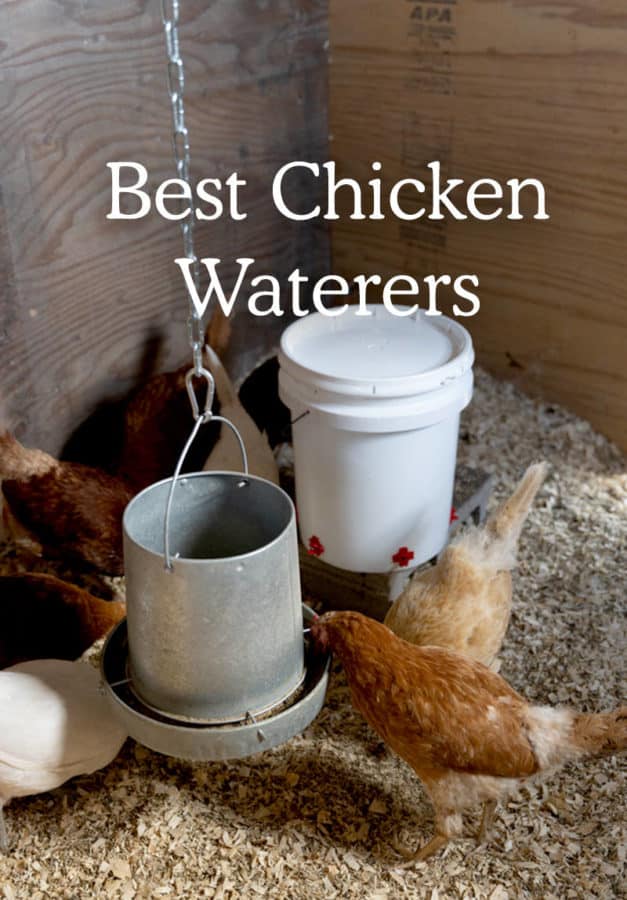 Most chicken owners are unaware that their chickens cannot go longer than 24 hours without any water. In fact, water is even more essential to chickens than food. They can go a few days without food if they have access to their run, but water is not a question for them. Thus, it is so important to have a chicken watering system that makes it really easy to make sure your chickens have water whenever they need it. The following chicken waterers are the best systems out there to help insure that your chickens are never without water. 
We have tried many different options for keeping our chickens with clean and healthy water over the years, but without a doubt the following ones have made it an easy process for us. When choosing these items we were focused on sharing products that were easy and simple to use, kept your water clean, and made your tasks as a chicken owner easy. 
COMPARISON CHART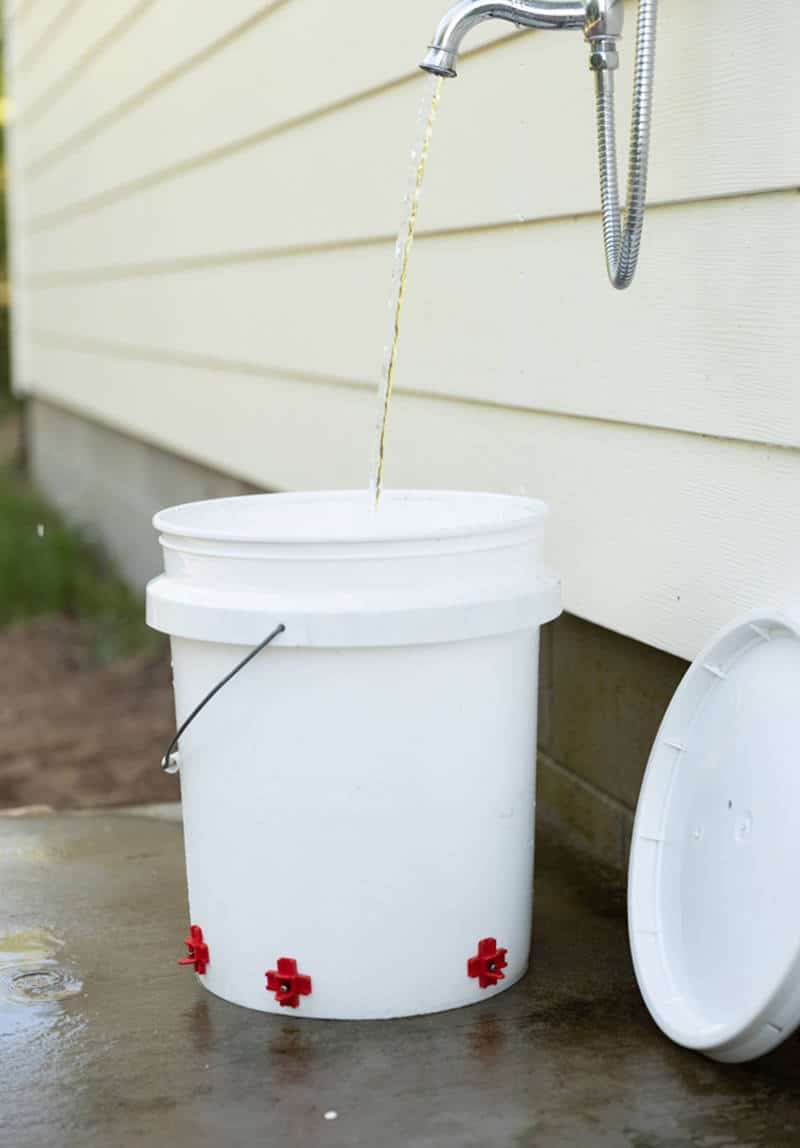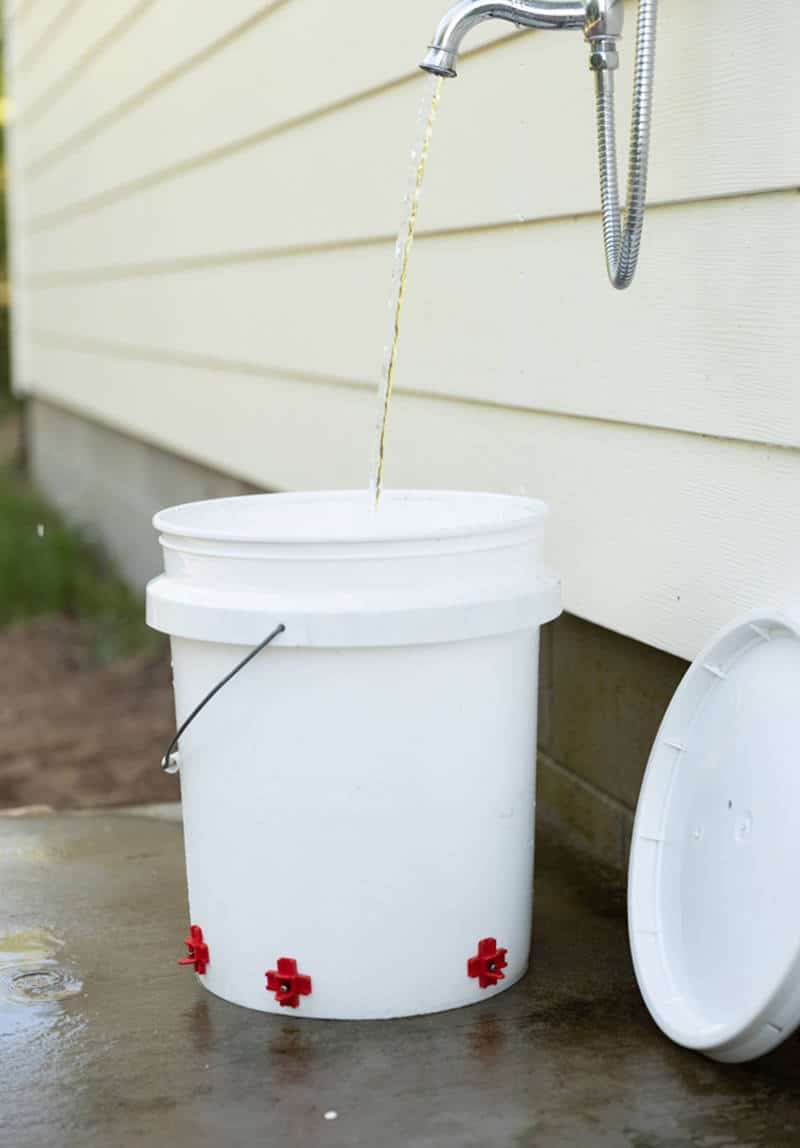 Specification
Water Capacity5 Gallons or any size you would like it to beProduct Dimensions11.91″ top x 14.5″ Hgt.Item WeightWithout water under 1lb but with water 20 lb
Features
Gravity Fed Design
Highly Durable
Easy Assembly
Keeps Water Clean
Easily Done at Home
Affordable
We tried so many waterers and this was for sure the best way we have done the water system for our backyard chickens. It is a super simple DIY and incredibly affordable. It keeps the water clean and is easy to fill up.
WHAT WE LIKE
This design is extremely affordable. It also makes it easy to make sure your chickens have access to clean water. You can also customize the size to any size depending on the number of chickens you have.
WHAT WE DONT LIKE
The main downside is that it doesn't come ready. It is a DIY Chicken Waterer that you will have to make yourself.
PROS
Keeps water clean and accessible to the chickens
Easy to refill
Affordable and easy to make yourself
Gravity Fed Design
Very Durable
Easy to Clean
CONS
Have to create it yourself
Check Price
Check Price
Check Price
Specification
Water Capacity2 GallonsProduct Dimensions9x9x9 inchesItem Weight1.74 pounds
Features
BPA Free and Food Grade Plastic
Horizontal Drinking Nipples
2 Gallons  = 5 Days of Water for 4 hens
Easy to fill
No Assembly
Affordable pricing
This is a similar Chicken waterer to the DIY one but it comes pre assembled. This also comes with a No-roost cone, which is incredibly helpful to keep the product cleaner in the coop or the run. You can fill this from above which makes it easy to fill as well. 
WHAT WE LIKE
Being able to top fill the chicken waterer is great. The nipples make it easy to keep the water clean and fresh for the chickens. It also makes sure the bedding in the coop doesn't get wet because of the nipples. The no roost cone is wonderful to keep it clean and to lower maintenance.
WHAT WE DONT LIKE
Some chickens don't like to drink from nipples and struggle with it. So some hens may refuse it.
PROS
Easy to refill
Gravity Fed Design
Very Durable
BPA Free
Smart Design
No Roost Cone
CONS
Small size and not for all hens
Check Price
Check Price
Check Price
Specification
Water Capacity6.25 Gallons or 3.5 gallonsProduct Dimensions17 x 17 x 21 inchesItem Weight3.3 pounds
Features
BPA Free
Easy-Fill
Sturdy Carrying Handle
Indoor or Outdoor Use
Simple Assembly
This chicken waterer comes in two different sizes and it fills from the top which makes it incredibly easy to refill for your flock. Harris Farms products are made in the United States and designed by experienced farmers that know how to make tasks simpler and easier. 
WHAT WE LIKE
The top filling ability is huge for a chicken waterer. This one is very sturdy and easy to use, which is essential in making watering your chickens a simple task every few days.
WHAT WE DONT LIKE
The main downfall is the exposed water tray. It collects dirt and makes your water dirty very quickly. So you have to make sure you regularly wash it for your chickens.
PROS
Easy to refill
 Gravity Fed Design
Very Durable
BPA Free
Smart Design
Easy to Clean
CONS
Pricey
Needs some maintenance in between uses
Specification
Water Capacity5 gallonsProduct Dimensions10 x 12 x 14 inchesItem Weight2.44 pounds
Features
Constant Full Cups for Ease for Hens and Owner
Great for multiple day use
Can be placed or mounted in a corner or in the center of a coop or run
No Roost Top keeps the waterer clean
Holds 5 Gallons of Water
Optional Strap can be added for hanging.
This chicken waterer offers a more unique option for getting water to the chickens. It uses a cup sort of feeder that provides a small pool of water for the chicken to access. It also has a cone on top to keep chickens from roosting on top of the waterer.
WHAT WE LIKE
Top fill makes it easy to get chickens the water. Less to mess with. The gravity feeding design is wonderful to make sure the water is constantly available for your hens. Easy to assemble and has plenty of options.
WHAT WE DONT LIKE
Though the cups for the chickens is nice to access plenty of water, in the winter these will easily freeze for the birds and won't be accessible. Also the cups will need individually cleaning more often.
PROS
Easy to refill
Gravity Fed Design
Lots of options for positioning in the coop
BPA Free
Smart Design
CONS
Pricey
Needs more cleaning potentially
Specification
Water Capacity5 gallonsProduct Dimensions16 x 16 x 16 inchesItem Weight2.5 pounds
Features
5 Gallon Hold
Tough handle for easy transportation
Easy to fill jar snaps onto base
Durable with Heavy Duty Plastic
This plastic water container holds 5 gallons of fresh water for you chickens. It uses gravity feeding to keep water in the trough for your backyard chickens.
WHAT WE LIKE
This large capacity waterer is really great because it makes it easy to use and refill and it is easy to clean because of the design.
WHAT WE DONT LIKE
It has to be on a completely level surface to not continue flowing because of how the system works. This can be hard in a coop. Also hens can land on it and roost which can make it messy to clean!
PROS
Easy to refill
Gravity Fed Design
Smart Design
Heavy Duty Plastic
Easy to Transport
CONS
Not BPA Free
Needs more cleaning
Chickens can roost on waterer
Needs a level surface
Conclusion
As a final wrap up, the best session is to make your own waterer for your chickens using our DIY chicken waterer or to consider purchasing the RentACoop 2 Gallon – Nipple Drinker if you do not want to make your own chicken waterer. This one is extremely similar to the DIY one and just as simple to use. Also it can easily converted to a heated chicken waterer if you need a system for that you can see our list of best heated chicken waterers.
Need to learn more about Raising Backyard Chickens:
Source by freshexchange.com