top – skater's own Pants – Dearheart vintage  Shoes – vans
Kristen Noelle Miller,  @kristen_noelle_  

Top – skater's own Jean -Cross Colours  Shoes – vans
How long have you been skating and what or who inspired you to start?
I've been skating for four and a half years, and learned when I was 26 years old. I never thought about skateboarding growing up because I don't think I felt it was "for me." But a few years ago, I was inspired to skateboard as a means to have a small and convenient way to commute to work after pushing around on my boyfriend's board. But, I quickly fell in love with the versatility of having a board, and started to work on different styles of skating. I turned my cruiser into a trick board and started going to the parks to work on transition, and bought a Carver surf-skateboard to learn how to flow and carve, and never looked back. Skateboarding has given me this sense of freedom to express myself through my own style and ability, a vessel to have fun and be myself, depending on how I'm feeling that day. I eventually learned there's no true definition of what a "skater" is outside of: Do you have a skateboard, and does it bring you joy? If the answer is yes, you're a skater. And yes, longboards, cruisers, and carvers ARE skateboards !!!
Tell us about one of your best experiences as being one of the Chapter Leaders of GrlSwirl NYC 
GrlSwirl NYC has been such a rewarding experience overall and it's difficult to speak on just one experience.
We as a women-founded group started as a space for all women, but quickly expanded that definition to offer safe spaces for all marginalized skaters of any gender, including gender-non-conforming skaters, because of the outpouring of messages received on a daily basis from so many others around the WORLD and in our local community who felt isolated or unwelcomed while skating at their local parks or were too scared to start on their own, asking if they were welcomed in our spaces, too. We of course welcome anyone and everyone who feels safe in our spaces – regardless of gender, skill level, board or skate type – and for those who still aren't sure, we encourage you to talk to us so we can grow and learn as a community.
And because of that shift, I think my favorite experiences are every time someone comes up to us or message us after a group skate, telling us so openly and honestly how scared they were to show up and how skating has been so intimidating to break into, expressing how they even surprised themselves and didn't think they could do it, and to thank us for creating such a positive and supportive environment for them to realize they were just as deserving of taking up space and learning new things themselves. This is why we do what we do!
We also just began our Skate Mentorship Program, where we are working with youth around the city with our community of volunteers teaching the basics of skateboarding while promoting self-esteem and confidence. These experiences are easily the best part about what we're doing at GrlSwirl, and are at the core of our mission.
How does skating impact other aspects of your life? Has it affected how you think about or do your job as a creative director? — I'm a Producer / Creative Director
Skateboarding absolutely has affected all aspects of my life, including my personal, professional work, and friendships. I've been through so many ups and downs within my skateboarding "career" — from having a tough time making friends who skate, and not being welcomed in the skateparks and feeling like people were judging me for being too feminine or too much of a beginner; to meeting my best friend and partner at GrlSwirl NYC – Windle! – and finding true pure happiness in being able to express myself through my own style, and realizing that skateboarding is full of gatekeepers who will always try to bring you down, especially when you're living your best life, smiling and unbothered by them. It's changed my perspective on confidence – I learned the hard way that people will judge you based on your appearance or gender, until you prove to them you are just as deserving as them to be there, begin to ignore their gatekeeper ways, and remind yourself and those in the community that there's enough space for all of us to exist and support each other, and that we're only stronger when we work together and hold each other accountable. This is yet another reason why we started the GrlSwirl NYC chapter!
As a Producer, I've also made so many professional connections through skateboarding, or will be on set and meet another skater and we instantly connect because of our shared love of skating. I think skateboarding has given me a sense of confidence I didn't possess before – almost like a secret superpower I can tap into or surprise those around me with. We've also been given amazing opportunities to work with our favorite musicians (like Alt-J !) and global brands on photo shoots, like this opportunity with LadyGunn, that are SO inspiring to not only myself, but to the kids growing up in the generations after us who get to see traditionally marginalized skaters being represented in major media as the norm – an opportunity that wasn't normalized in the media for many many years up until recent. I never wanted to, nor have current goals, to be a "model" or monetize off of skateboarding, but the shift in representation is exciting and so important, and I'm so honored to be a small part of it; 13 year old me loves the woman I'm becoming and thanks those who are paving the way for her to exist.
Steph Reid, @stephreid333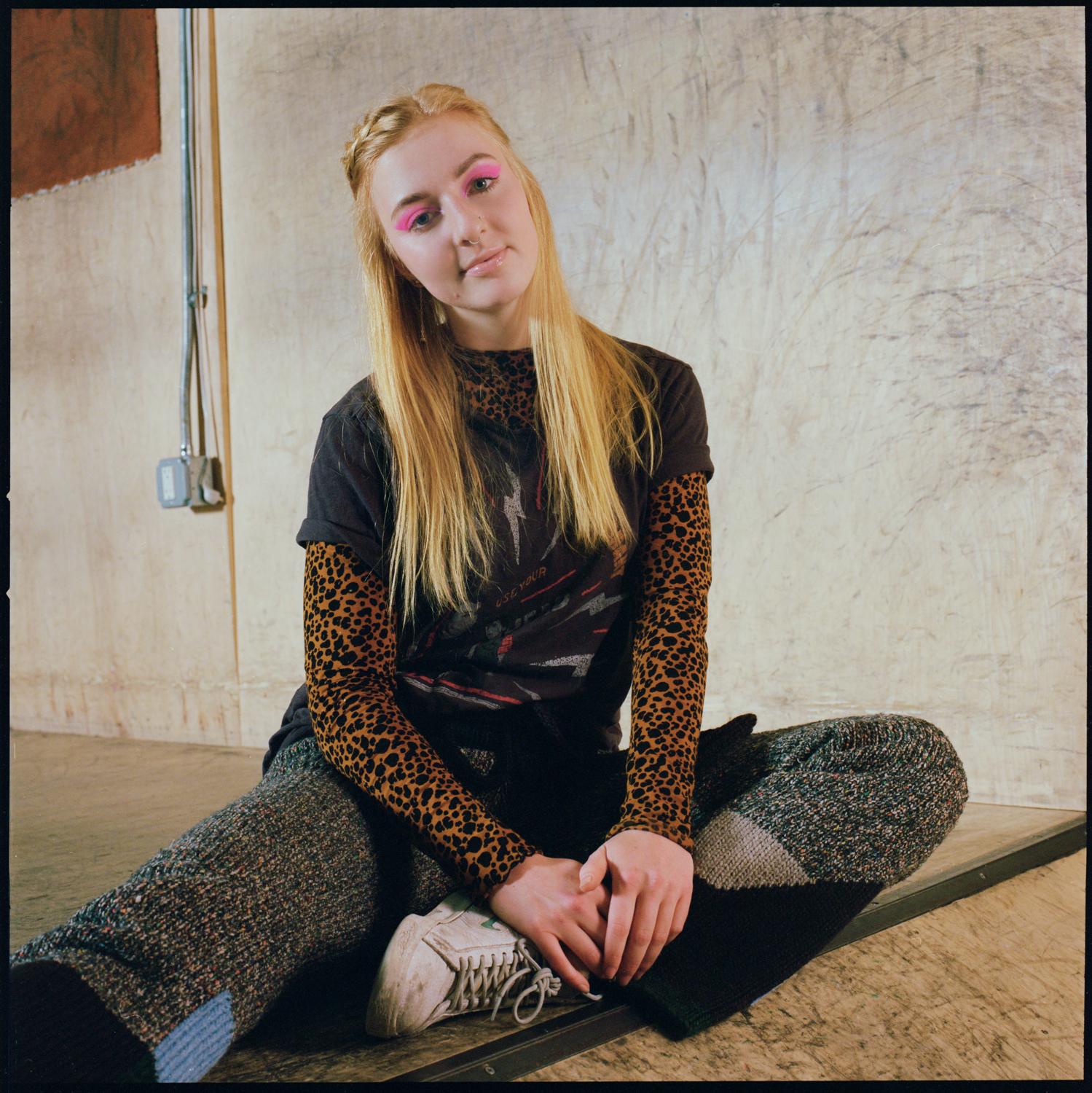 tee – Isabel marant  Pants – eckhaus latta Shoes – Nike
How long have you been skating and what or who inspired you to start?
I've been skating for 3 years and my sister, Lizzi, is the one who inspired me to start.
I was grateful when Substance opened because it's one of the only indoor skate facilities in NYC. Having somewhere to skate when the weather is bad has been a blessing. Especially in the winter because I'm a full-time graphic designer, so when I get off work, it's too dark and cold to skate outside. Having an indoor space with unlimited access, when you're a key holder, is a game changer!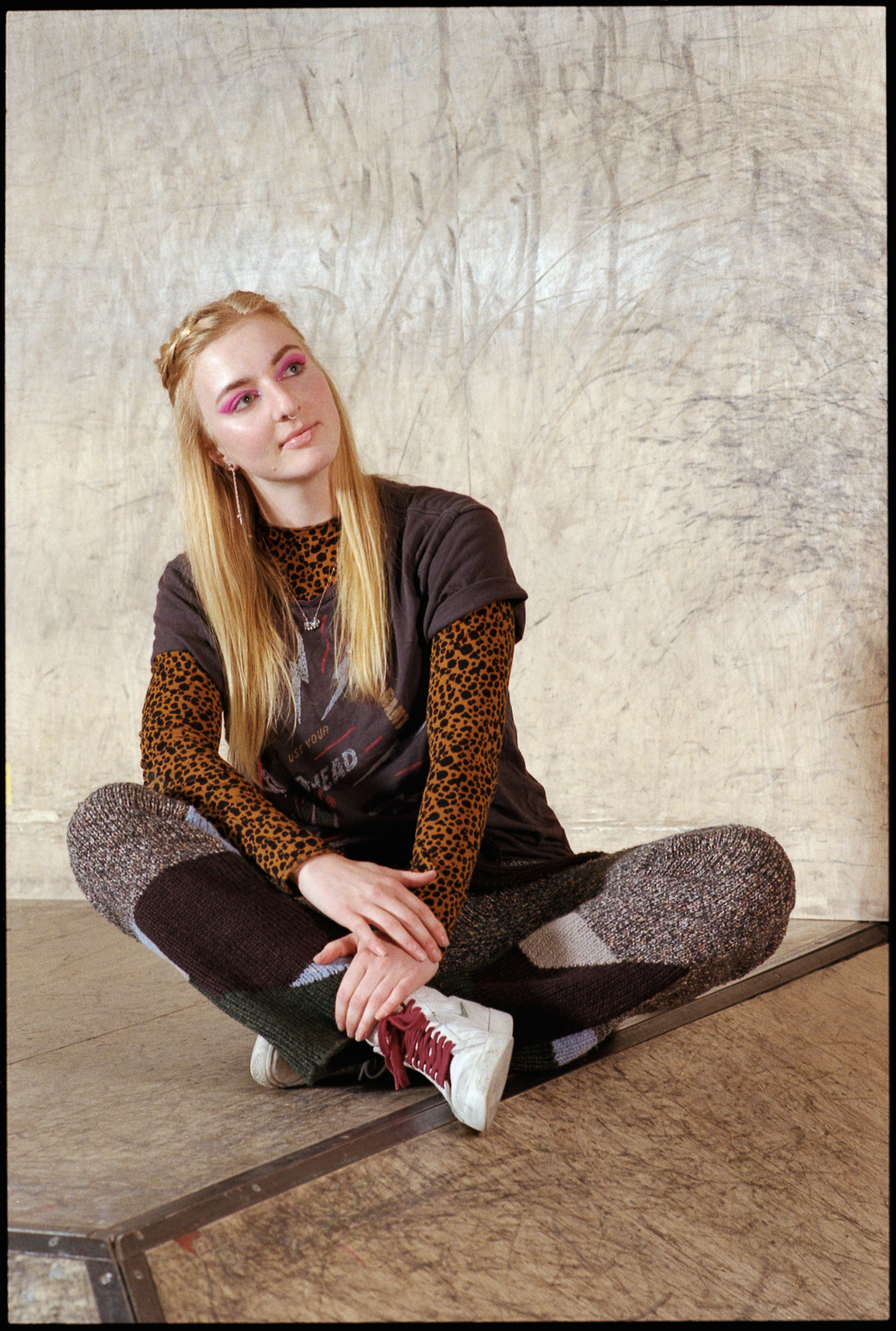 tee – Skater's own Mesh layer – monzlapur  Pants – iets frans Shoes – vans
I noticed you were a gymnast!? And you often end a 'skate fail' with a handstand. I love that so much. Can you talk about how your experience with gymnastics impacts your skate style?
Yeah, I started gymnastics when I was 3 and competed competitively for 16 years, so handstands and backflips are practically engrained in my DNA. That's why when I fall off my board and see the ground coming towards my face, my instinct is to throw my hands down like I'm tumbling. It's definitely become my signature move and always gets a reaction out of people. It's cool to have a bag of tricks up my sleeve that I didn't think would be useful again, until I started skating. My training as a gymnast gave me the proprioception, mental toughness and experience falling necessary to take on skating confidently from the beginning. As I've progressed, it's helped me develop a pretty unique style.
 How does skating impact other aspects of your life?
Skating has impacted all areas of my life- from who I hang out with, to how I spend my time, to the clothes I gravitate towards. The skate community in New York is amazingly diverse, so I've befriended a lot of people whose paths I probably never would have crossed without a board. It's been illuminating to have access to so many different perspectives and has helped me grow a lot as a person. Skating has also encouraged me to get outside and explore my city in a whole new way. You start to perceive the world around you as a bunch of skate obstacles. That's how my wardrobe ended up shifting to be more durable and easy to move in so I could be ready to skate anytime/anywhere. It's safe to say it's taken over my life!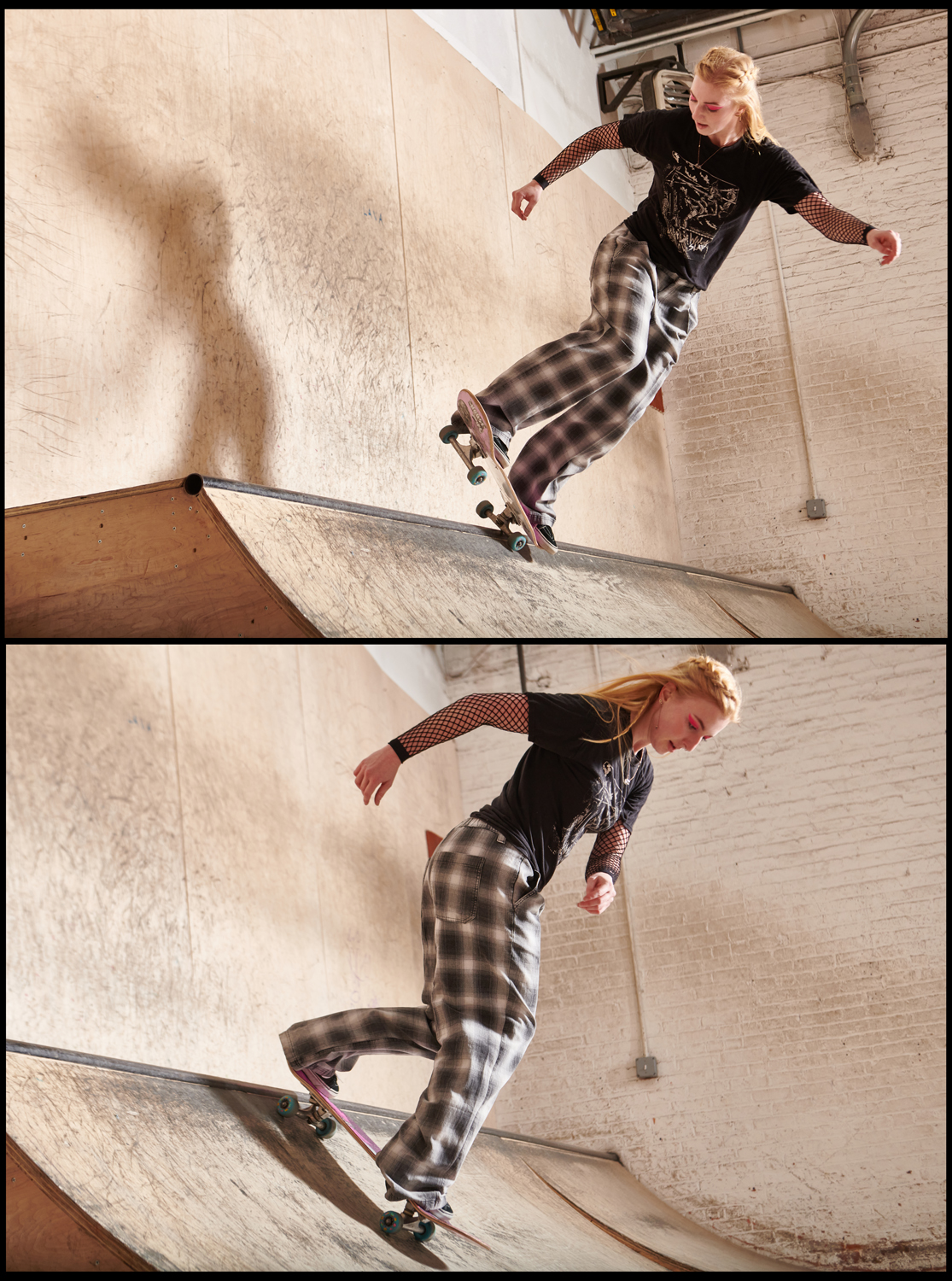 Andy 'Turtle' Millien  @callmeturtleboy @itwascustombuilt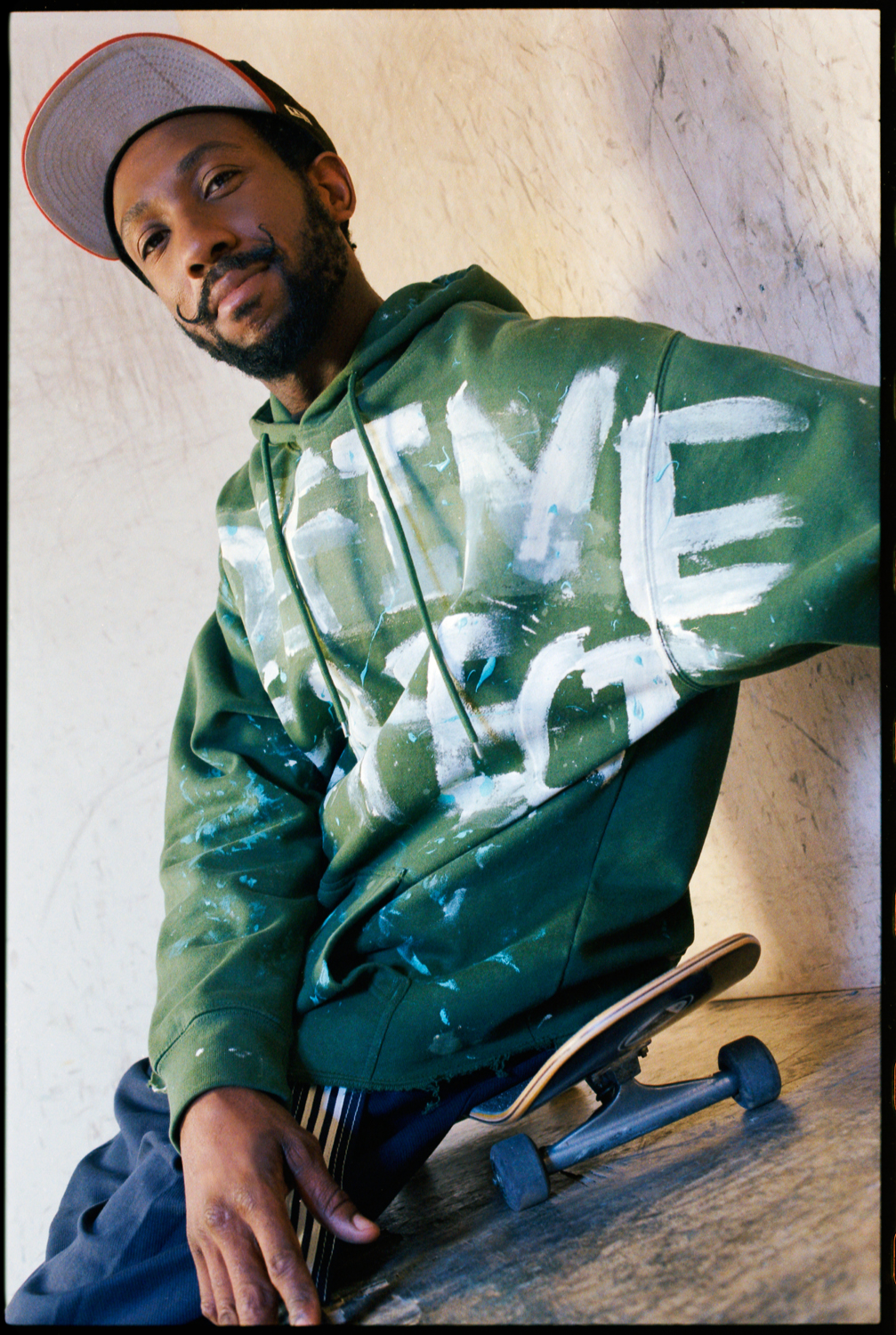 sweatshirt – defineperfectdp Pants – furi sport Shoes – vans
How long have you been skating and what or who inspired you to start?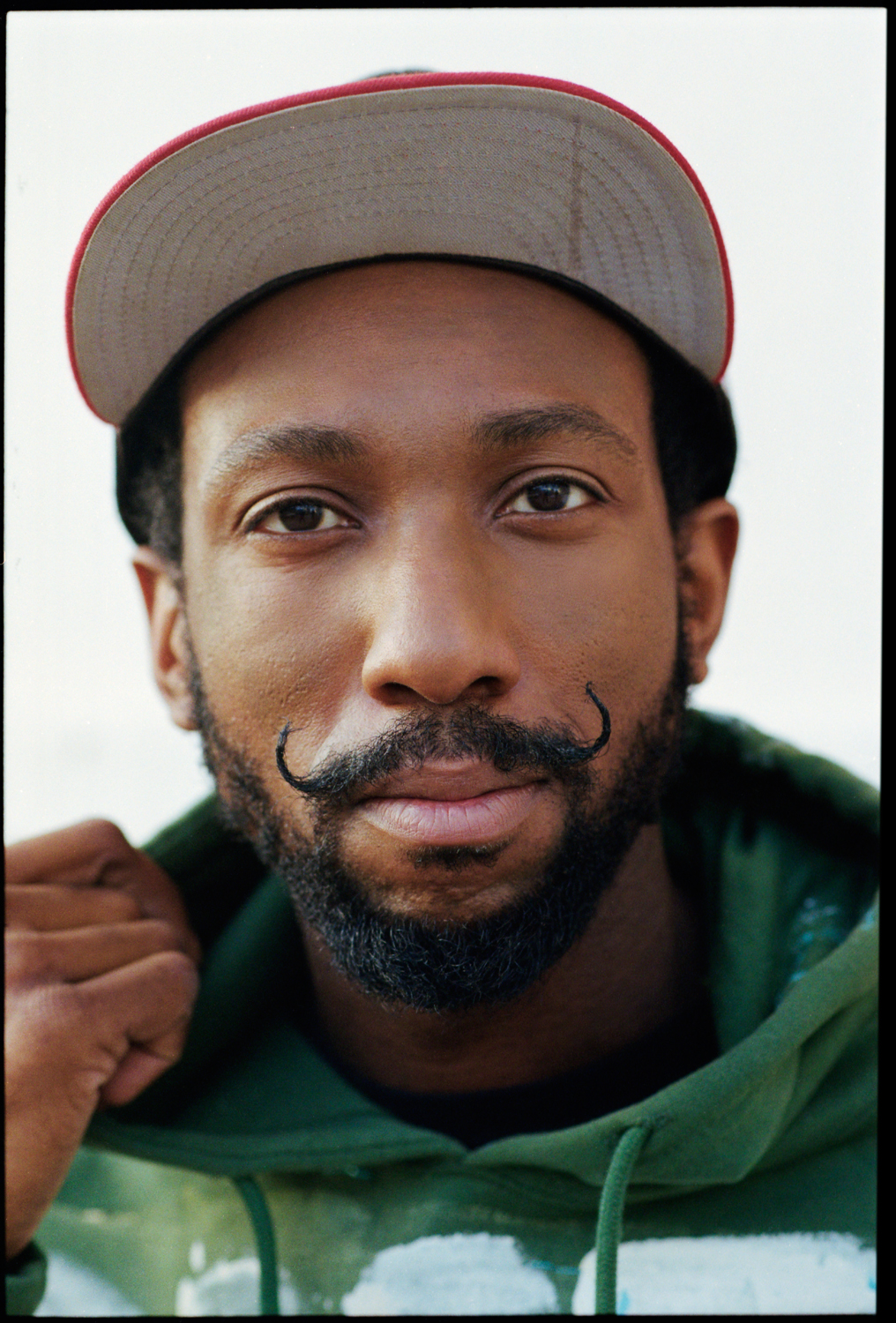 I've been skating for 15 years. Classically, Tony Hawk games was my first intro to skateboarding. It was only until i saw skaters bombing a hill outside my window that i realized it was a real thing. I was 5 then, and only got my first board at 14. I learned the in's and out's of skateboarding with my friend Aaron. We used youtube and Mike Valleley's On-Demand Lessons to learn what we could. The rest came from studying skate videos and trying out new tricks ourselves.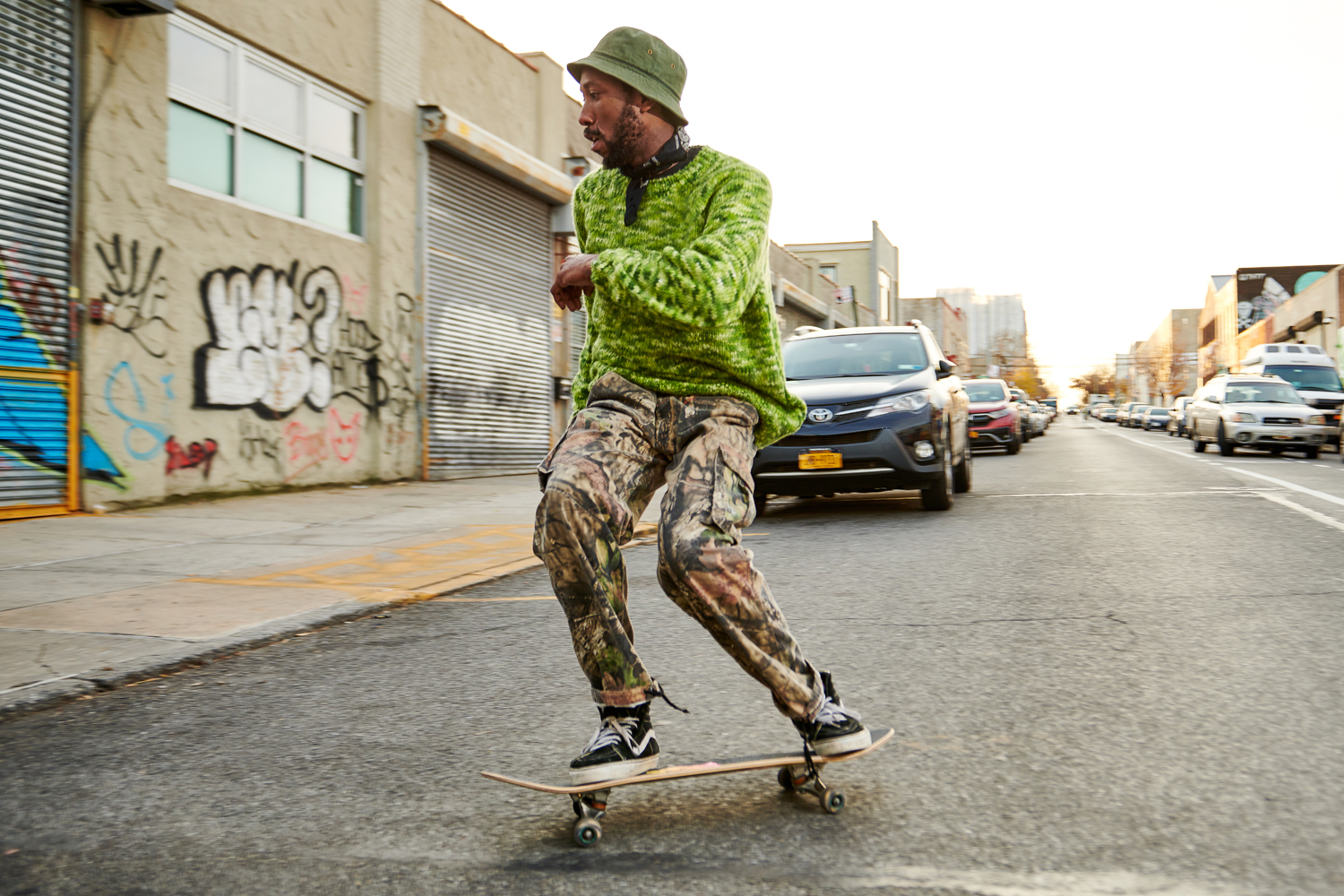 sweatshirt – defineperfectdp  Pants – furi sport Shoes – vans
As a skateboarding instructor in NYC – How does teaching skateboarding impact your own skate style?
They say to teach is to learn twice. I believe in this heavily because, while i'm instructing lessons its almost as if I'm reminding myself how to properly perform the basics. Demonstrations also act as training for me. It all counts towards experience. Teaching impacts my style in a positive way. Since i'm the coach my skating needs to be on point otherwise my students wouldn't respect me as much. It helps keep my style clean and precise. This way I'm personally happy with my skating and I can literally set a good example.
Since you had skated at Substance's indoor locations prior to our shoot, tell us how you started skating there and what you like about skating there. 
Once Substance opened up it was every east coast skaters dream. An indoor skate spot. This changed the game for us because we're able to train even when the weather isn't permitting. I first got into the skatepark when my sponsor 'All One' skateboards got me a 3month key to the park. I believe park access keys are $120/month and $15 for a day pass. This helped me out tremendously because life is expensive as it is. I grabbed as much sessions as i could in between work and I got good training days in. I love going to Substance on a rainy or snowy day and still having a heated skate session. Those days i would go home pleased with progress. Eventually, Substance expanded to a space across the street which offered a street style course. Whereas, the original space offers transition and vert style obstacles. Being a street skater, i love the street side more because i'm obviously more comfortable with the obstacles. It's nice to have a choice now.
How does skating impact other aspects of your life? Has it affected how you think about or do your job as a woodworker?
Skateboarding is my passion. So when I skate, I'm happy. It helps balance other parts of my life because, if I feel frustrated for any reason, I know that a skate session will turn the table immediately. Skateboarding affects how I think because I view the world differently. Instead of aimlessly walking down a path, my mind looks around and analyzes building structures to see what is skateable. It adds creativity and excitement to my journey. I'm also a woodworker and an artist. My art is influenced by skateboarding in many ways. Some of my sculptures have the essence of skating where I play with balance whereas others are more direct like a painting of skateboarding on a skateboard haha. As for woodworking, funny enough, I've made my first ramp in 2020.  Before that, I've only made furniture and fences, and foundations for construction. It was only until the pandemic hit that my need to keep skating inspired me to create my own ramp at home. That's when I merged both worlds, skateboarding, and carpentry, and my experiments with skateable structures began.
Mame Fremah Bonsu Personal IG: @im.an.echo Business IG: @anansiskatelife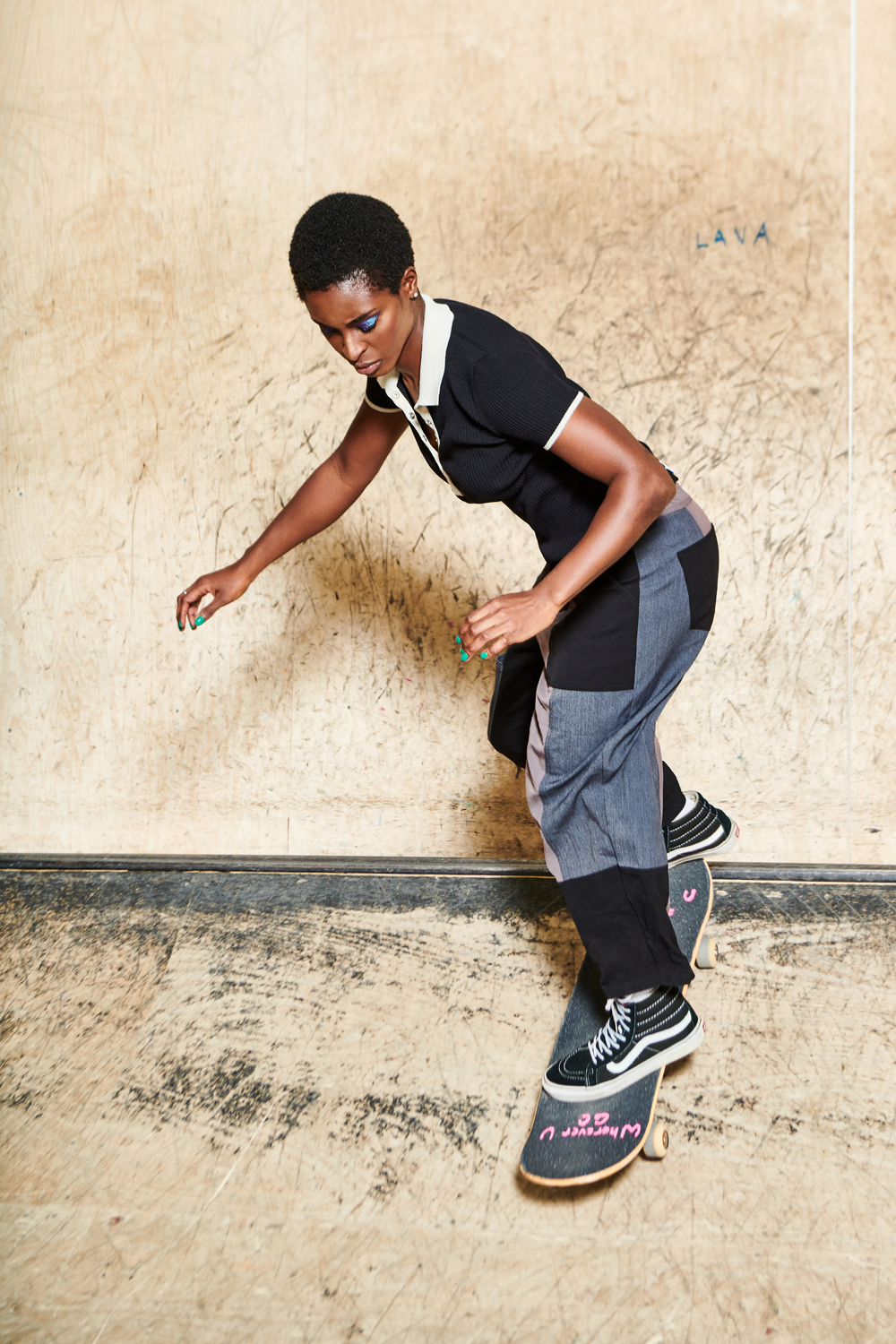 top: rag and bone Pants: asos Shoes: vans
How long have you been skating and what or who inspired you to start when you were growing up in Maine?
I began skating in grade school. Perhaps around the age of nine. I was inspired by my exposure to skating in the media. Mostly movies. I remember watching Free Willy and Lassie in particular and watching the main characters skate and thinking they were soooooo cool. I also identified with them even though they were white, male pre-teens/teenagers. It was a mix of feeling their loneliness and difficulties making connections with other people, but also seeing that they were really cool "big boys" that could ride skateboards. It was a mix of the narratives as well as the skating that had me intrigued.
A bit later I started seeing the XGames on TV and thought it was so fantastic. It was LITERALLY FANTASTIC to me. The speed. The air. The flips, twists, and somersaults… Imagine seeing that kind of acrobatics as a kid! There weren't any ramps that I had access to when I was growing up. So I skated driveways and small curbs and could ollie this one 3 stair. I stopped in Jr High School but found my board soon after graduating from high school and just brought it out to ride. It was a spur of the moment type deal. And I fell in love all over again.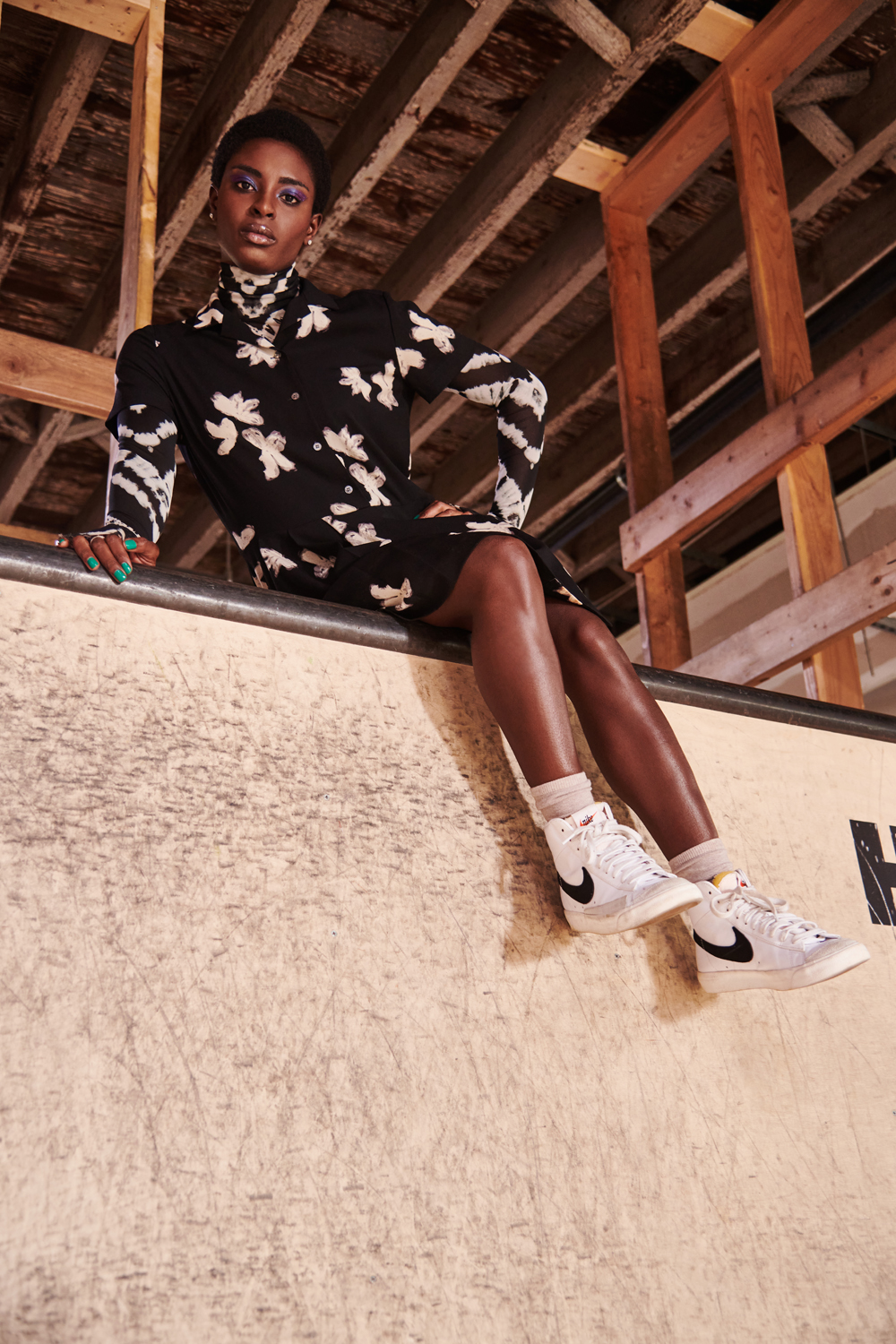 top – arm  Dress – Marc by Marc jacobs Shoes – Nike
I was psyched to learn you had skated at Substance's indoor locations prior to our shoot, tell us what you like about the indoor skate facility and/or something it could use..
It was opened and run by my homie Andrew and his business partner Harley. He was a skater and skate instructor that I met at Pier 62 in Chelsea not long after moving to New York after graduating college in 2014. I love the fact that it has two sections across the street from one another. I mostly skate on the transition side since that's more my strength but I love the fact that it has both.
What I appreciate most about it is that it's designed to be a training facility, so you can learn new things on more manageable terrain and then bring it up a notch until you're ready to take it to the 8-foot ramp which I would say is like in between and mini ramp and a half-pipe.
As a self-employed skateboarding coach in NYC as Anansi SkateLife – How does teaching skateboarding impact your own skate style?
One of the biggest ways that teaching has impacted my skating is to push me to skate switch more often. I am regular, but of course have many students that are goofy. The young ones can't always apply what I'm doing with my right foot to their left foot just because they haven't learned to differentiate the two. So, I'm often doing things goofy just do demonstrate but it is helping me practice my weak side.
More often, I hear the coach's input running through my head as I'm skating. Things that I never used to bring to my awareness, I hone in on more because I've spent half the day saying it to my students. Being able to identify something in someone else is different than adopting that on your own. After four hours of telling students, "Try not to bend over at the waste. Be aware of your shoulders. Use the ball of your foot. Look where you're rolling towards," I start to say it to myself. It can be helpful, but sometimes you just need to quiet the inner instructor and flow on your board.
How does skating impact other aspects of your life?
In many ways, skating impacts how I move forward in life mentally and emotionally. I process intellectual things through physical movement. So a lot of working through internal and personal things will happen through skateboarding. Even if it's not that I'm currently skating at the time, I have goals for skating, I have a past with skating, I have relationships and community through skating. Skating shapes a lot of how I live my life and it is in a very willing sense. Often, when someone has a passion, they have to make room for it amidst other responsibilities that take priority. I'm doing my best to keep my passion as a priority by incorporating it into various aspects of my life (i.e. work, play, physical exercise, setting/meeting goals, and inspiring as well as being inspired by others. I would like to skate for as long as I can. It gives me an unparalleled sense of being alive.
Aaron Warner @ace1ght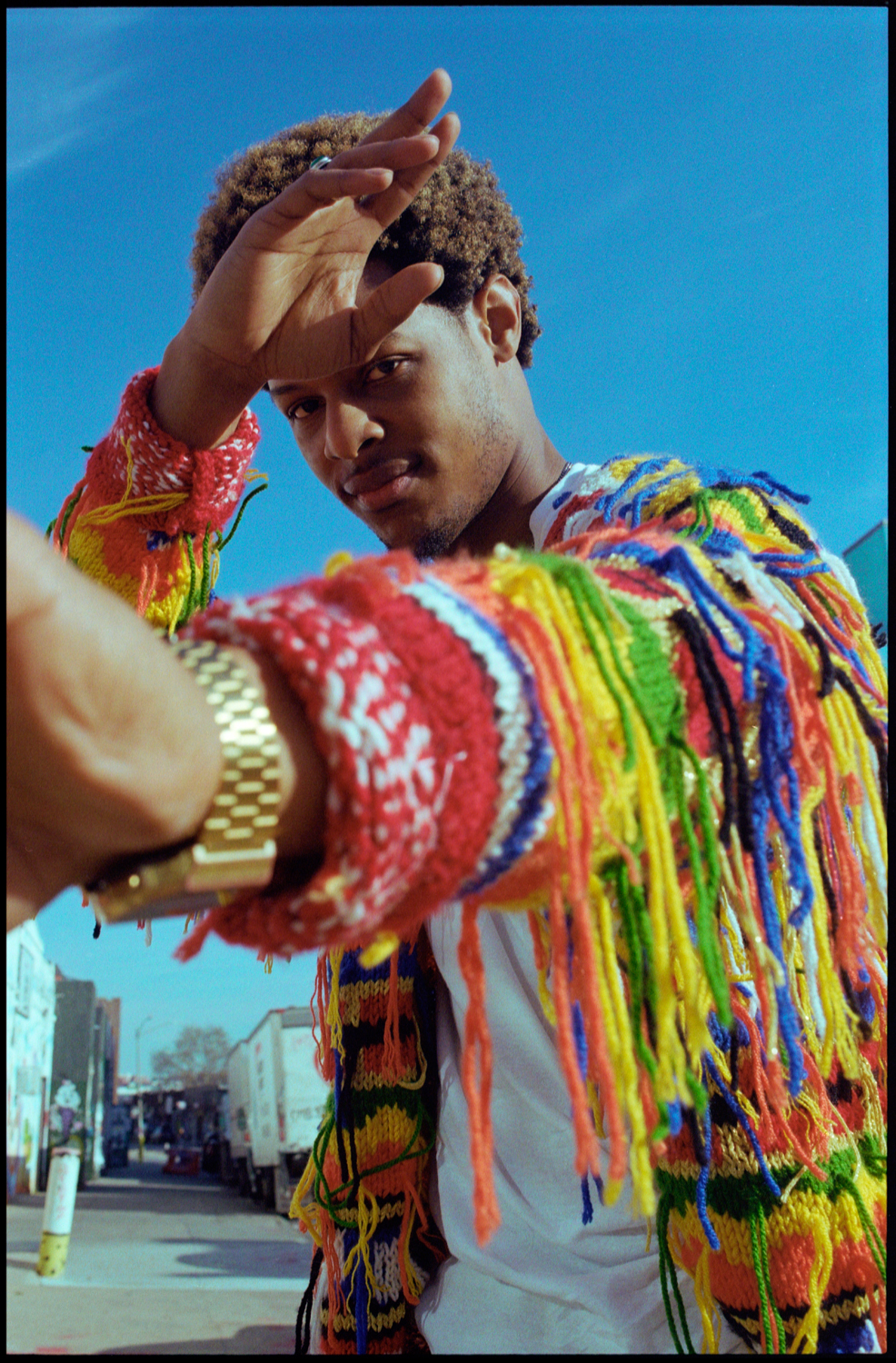 How long have you been skating and what or who inspired you to start?
I've been skating for 16 years and I started thru my homie Turtle he had one I just always knew I wanted to skate when I asked for a skateboard for Christmas and got a scooter I would ride with my feet sideways and no hands like a skateboard anyway.
What do you love about Substance Skatepark and when did you start skating there?
I've skated and taught lessons at substance since early 2020,
I love that they're accessible to everyone we don't have any indoor places in nyc that you can get in with out secrecy or needing to be cool with anyone.
As a musician, how does skating and creating music feed each other?
Skating and music go hand in hand to me because the freedom of expression the way you perceive the world can be told by the most simple or complex of actions that others can interpret in their own way and inspire infinite creativity.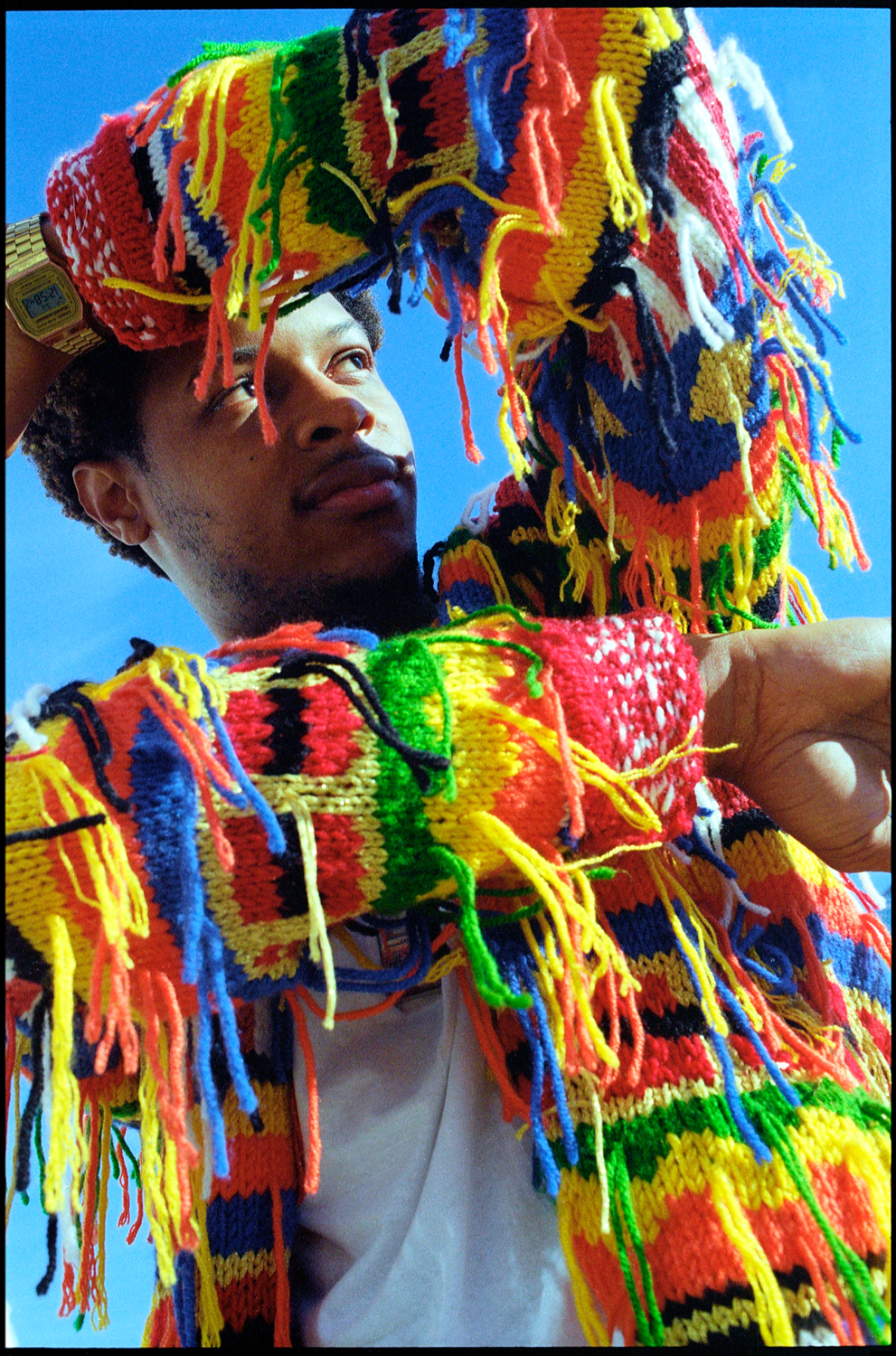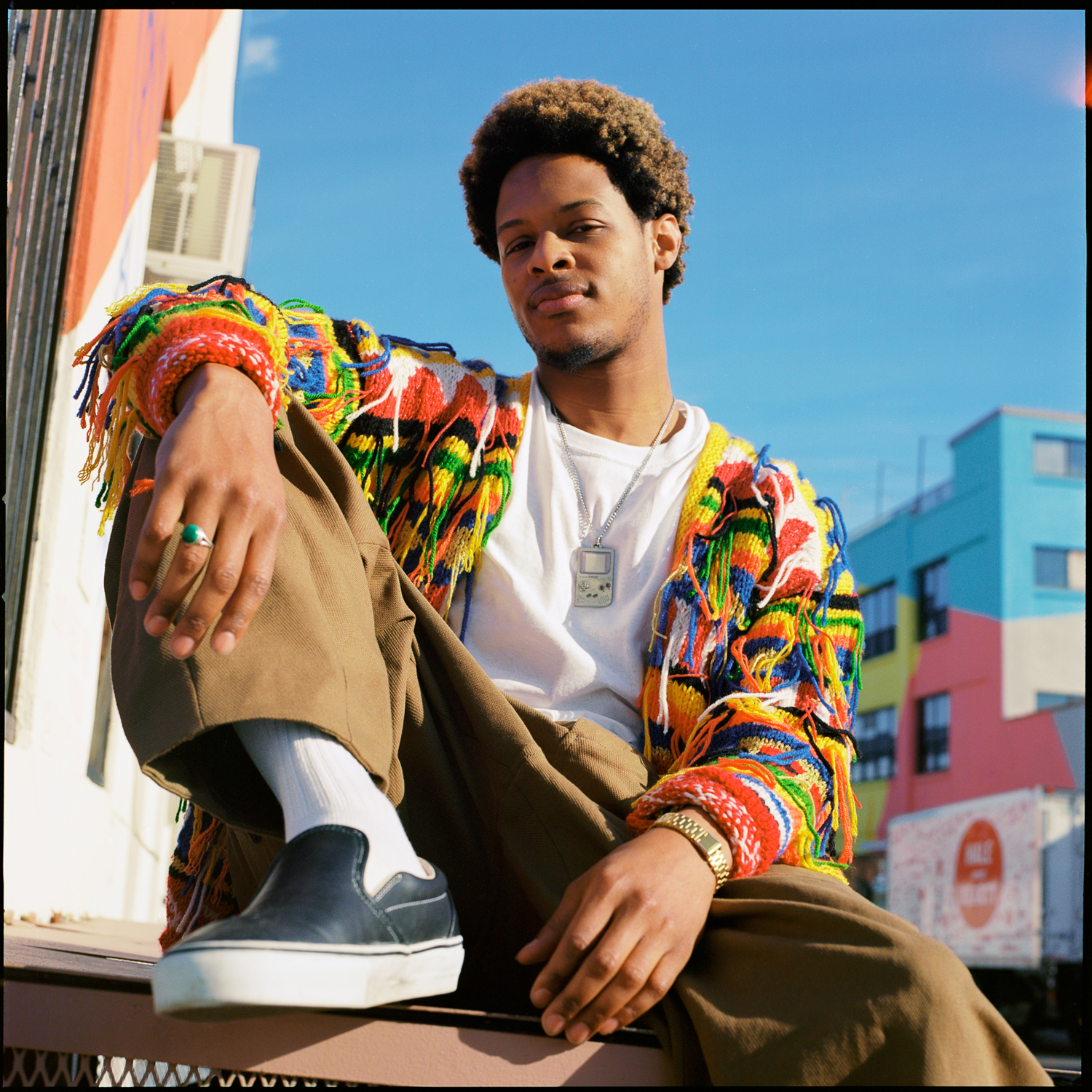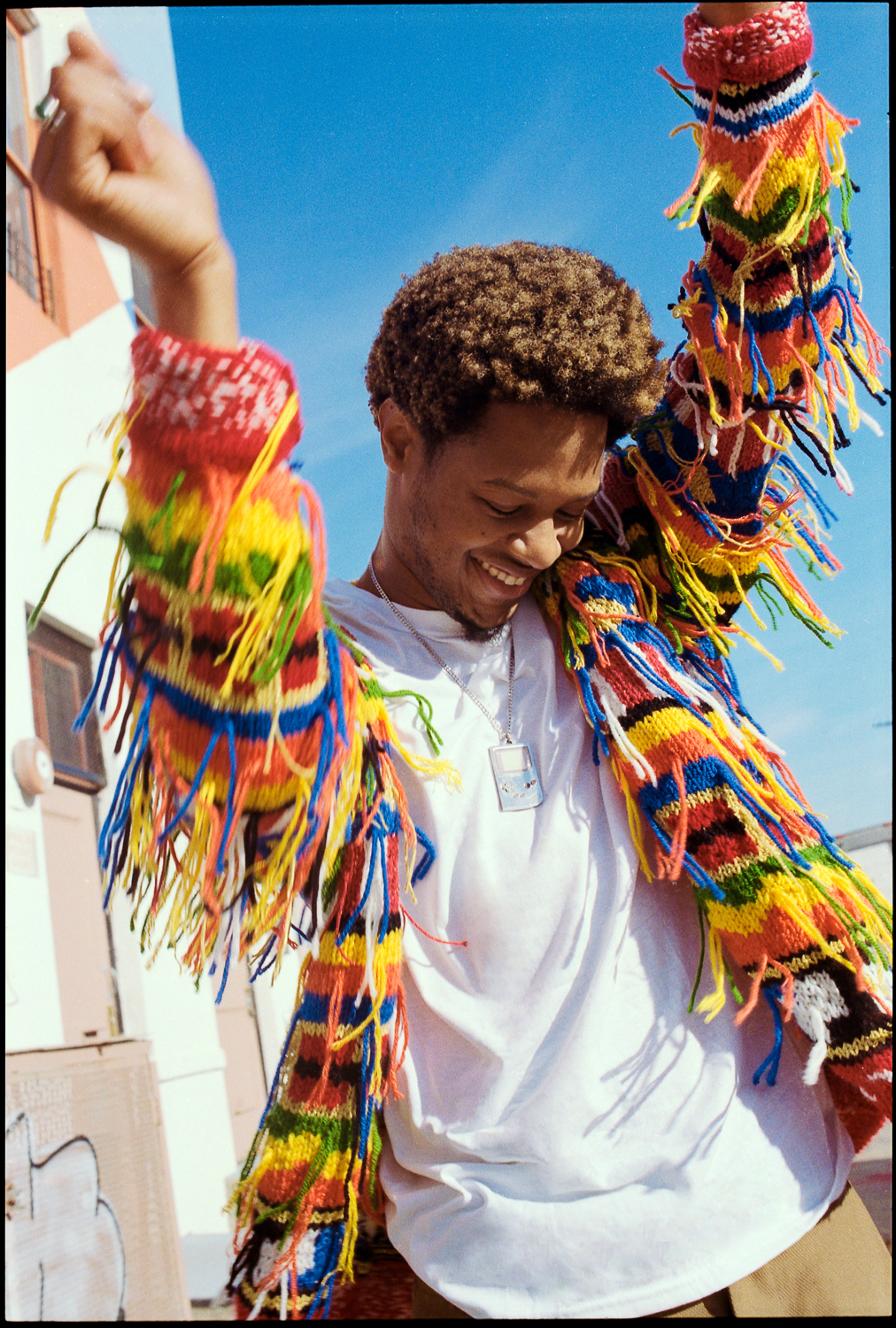 sweater – Myracle  Pants – furi sport Shoes – vans
tee – billabong  Pants – drink.more.water NYC Shoes – vans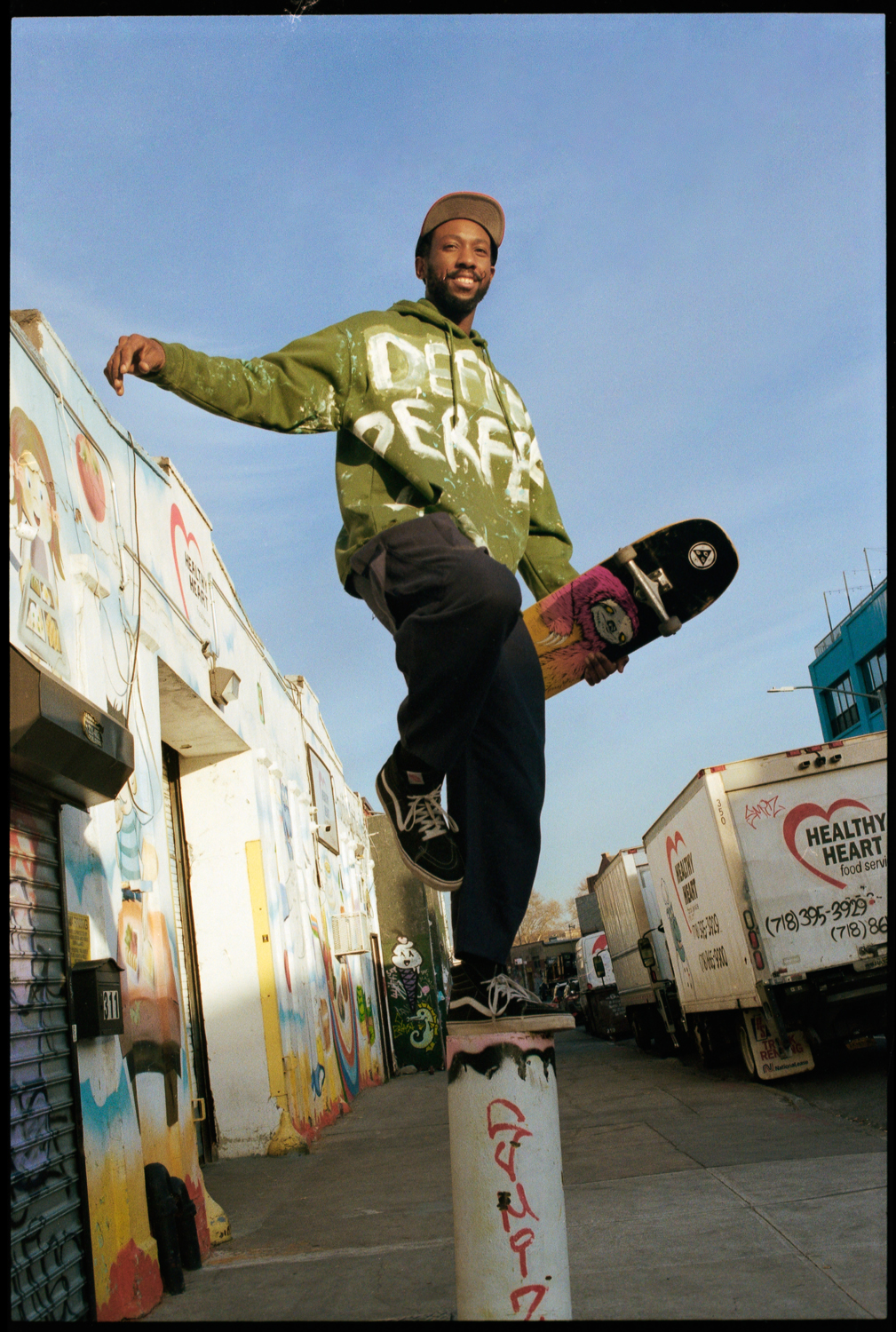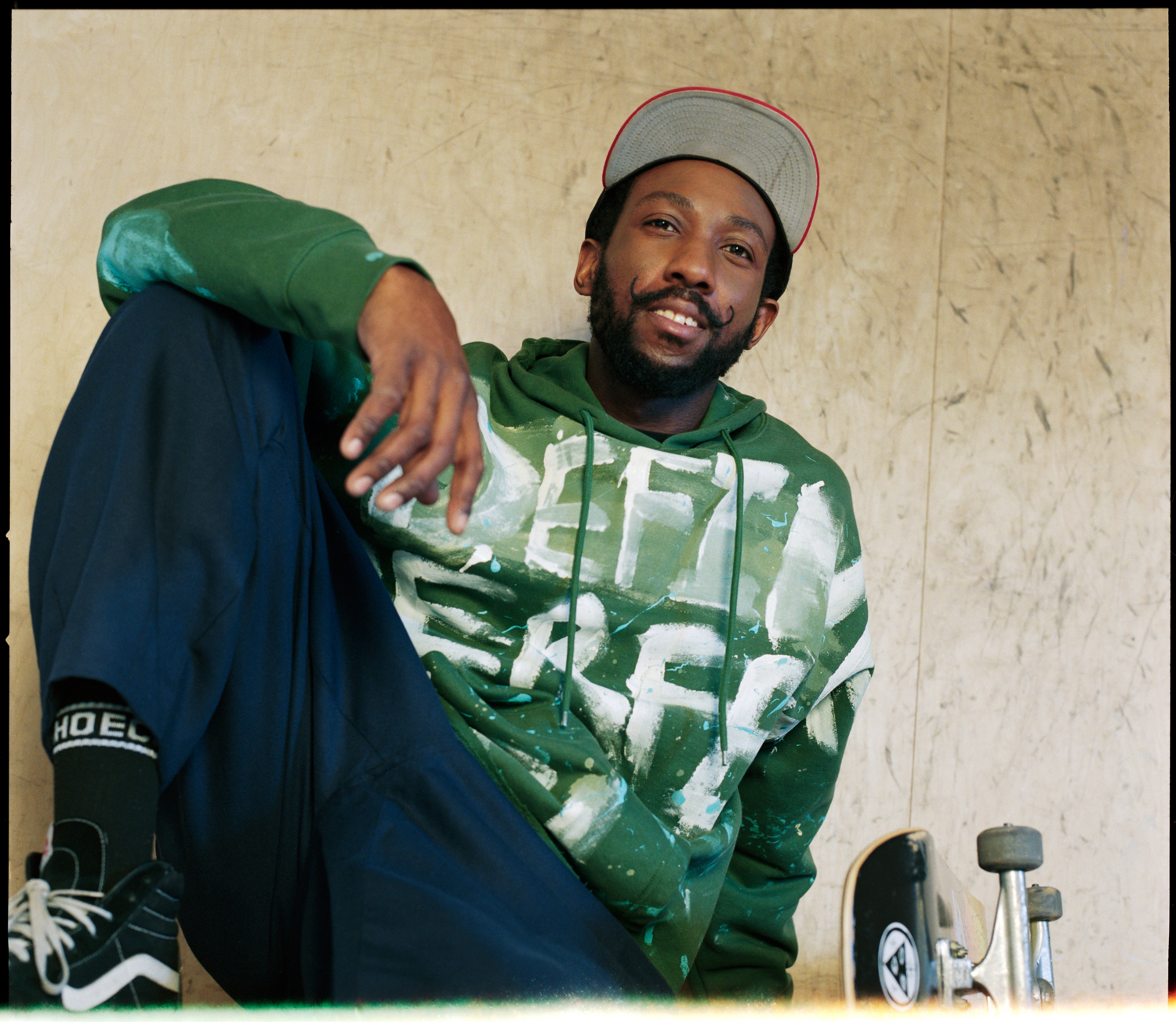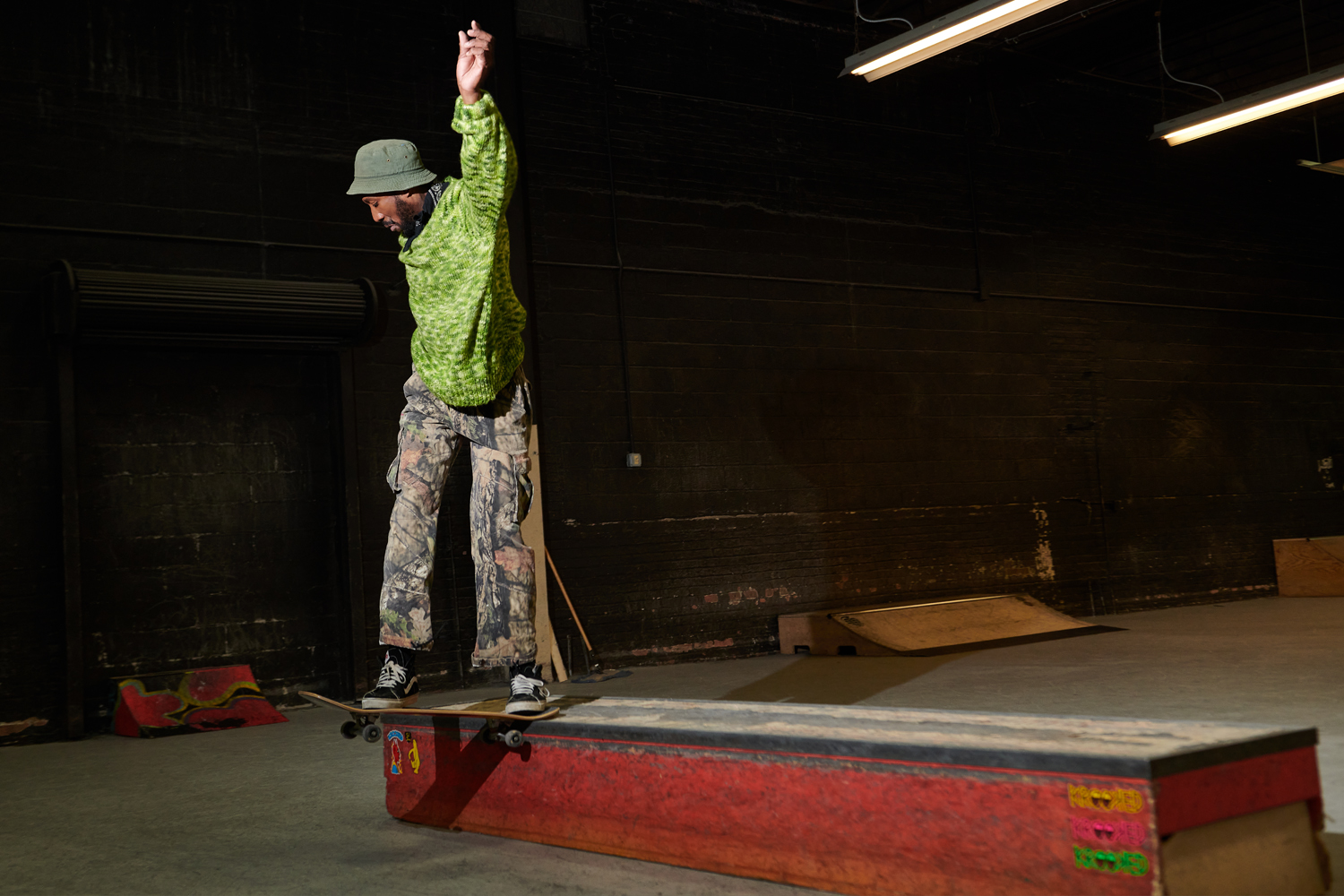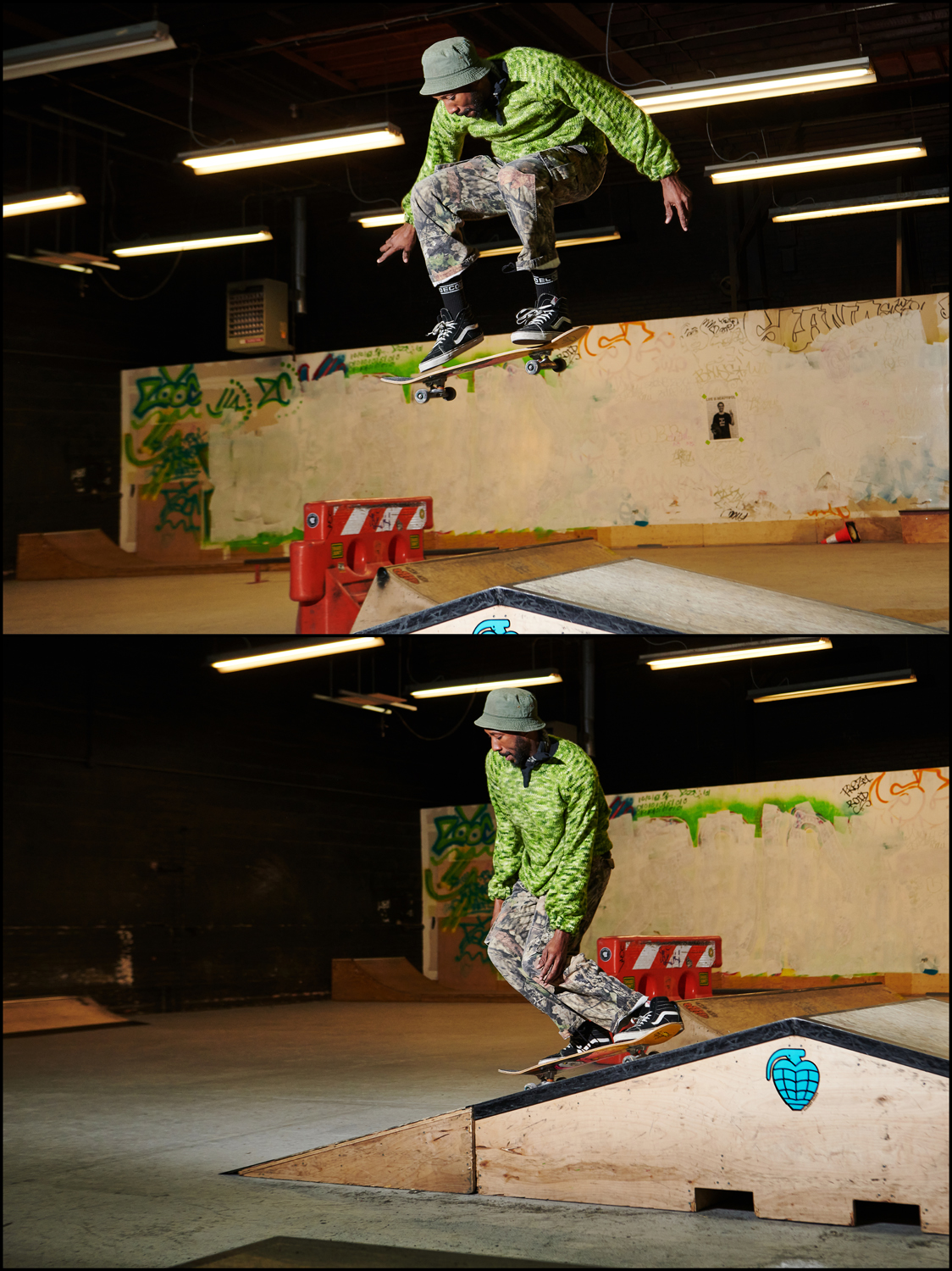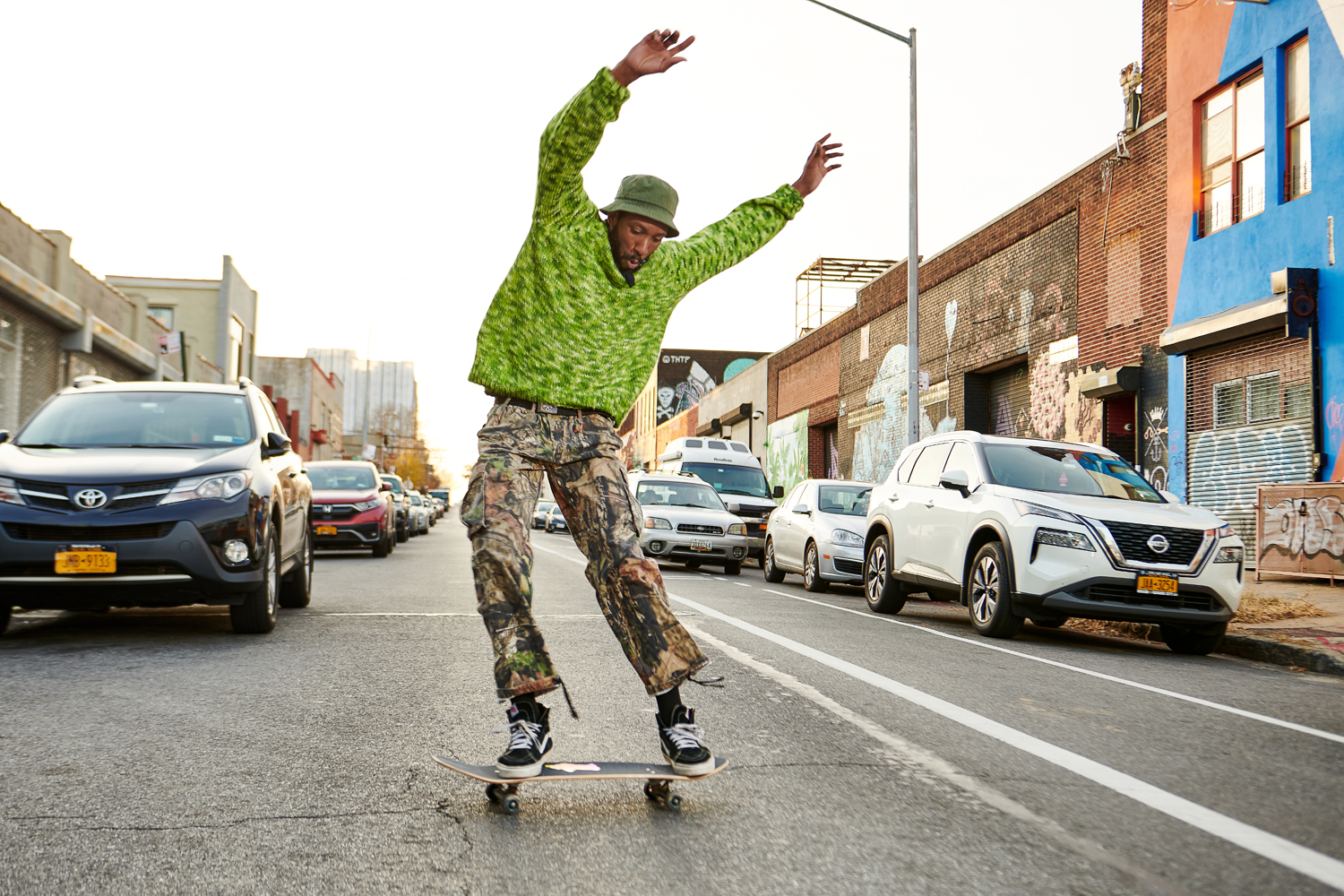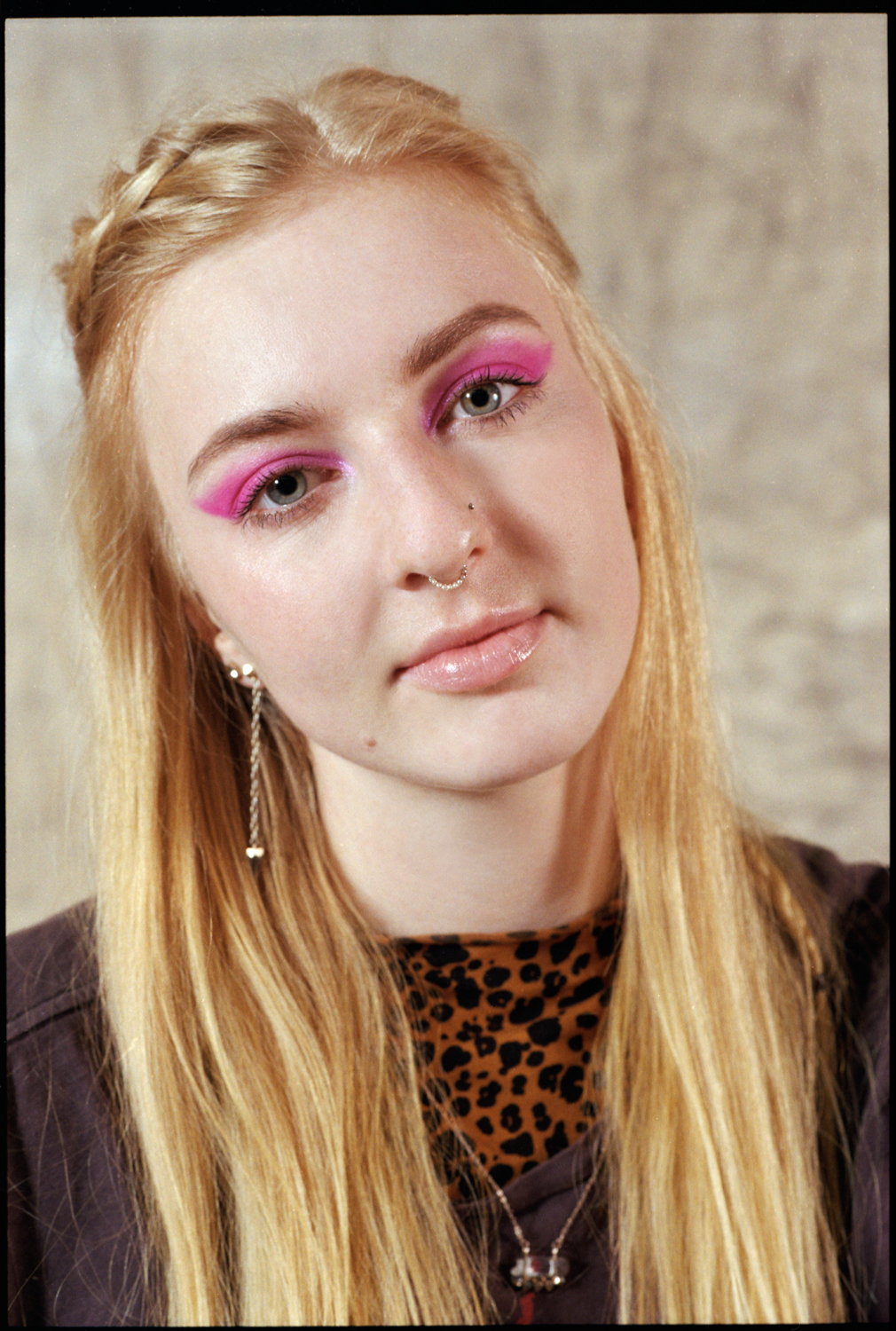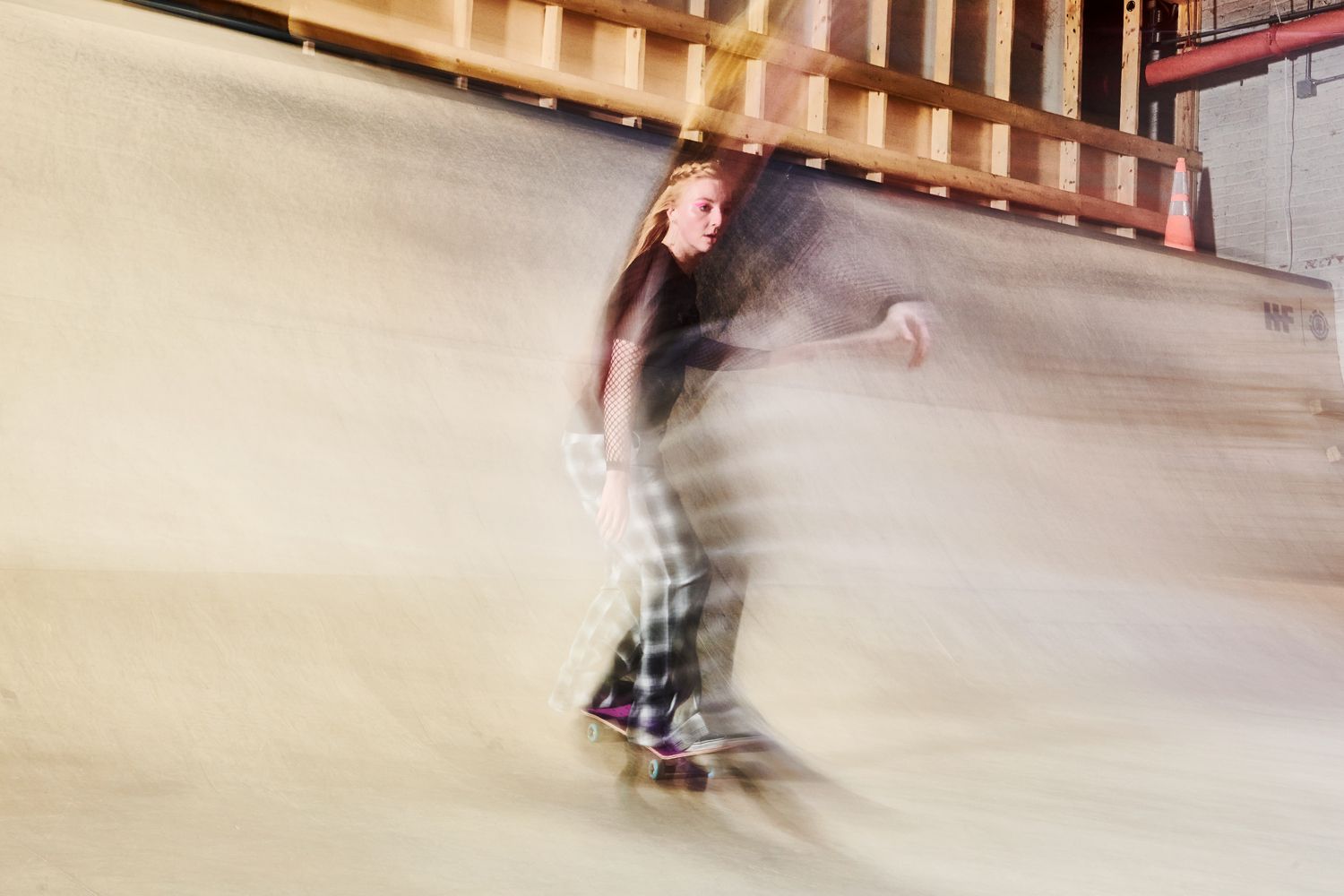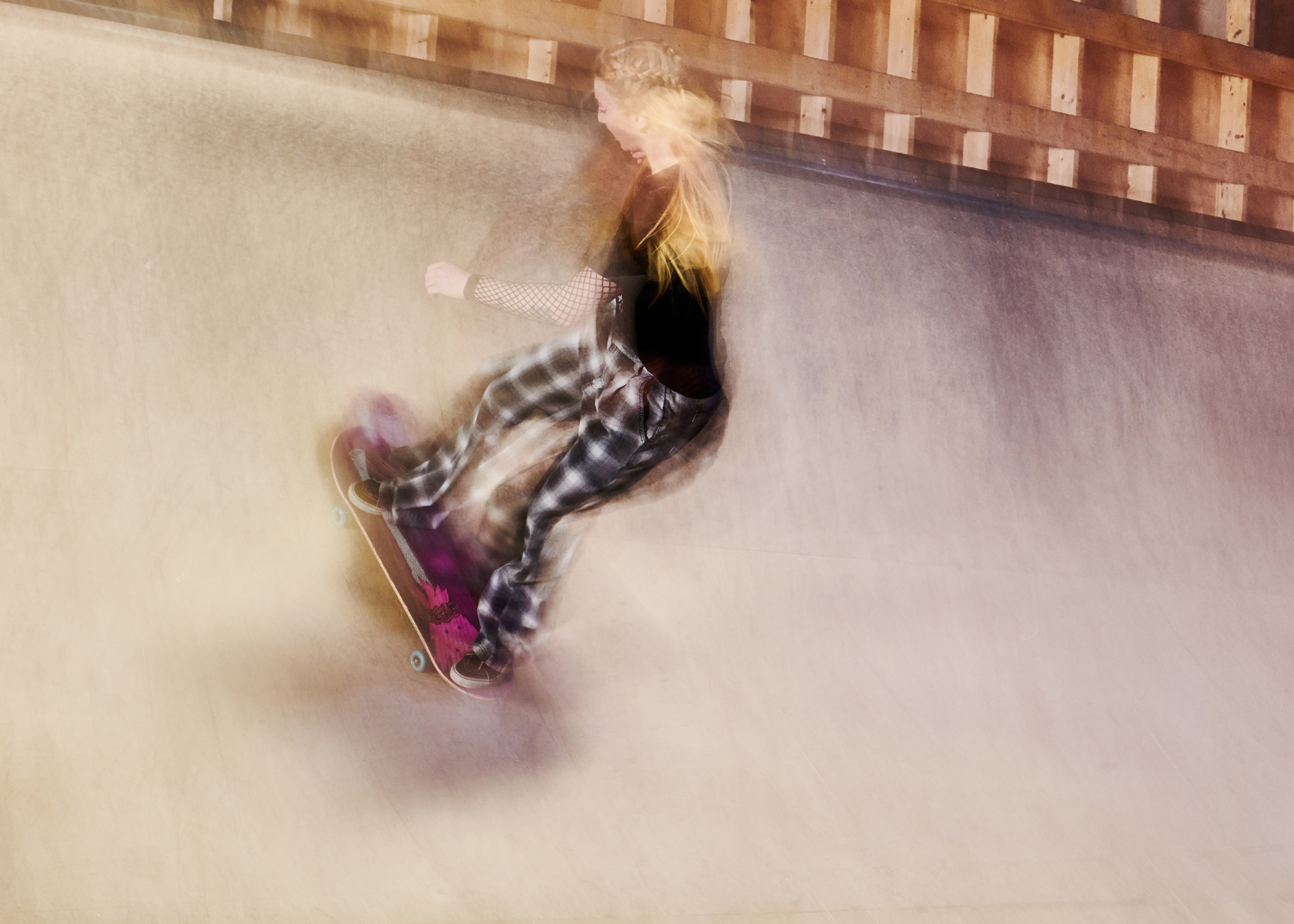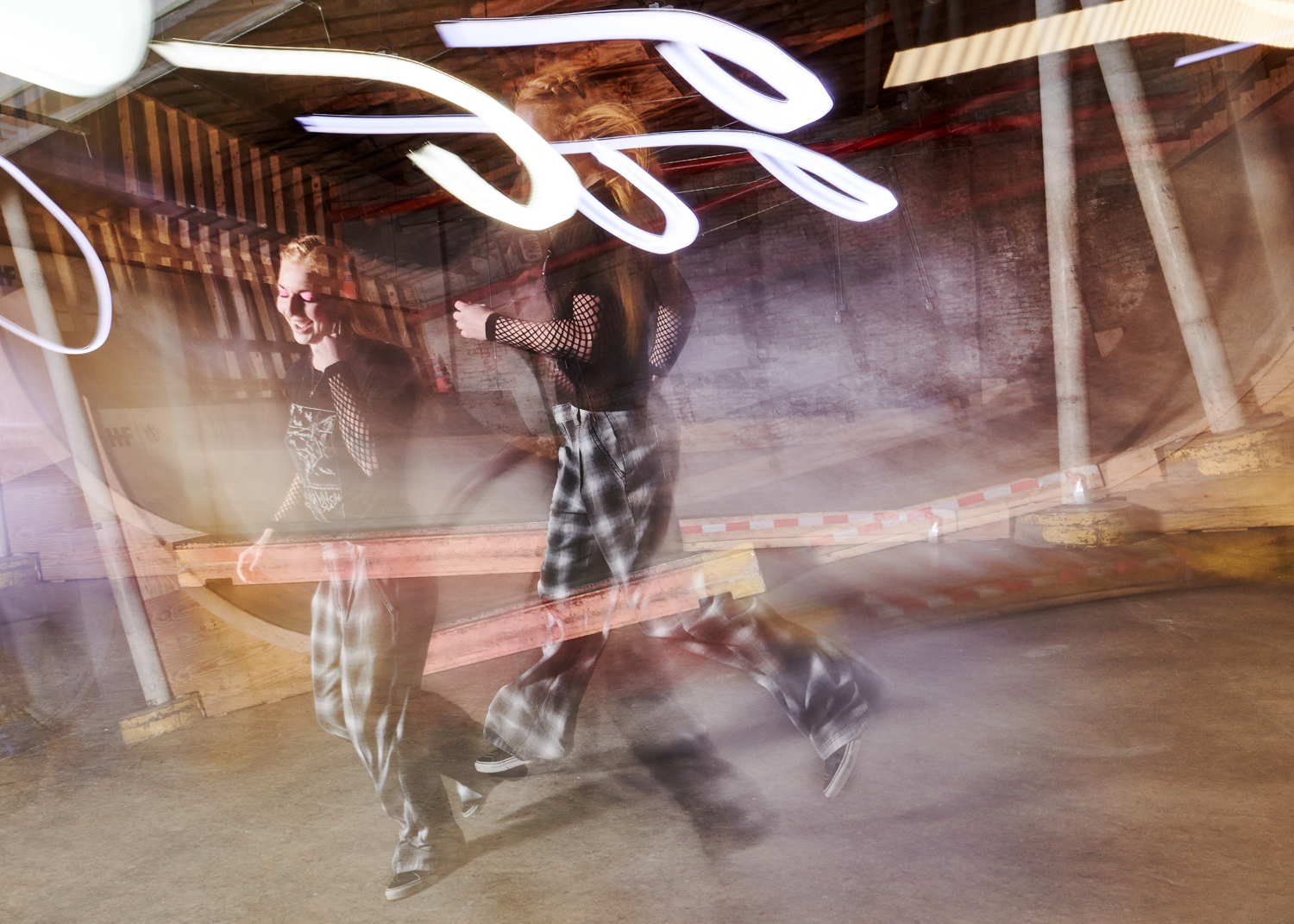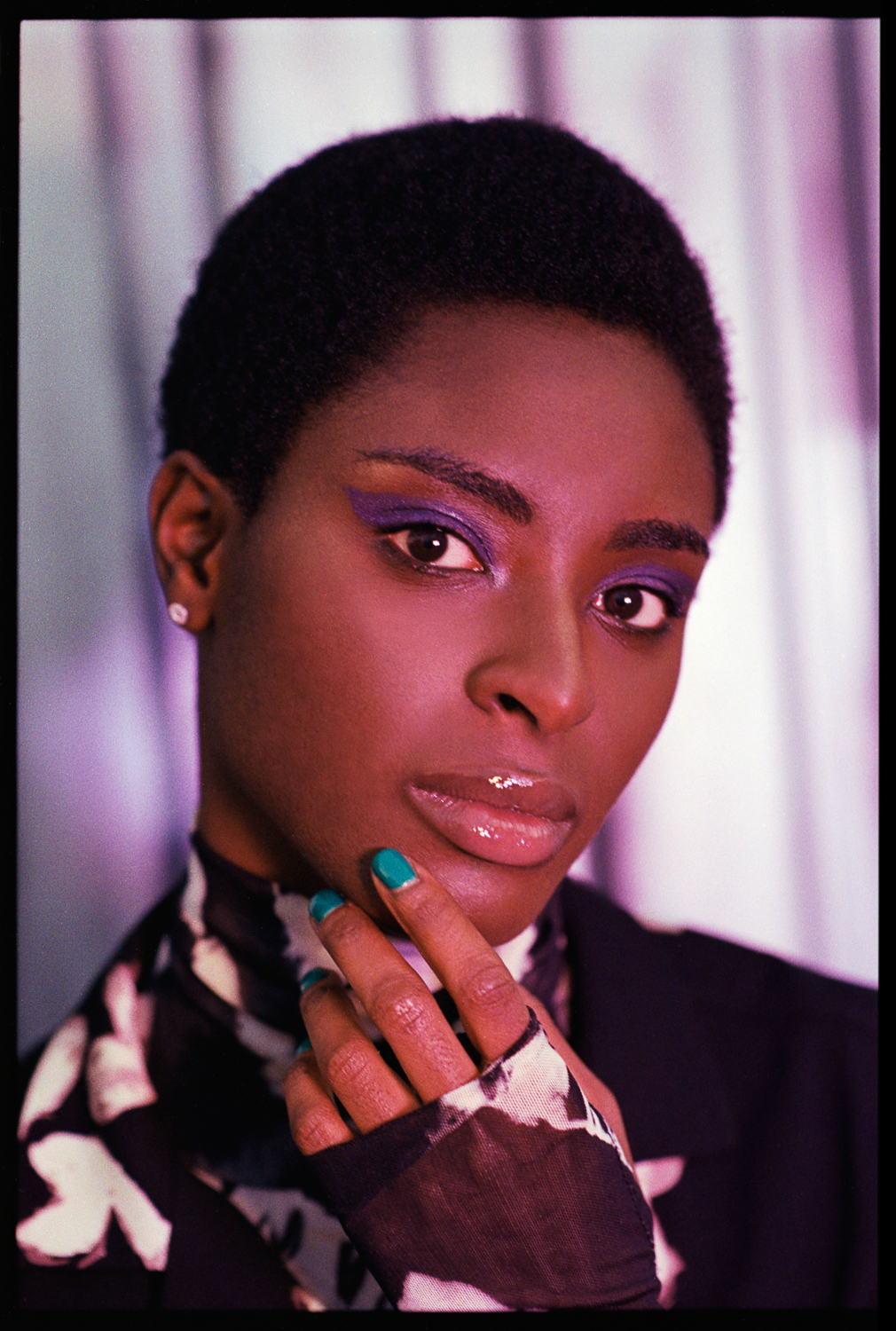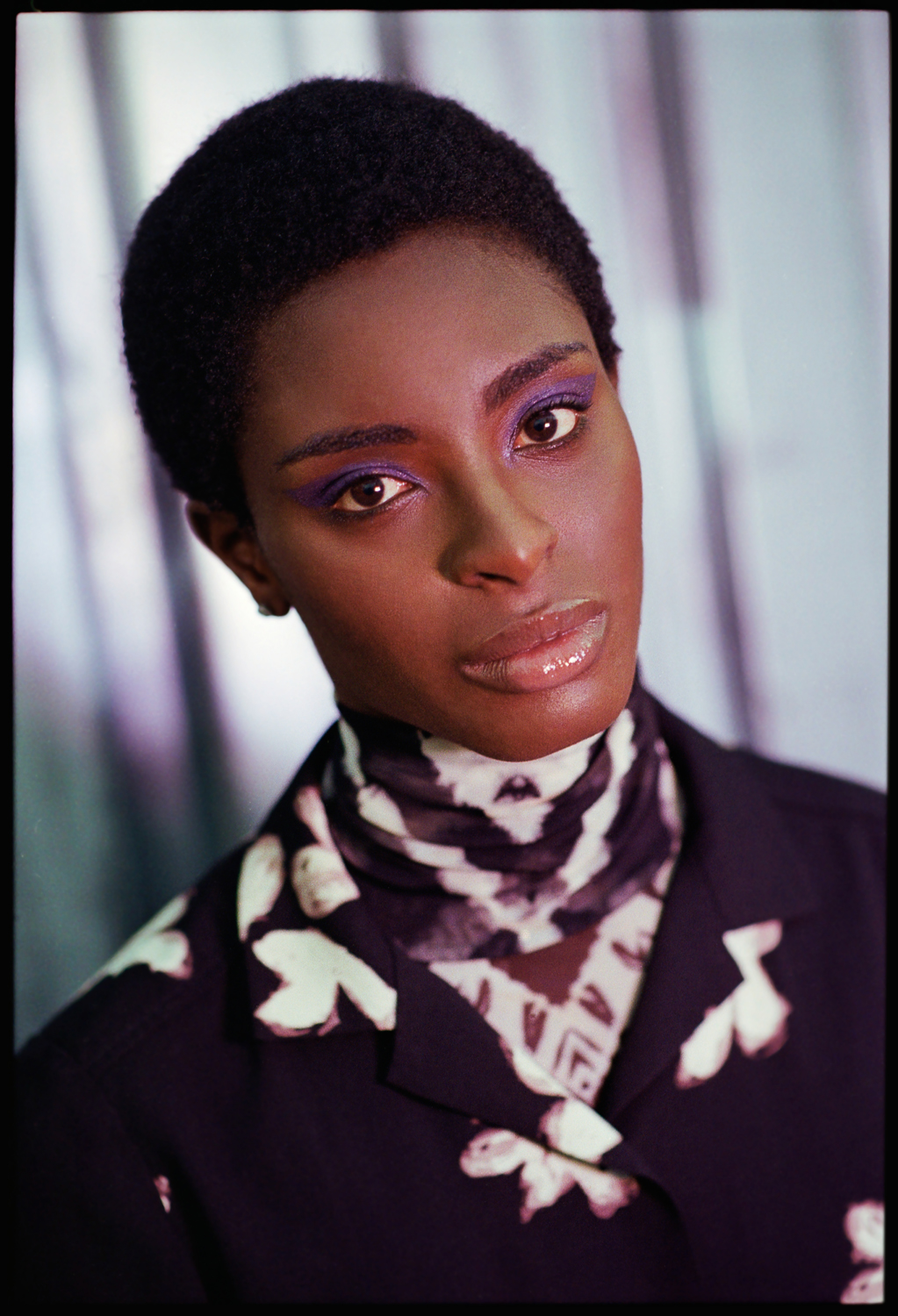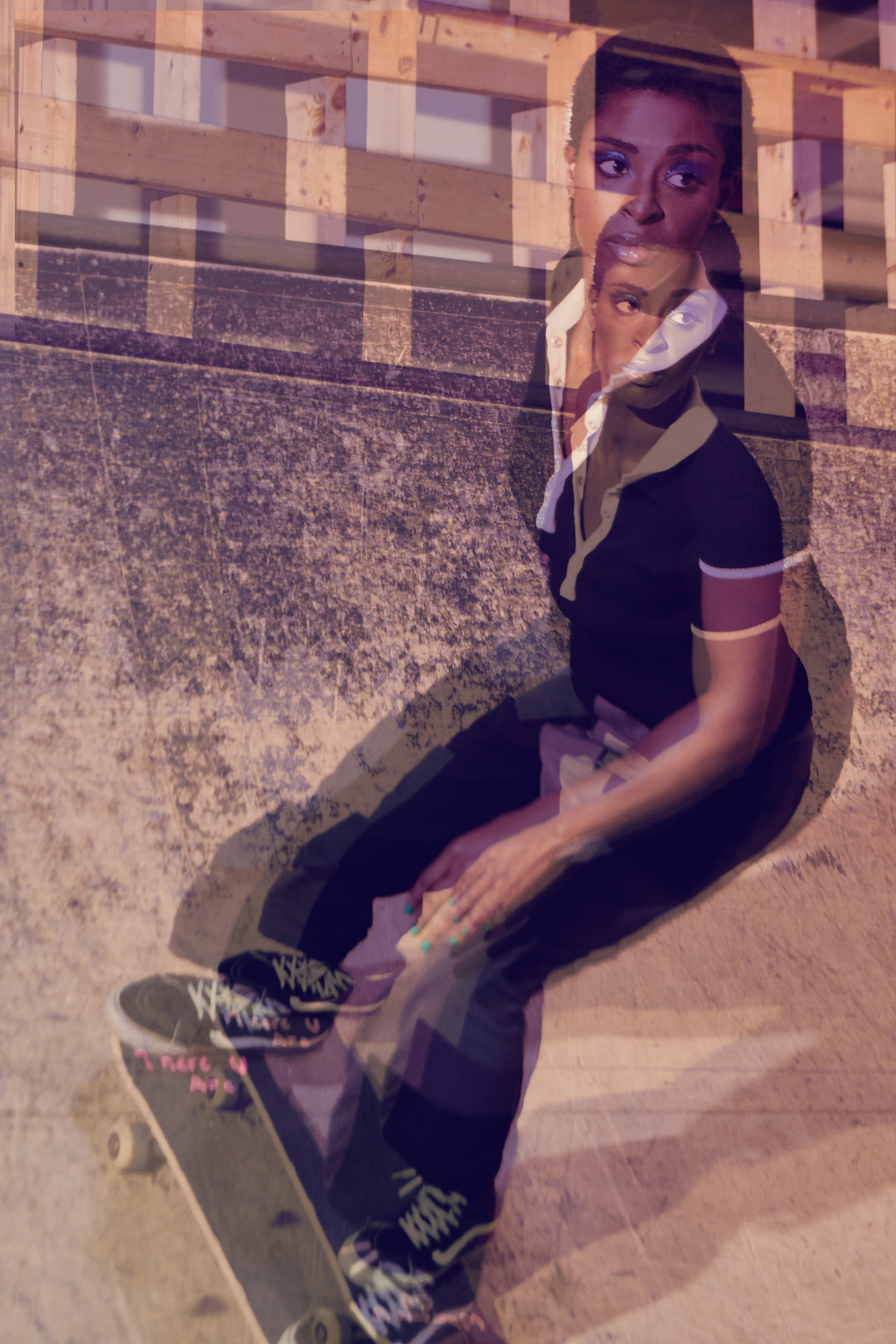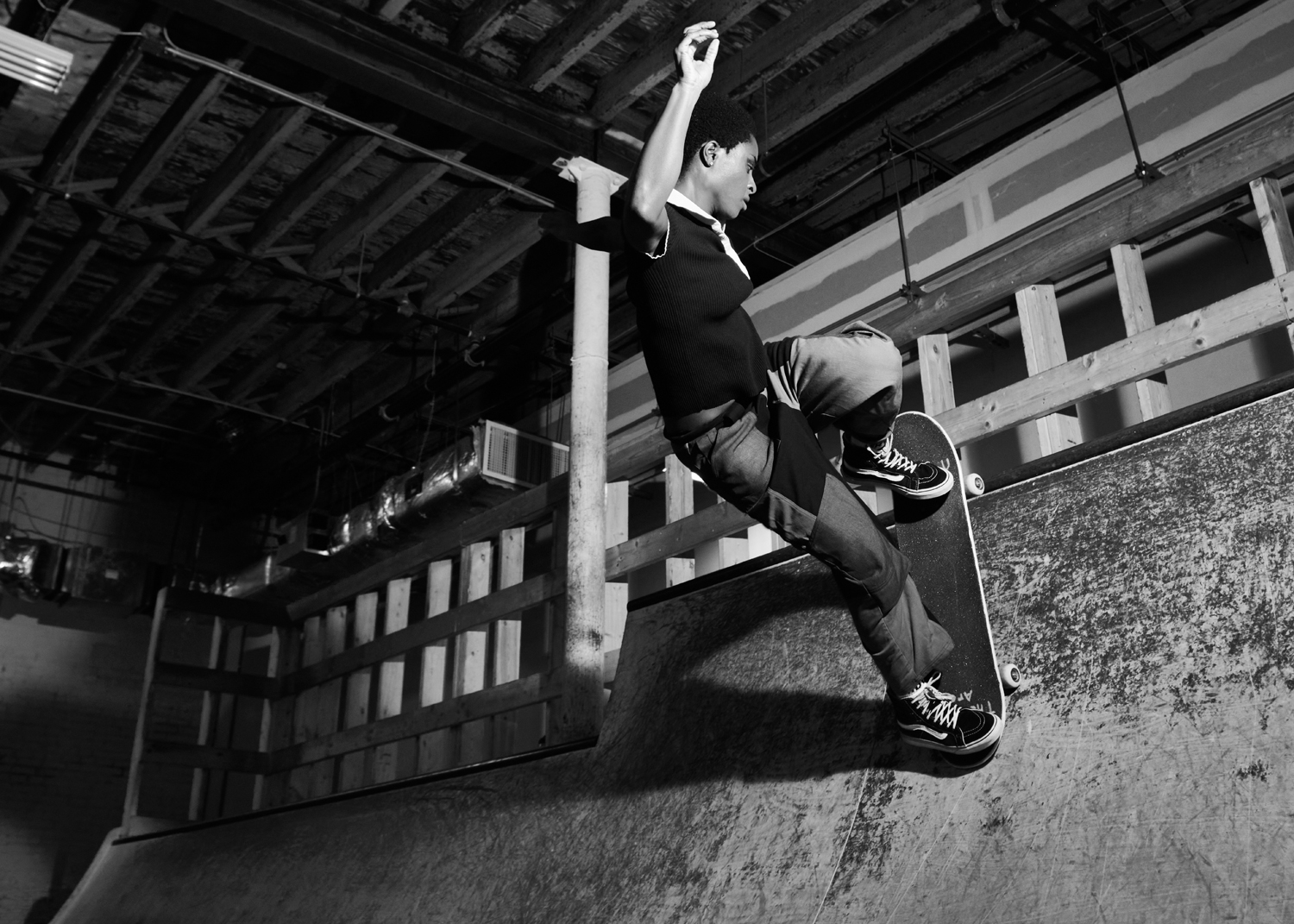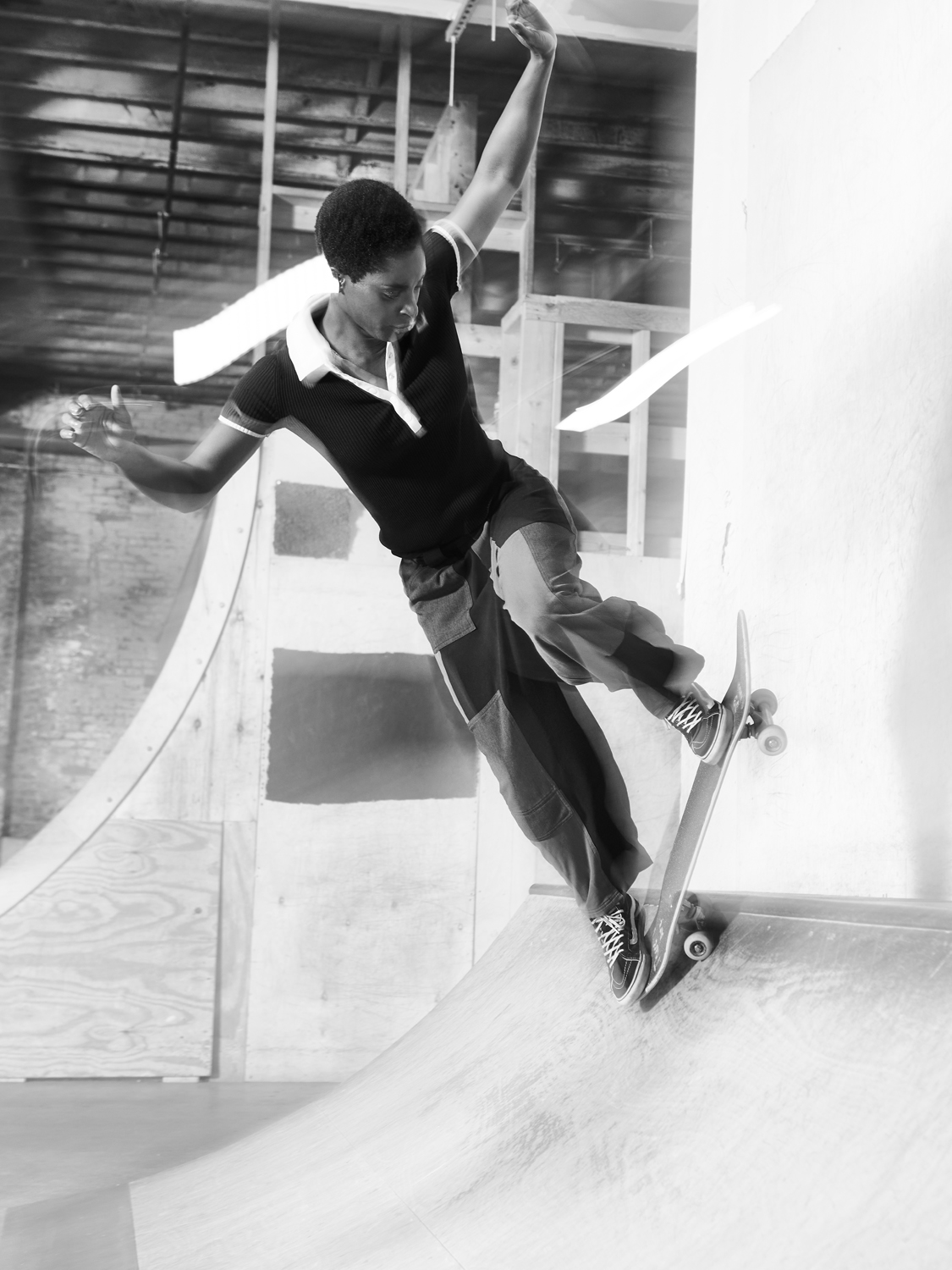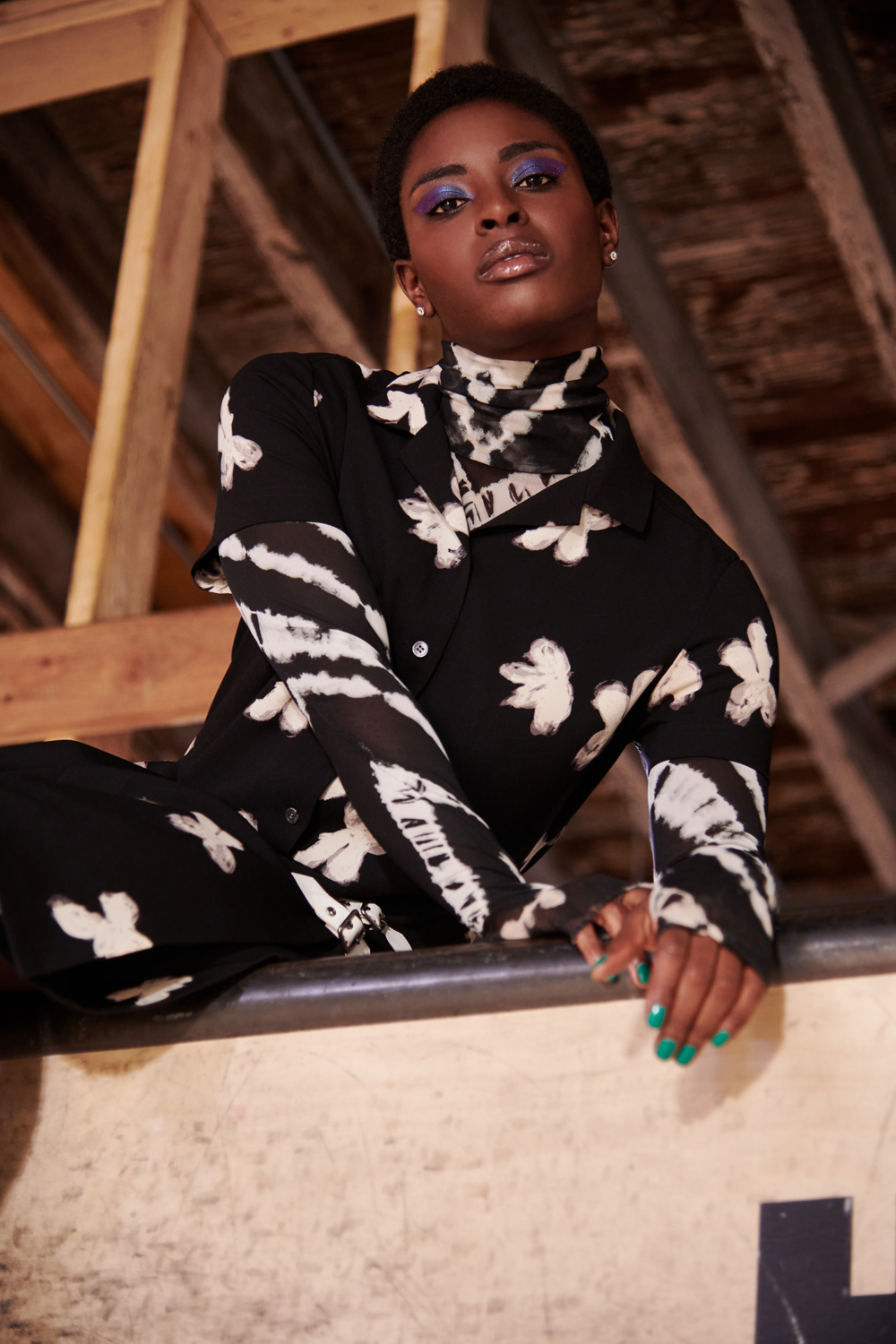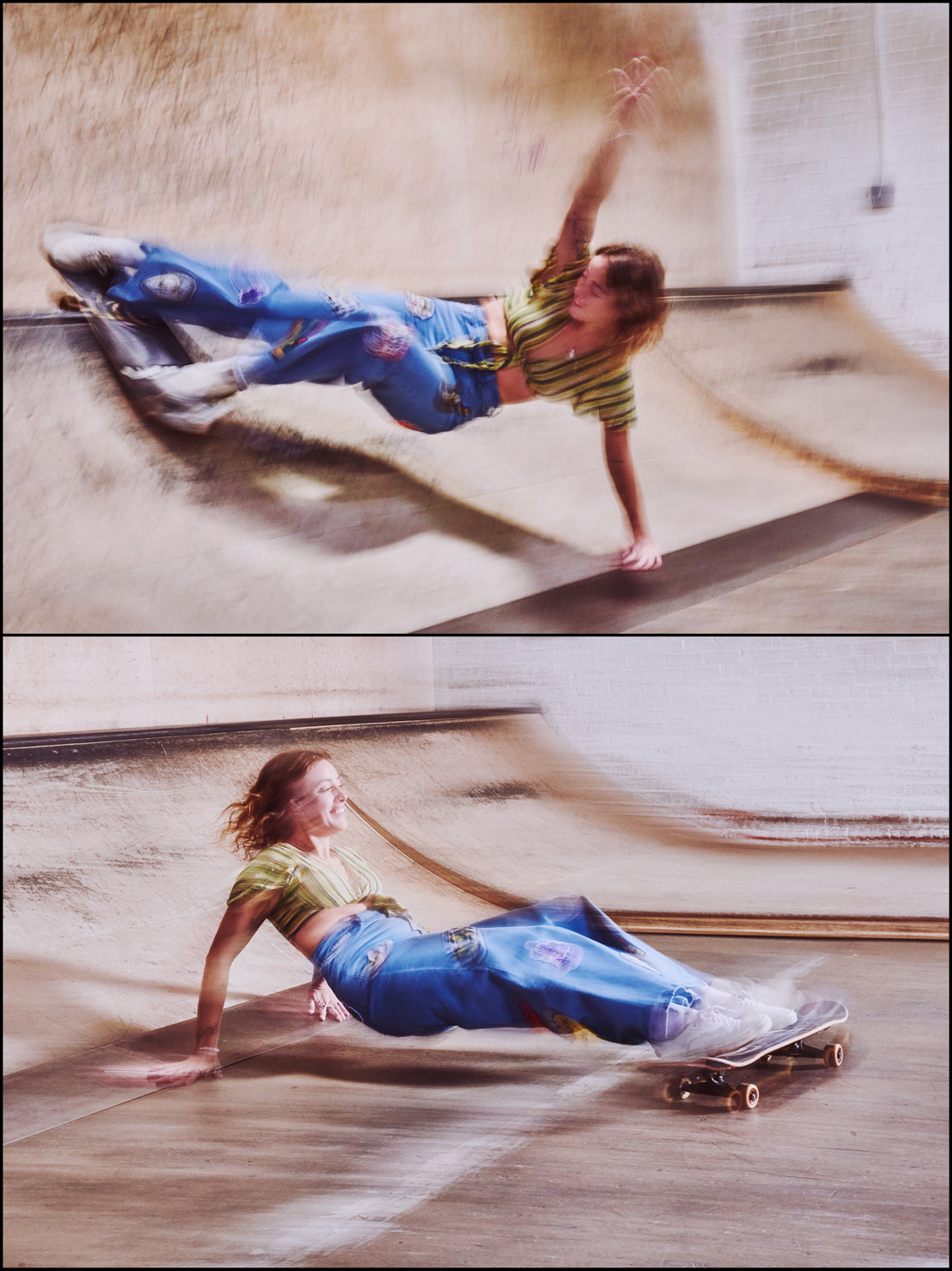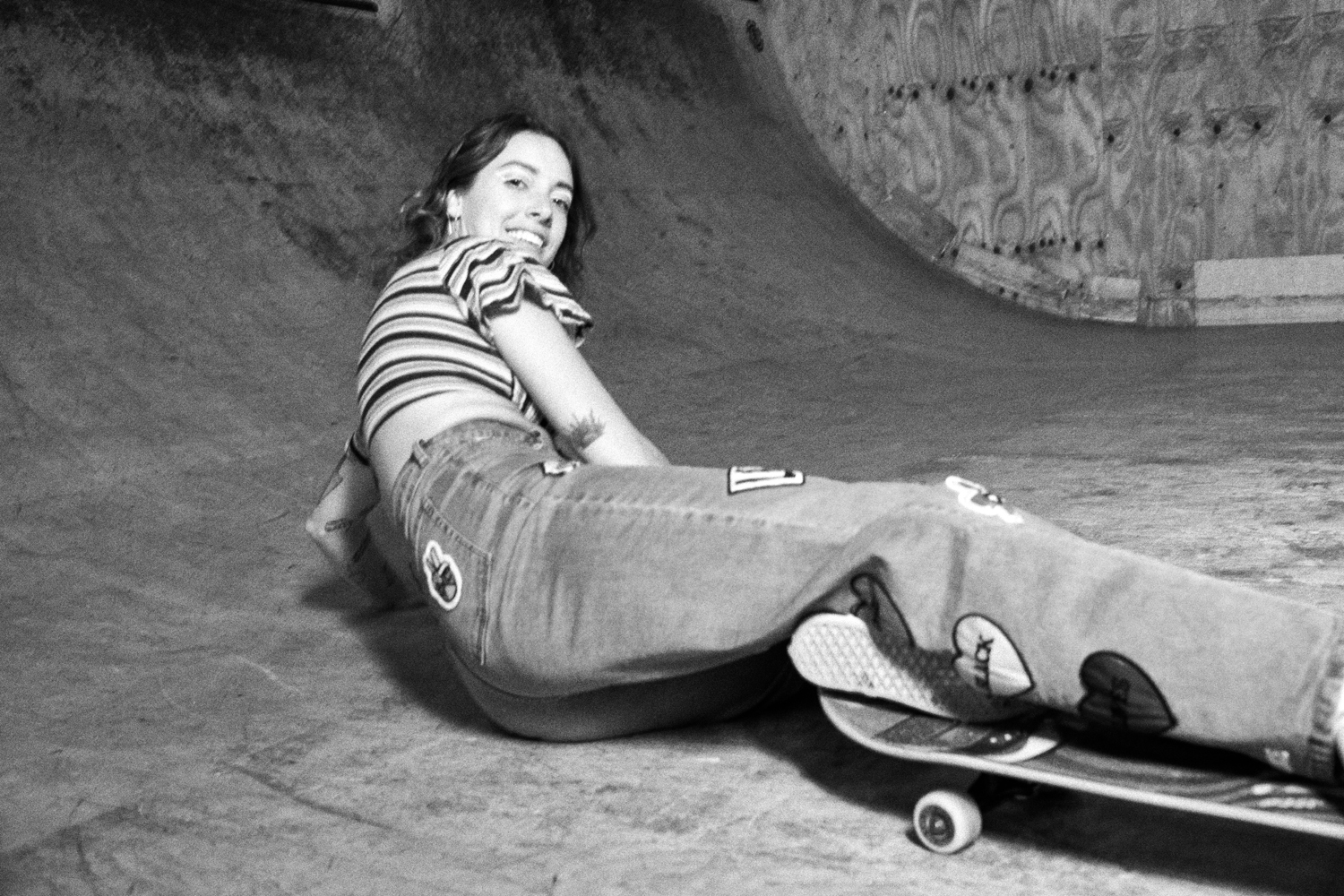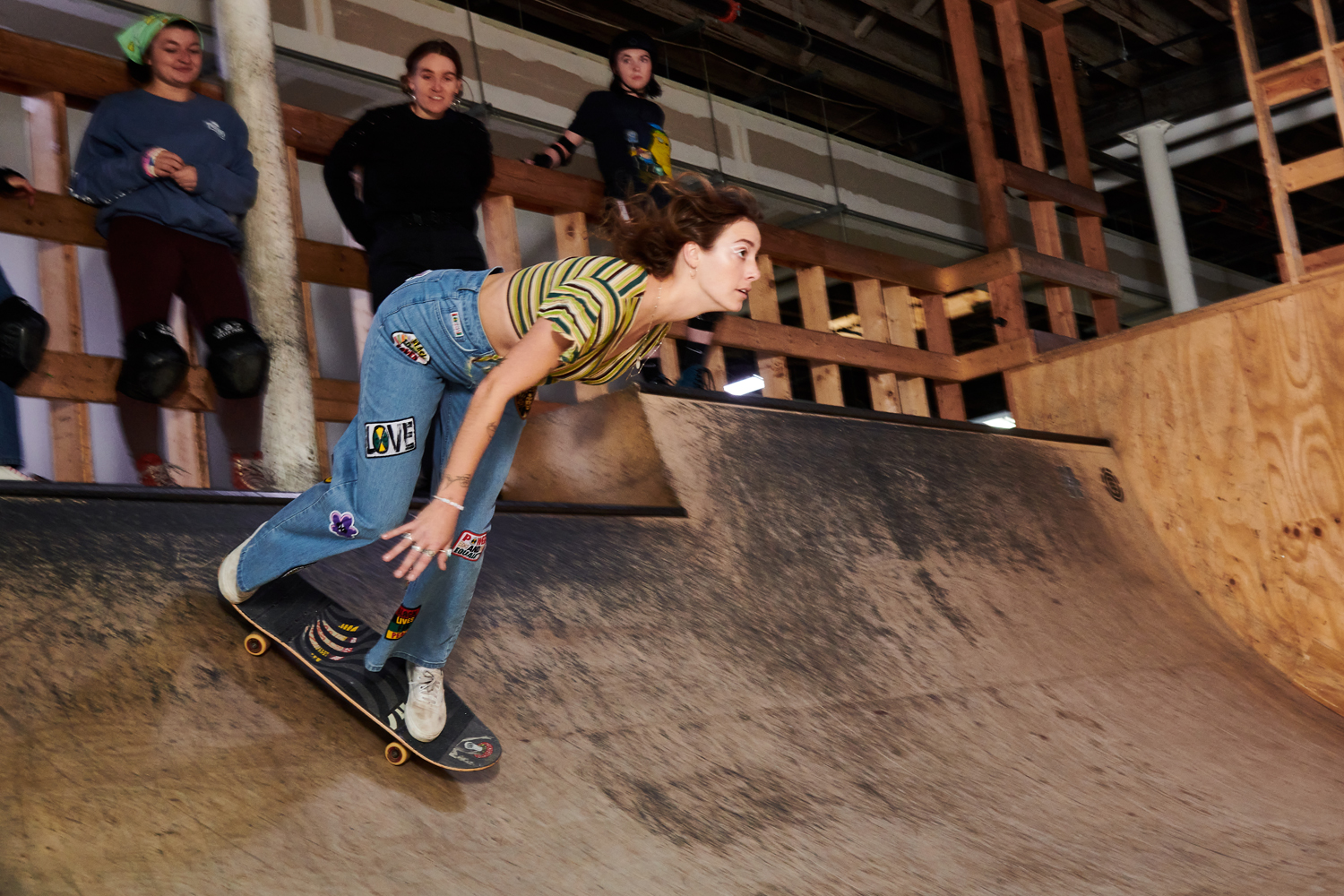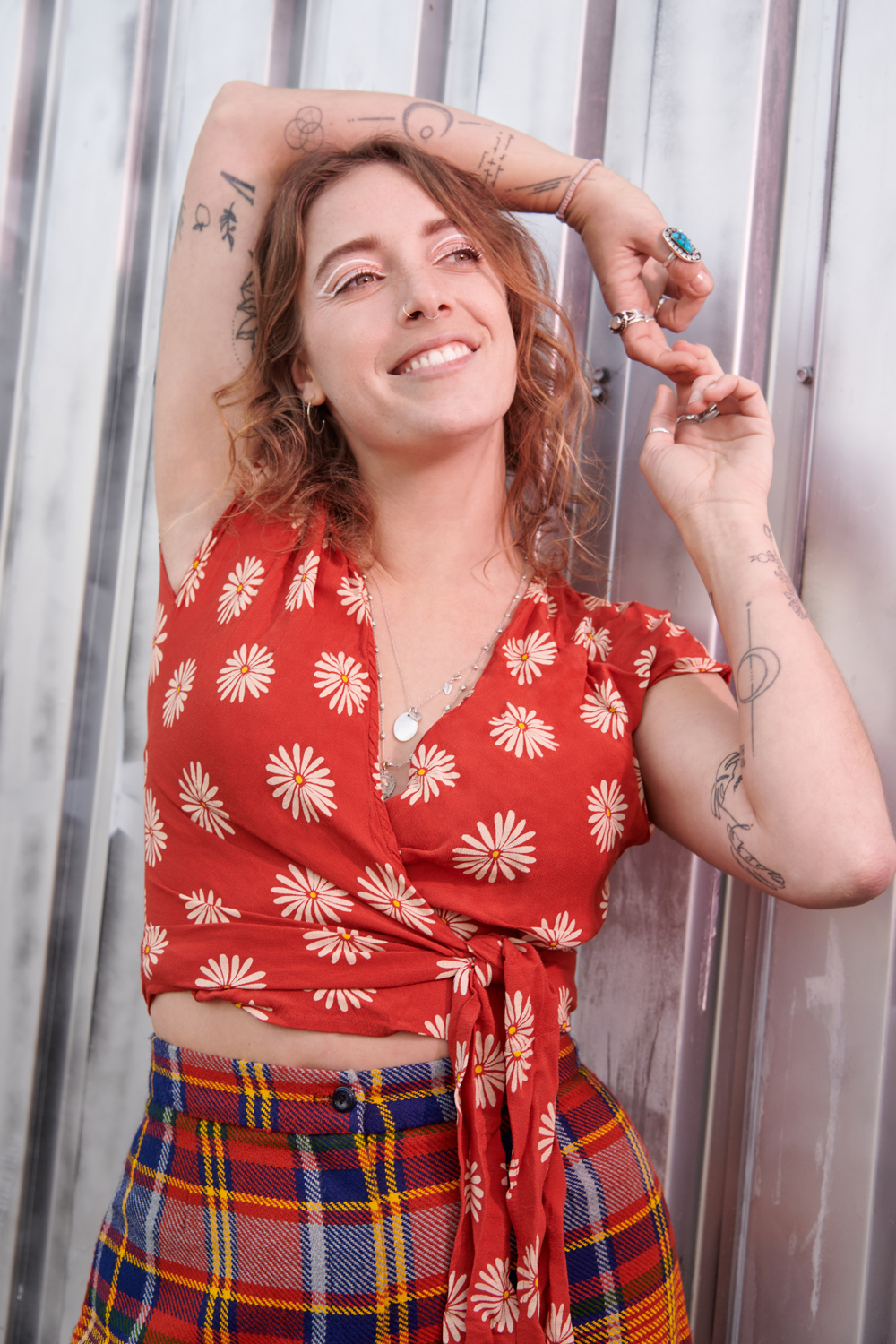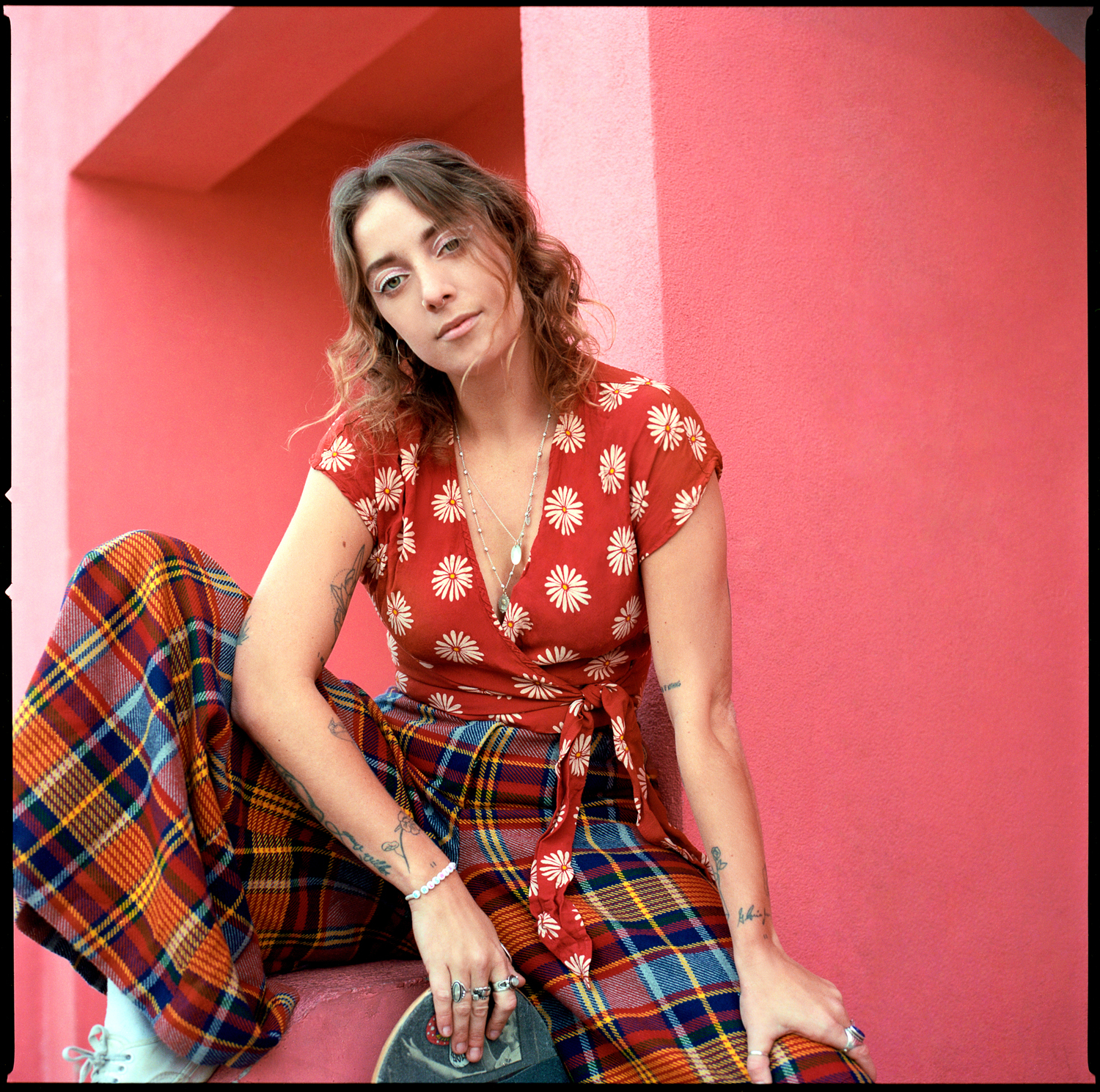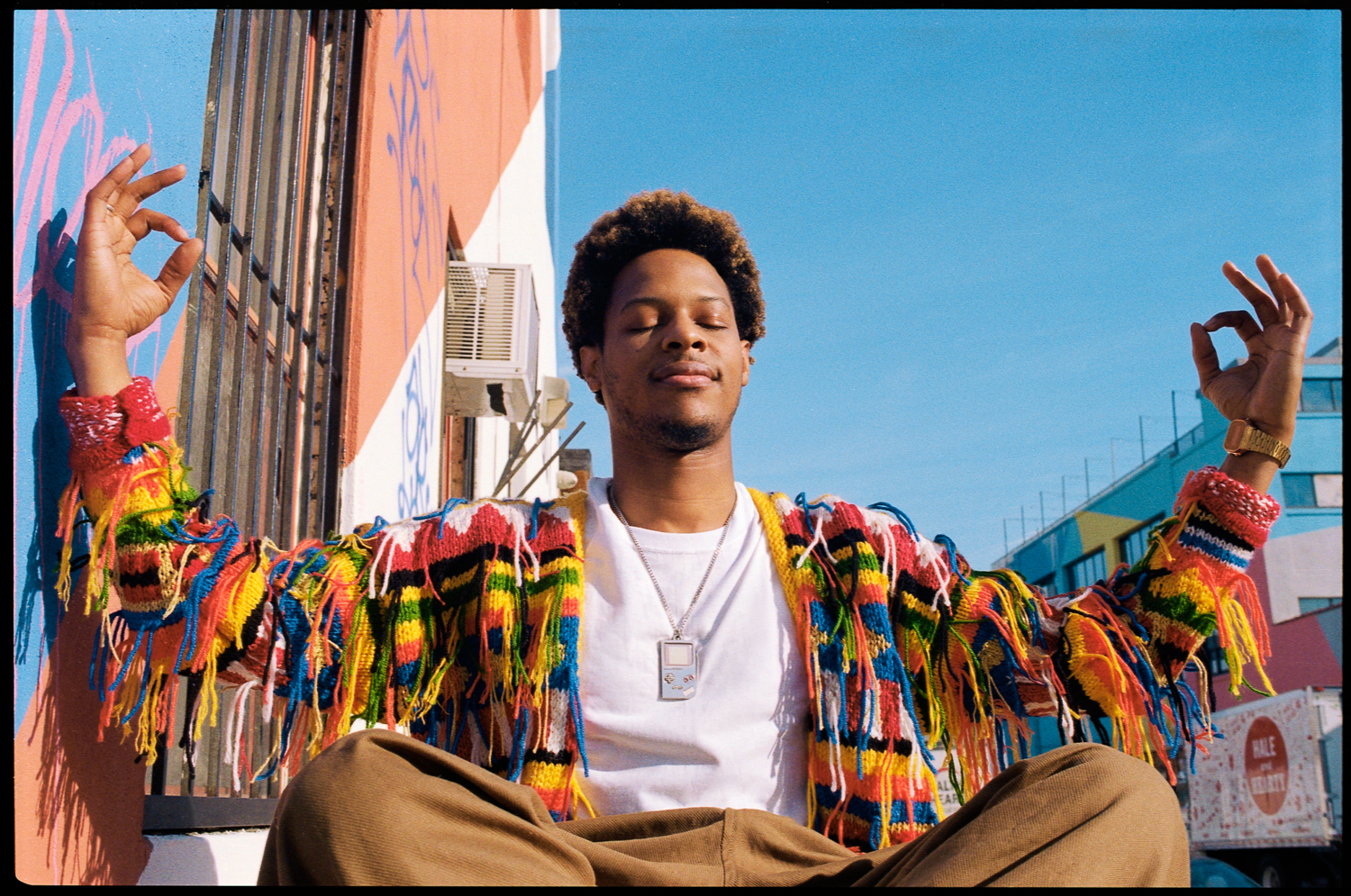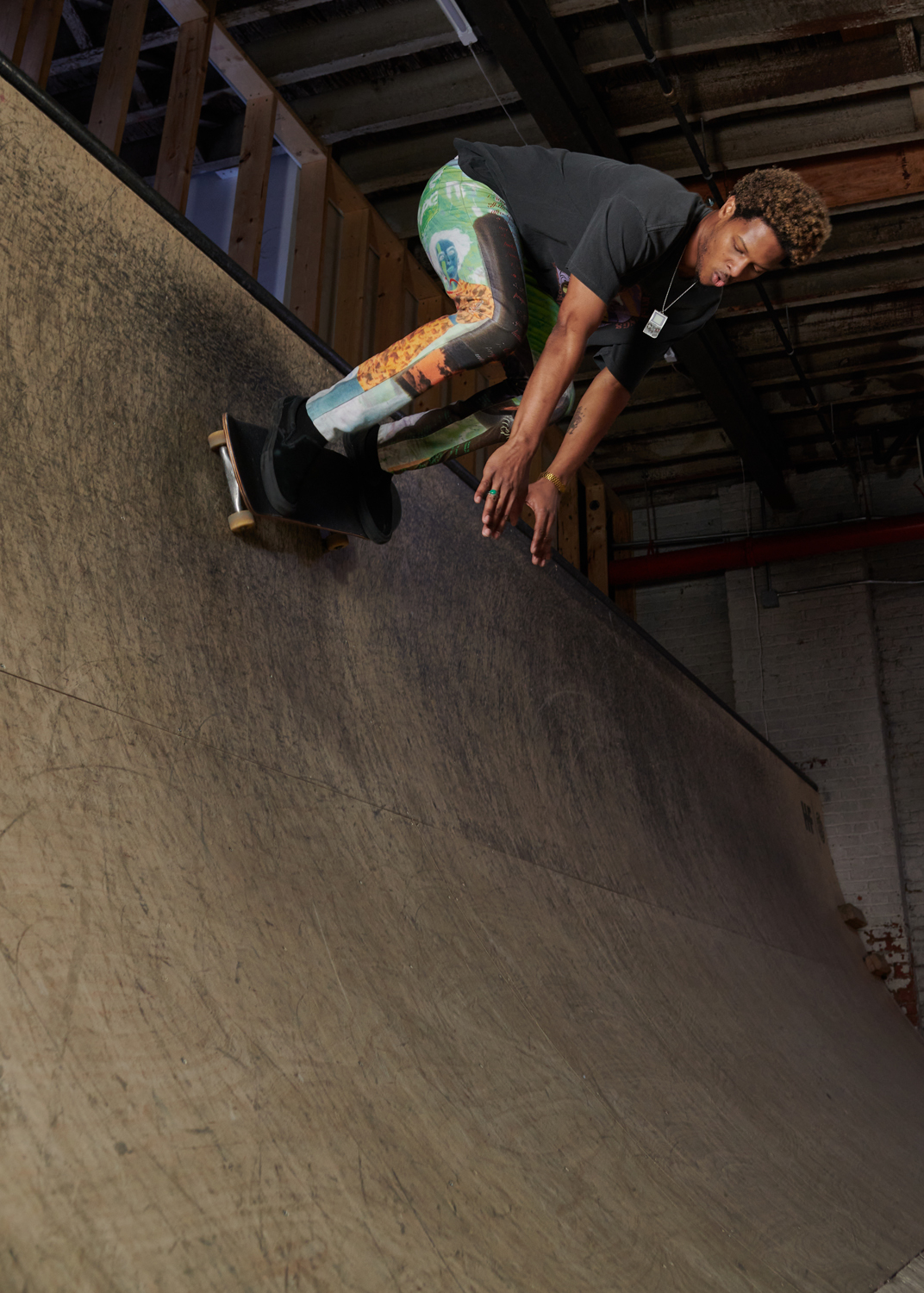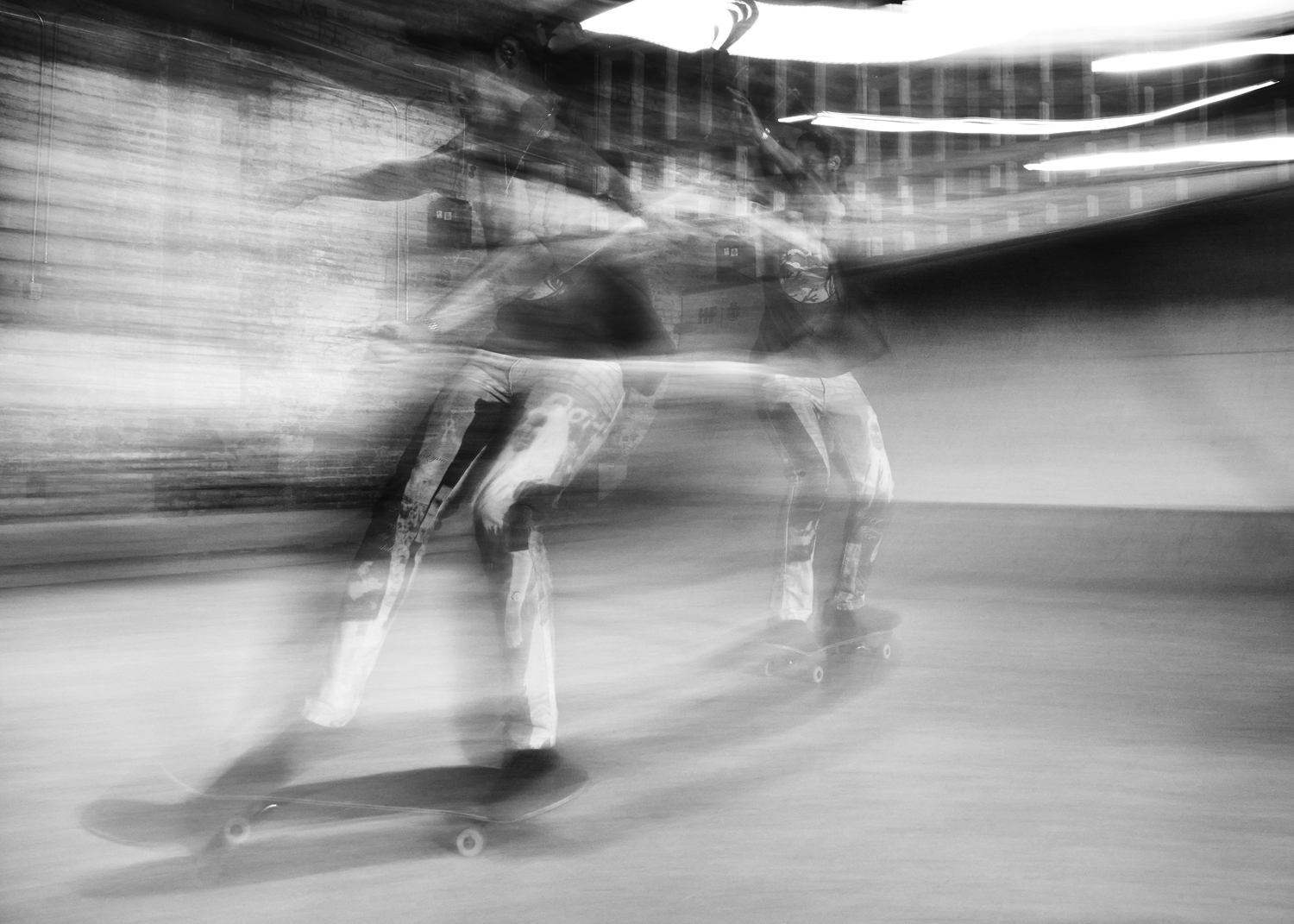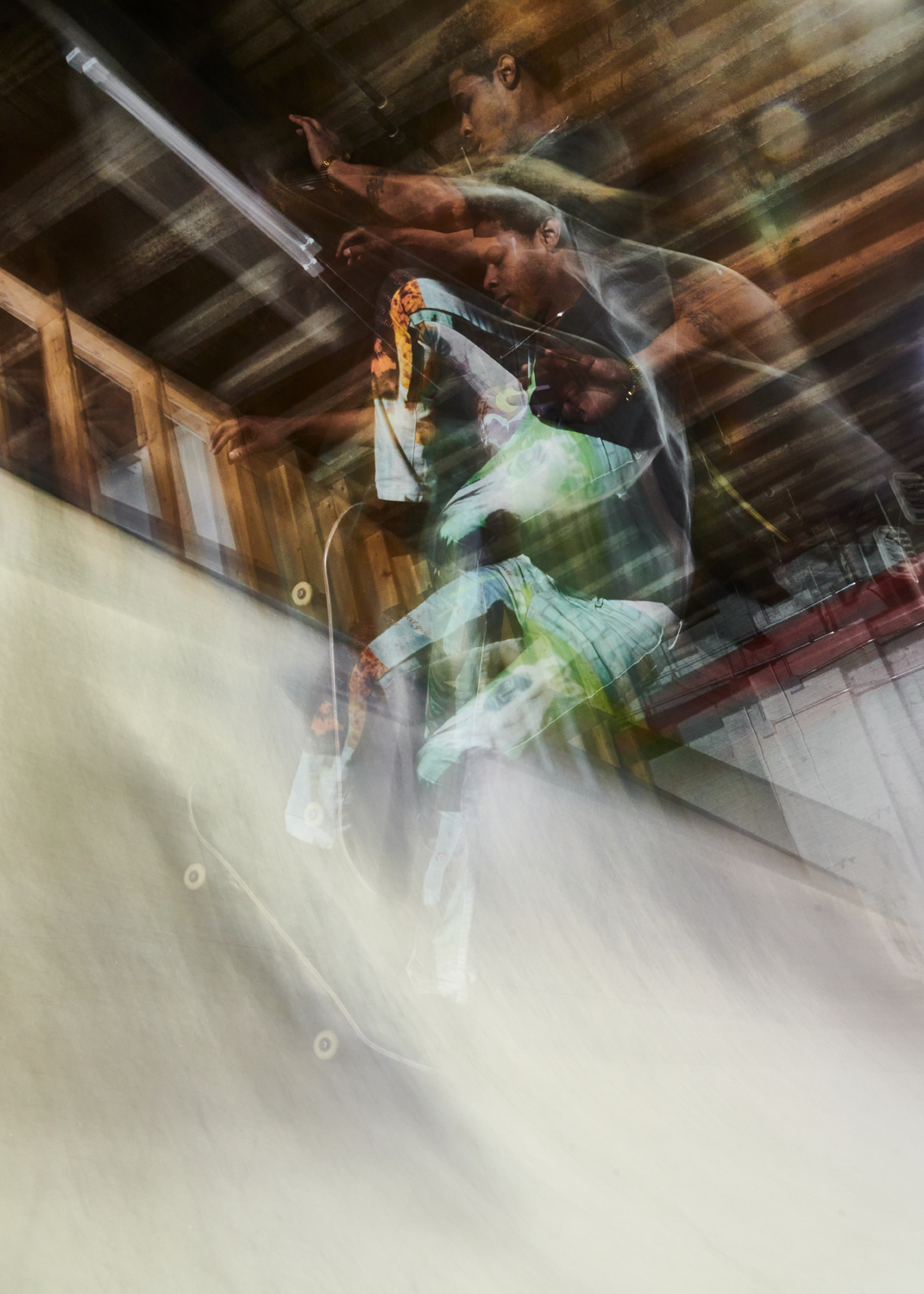 Photography & Q&A: Jena Cumbo @jenacumbo
Stylist: Shola Shodipo @thefreestyller
MUA: Toby Klinger @tobymakeup
Assistant and BTS footage: Calvin Fenelus
Location: Substance Skatepark @substanceskatepark
Music in BTS video and Reel: Zach Surprenant
Skaters:
Stephanie Reid @stephreid333
Mame Bonsu, @im.an.echo @anansiskatelife
Andy/Turtle Millie, @callmeturtleboy @itwascustombuilt
Kristen Noelle Miller @kristen_noelle_
Aaron Warner @ace1ght
Source by www.ladygunn.com