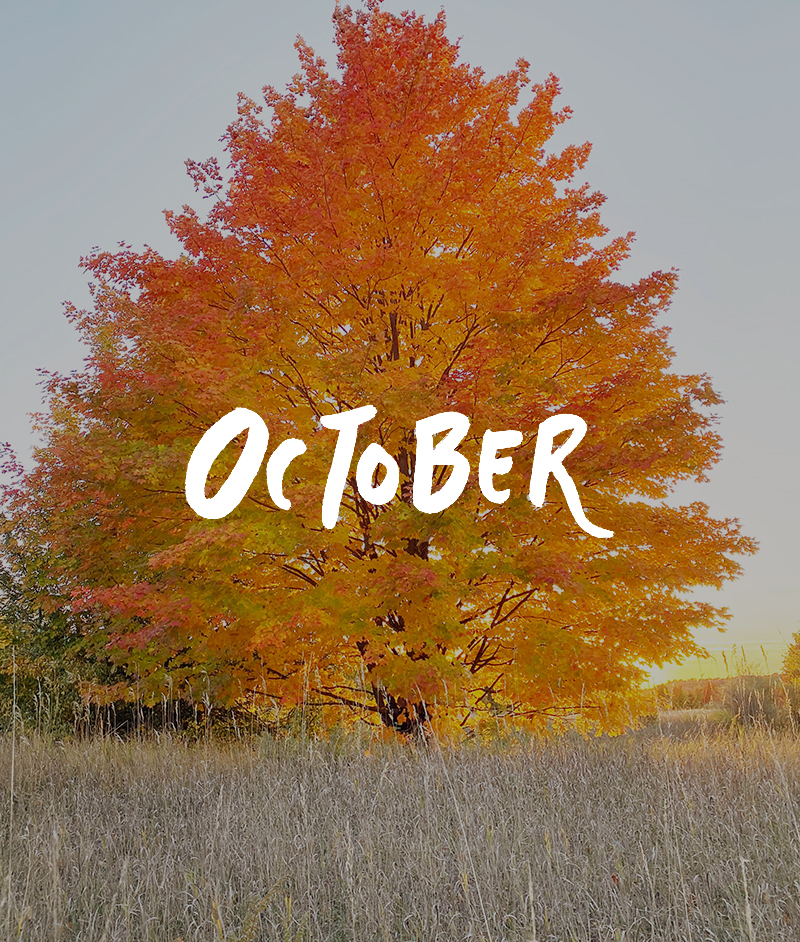 As October arrives, I have been truly reflecting on this garden season and realizing I am starting to process some of the pandemic. Every October we go through a chance to do this and last year I had no grounds or ability to assess myself well enough. I was nearly 1 year into being a mom of 2 and it happened in the heart of a life-altering global pandemic, right before an important election, and just 2 months before the great conjunction. Everything felt like it was spinning. How could I grab hold of anything in myself? Back then I thought I was, but in reflection, I was just holding by a string. 
Last year I wandered the rows of my garden in October and was deeply sad, knowing the one thing that had carried me through the pandemic was leaving me. I both was ready for the space to rest but also deeply grieving her passing on. Every night I would hold that little baby and wander the rows. We would say goodnight to the lettuce and the tomatoes and to the cosmos and the bees. Every night in October the sunsets were unreal and we had over 10 rainbows that October. I remember it all because it carried me, it was the solid ground I stood on. If you would have asked me to paint my leaves they would have barely had enough to turn red before they fell off. It was that I was depressed, but it was that I was expending too much energy holding my breath. 
This year, everything has a different feeling to it. Maybe it is that I deeply embraced the last year and a half as a winter of the soul and I spent the cold of January to March focused on my roots. Maybe it is because I spent much of summer doing deep breath work and sitting more. I stopped expecting the impossible. I started clearing my mental space regularly like the trash can on my desktop. Maybe it is because in the summer this year, I saw the roots of my anxiety came from in new ways. Maybe I learned to find solid ground less in things (aka my garden) and more in myself. Maybe my kids are older and it feels less all-consuming. Whatever it all is I know it is real. If I were to paint my leaves this year they would be vibrantly yellow like a birch.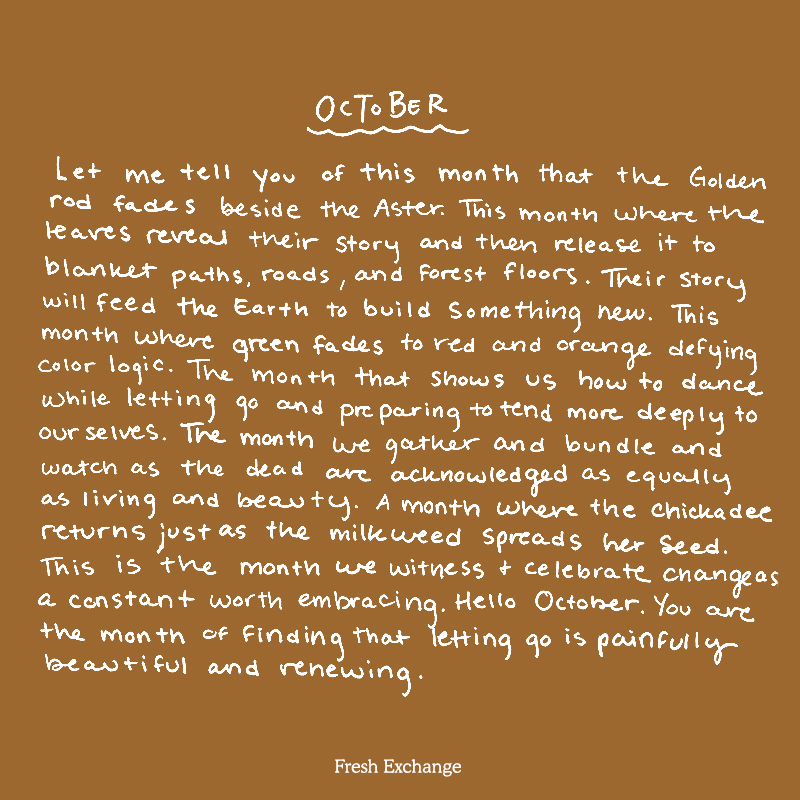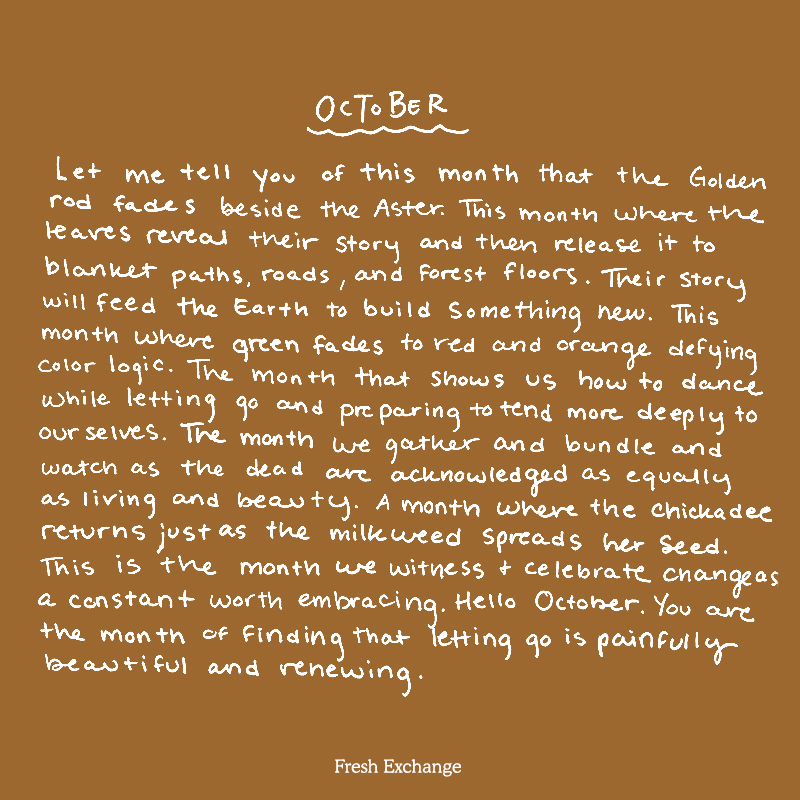 All I know is that as I welcome October and I hold her and sit with her, I see a new reflection in myself I never thought last year I would find. It is a version I would have hoped for, but none of it happened as I would have hoped either. Instead, I find that 2021 has been a slow exhale and I am looking toward this month to teach me how to fully release the breath I have been holding all this last year. I am hoping that when winter comes knocking on my door and the fire is lit that I will find a year of breathing in new air. But I feel the importance of using this month and season to release those final bits of breath from the depths of my core. 
I wish I could have told myself last year I would be able to exhale. I wish I could have told her, the pain was okay to feel because sometimes we got to go through the depths of the muck in life, the world, the everything to find the rich soil ready for planting new things. I wish in many ways I could have told her hope wasn't in vain. 
Now here in October, I am ready to not focus on farewells as much as reflecting so I know best what needs releasing. I plan to sit and soak in what is left not because I am going to be sad, but because this has been good as-is and we won't pass this way again. I plan to take walks through the fields and watch as the trees change and breathe with them. I plan to just bask in a month that often feels it is the last of everything when really I am seeing this is the beginning. How often have you seen October as such? I know I haven't, but I am excited to. 
I hope this October you find a way to look with fresh eyes at yourself, the world, the last year, the story you would tell in your past, but using this month to tell the story in a new way. How can you do that? I cannot wait to hear. 
Happy October my friends, may you find the color of your leaves feeling ready for their change.


Source by freshexchange.com